Lionel Messi raised the beautiful game to new heights in 2012 when he set the record for the most goals scored in a calendar year.
Truth be told, Messi has ranked amongst the world's best players pretty much every season since he first burst onto the scene, but it was the year of 2012 that truly marked his peak as an all-time great.
The statistics are extraordinary: 69 appearances, 91 goals, 22 assists, 1.32 goals per game, 65.6 minutes per goal, nine hat-tricks, seven free-kick goals and 52.8 minutes per goal contribution.
There's good reason to think that Messi reached a peak so high, so unreachable that there has never been a better version of any player at any point in the history of the professional game.
And while countless records folded and crumbled in the wake of Messi's omnipotent plunder, it was that 'most goals in a calendar year' accolade that sat proudest on the mantelpiece.
Whose world record did Messi break in 2012?
Besides, the man he dethroned to take the crown is arguably the most lethal finisher to have ever crossed the white line: Mr. Gerd Muller himself.
A colossus of the penalty area who scored 68 goals in just 62 caps for West Germany and endures as Bayern Munich's all-time record scorer on 523 strikes, Muller is always there or thereabouts in pretty much any statistical list of centre forwards.
And it was his head-spinning tally of 86 goals throughout 1972 that held the world record until Messi raised the bar with an extra six finishes exactly 40 years down the track.
LONDON, ENGLAND – JANUARY 01: A portrait of West Germany striker Gerd Muller pictured circa 1972 in England, United Kingdom. (Photo by Don Morley/Allsport/Getty Images/Hulton Archive)
Why does Messi have a special section at the Allianz Arena?
It's a fact that will forever bind the seven-time Ballon d'Or winner not only to Muller, but also to Bayern, the club for which Der Bomber played for the vast majority of his club career.
And that kinship is expressed in a very special way at Bayern's stadium, the Allianz Arena, with ESPN reporting in the wake of Messi's World Cup win that he has his own dedicated shrine at the ground.
In what is purportedly the only piece of non-Bayern memorabilia on display, Messi's signed shirt that he gifted to Muller on the back of breaking his world record takes pride of place.
And according to the Daily Mail, Messi wrote the following message on the shirt: "For Gerd Muller, with my respect and admiration. A hug. Leo."
Not only was it an incredibly classy gesture from Messi in the first place, but it's pure respect from Muller and Bayern in turn to ensure that the jersey has been displayed so proudly.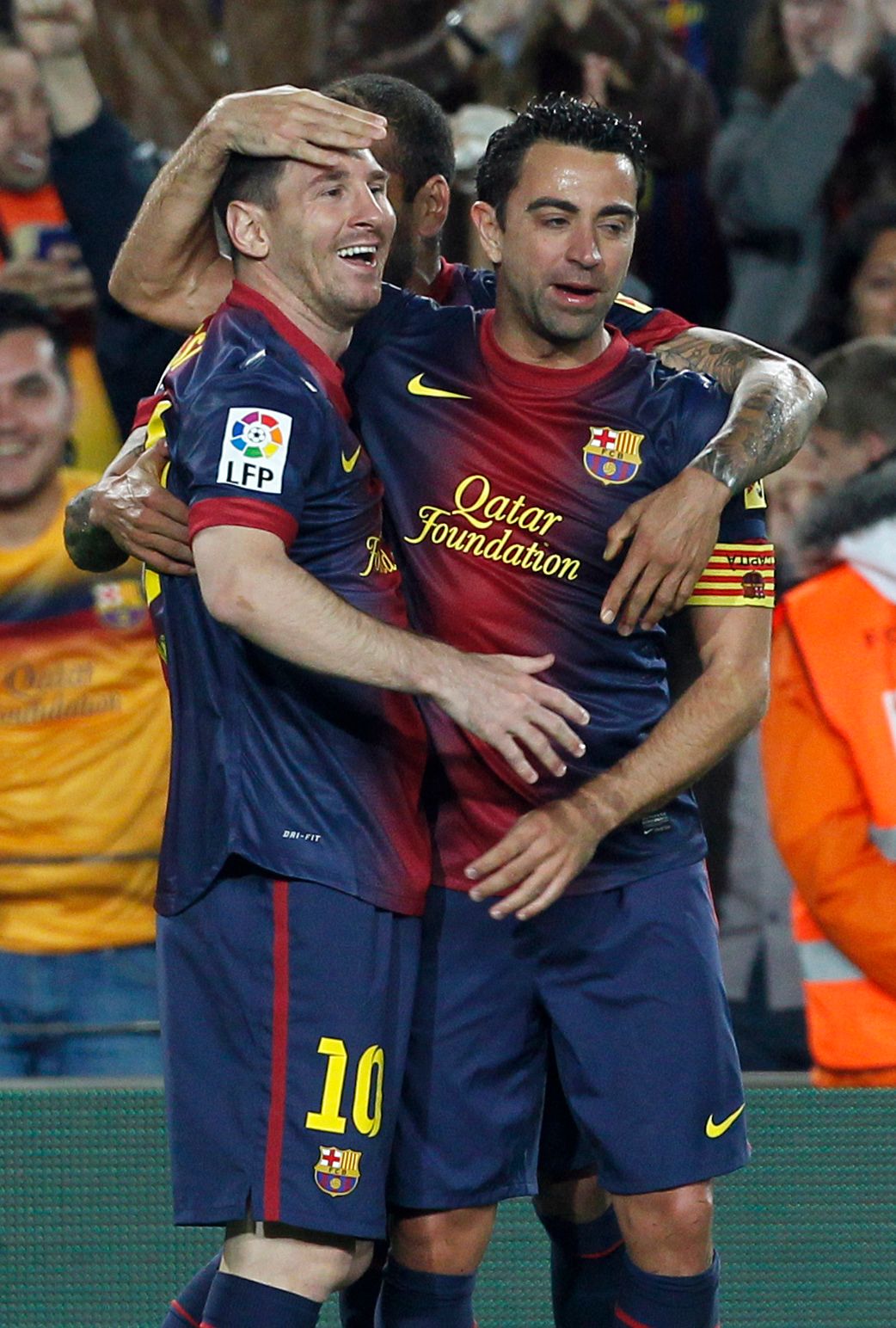 Barcelona's Lionel Messi (L) and Xavi Hernandez celebrate a goal against Real Betis during their Spanish First division soccer league match at Camp Nou stadium in Barcelona May 5, 2013. REUTERS/Albert Gea (SPAIN – Tags: SPORT SOCCER)
And it really does go to show just how treasured Messi is in the wider footballing community regardless of whether the fans, clubs or players who adore him necessarily have an immediate link to him or not.
In truth, Messi transcends football and its tribal barriers, reaching heights – like in 2012 – never seen before to endear himself across the globe from Barcelona to Bayern and Argentina to Australia. Enjoy him while you can.
Lionel Messi is the 'BEST PLAYER EVER'! Argentina 🇦🇷 3-3 France 🇫🇷 (Football Terrace)
---
You can find all of the latest football news and rumours right here.