Highlights
Football Manager 2024 is one of the best games around, but not every club is able to compete with the financial juggernauts at the top.
From Asia to South America, there are a plethora of talented free agents at your disposal.
With no transfer fee, it's a loophole around the struggles of modern-day football.
Football Manager 2024 is finally in full swing and – once again – it is considered one of the best sports games of the year. You're probably not surprised, with Sports Interactive continuing to amaze their fans every year that it's not even a surprise anymore; it's an expectation.
This year it's formed as one of the most polished sports games of all time, with everything from updated set-piece tactics, new leagues (say hello to the Japanese league), improved graphics and the consistent joy – and disappointment – of a final-day match to win the title.
However, not all challenges are a walk in the park. Taking over a club in financial ruin is challenging, yet also rewarding as the years tick away. It might be Reading, who continue to have administration knocking on their door or even Luton, who also lack the financial power to compete in the Premier League.
The harsh reality of football means very few clubs can financially compete at the top of the sport, unless you're funded by a Middle Eastern country, of course. The success of Manchester City, and soon-to-be Newcastle United, makes it hard to compete financially, but there are still a plethora of options available to sign for free. Yes, we said it; free.
20 Best Free Agents in FM24
| Ranking | Name | Position |
| --- | --- | --- |
| 1. | David de Gea | GK |
| 2. | Jesse Lingard | AM |
| 3. | Jose Campana | CM |
| 4. | Javier Pastore | CM |
| 5. | Luan Silva | AM |
| 6. | Diego Perotti | RW |
| 7. | Shkodran Mustafi | CB |
| 8. | Bobby Wood | ST |
| 9. | Brian Fernández | ST |
| 10. | Erik López | ST |
| 11. | Aleix Vidal | RB |
| 12. | Jean-Philippe Gbamin | DM |
| 13. | Kostas Stafylidis | LB |
| 14. | Marlos | RW |
| 15. | Roberto Soriano | RW |
| 16. | Sergio Asenjo | RW |
| 17. | Helder Costa | LW |
| 18. | Karim Bellarabi | RW |
| 19. | Almamy Toure | RB |
| 20. | Jérôme Boateng | CB |
Read more: The 10 best striker wonderkids in Football Manager 2024
20
Jérôme Boateng
Jérôme Boateng is a name familiar to football fans around the world. Once one of the world's best defenders at Bayern Munich, he has struggled to continue that form into the latter part of his career. A court case overshadowed his name, but now he is back playing football at a professional level. Bayern Munich chose not to resign him despite training with him, which potentially opens the door for you to sign the German. With 13 tackling and 16 jumping reach, he might be the perfect cheap centre-back in Football Manager 2024, especially if you're in the Championship.
19
Almamy Toure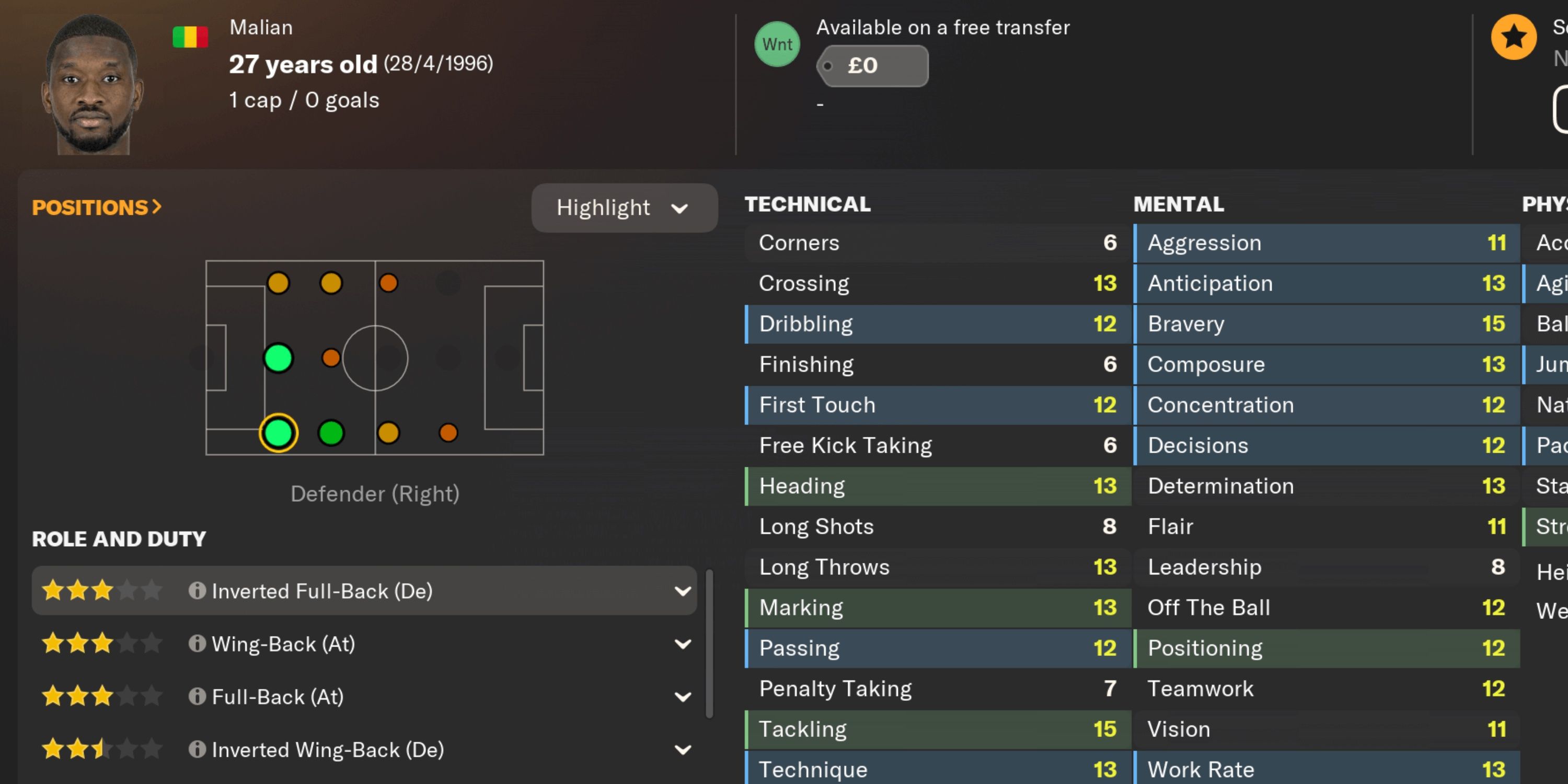 Capable of also playing in a variety of roles, Almamy Traore is still just 27 and is one of the better right-backs available as a free agent. It immediately grabs your attention if you're in the Championship! The former Eintracht Frankfurt defender will want between £20k-£35k per week, which, considering his attributes, doesn't seem too bad. With his 15 tackling and 12 passing standing out. Traore is capable of competing in the very best leagues, whilst his age means he'll still be a useful option as your save progresses. Keep an eye out for stiff competition to sign him though.
18
Karim Bellarabi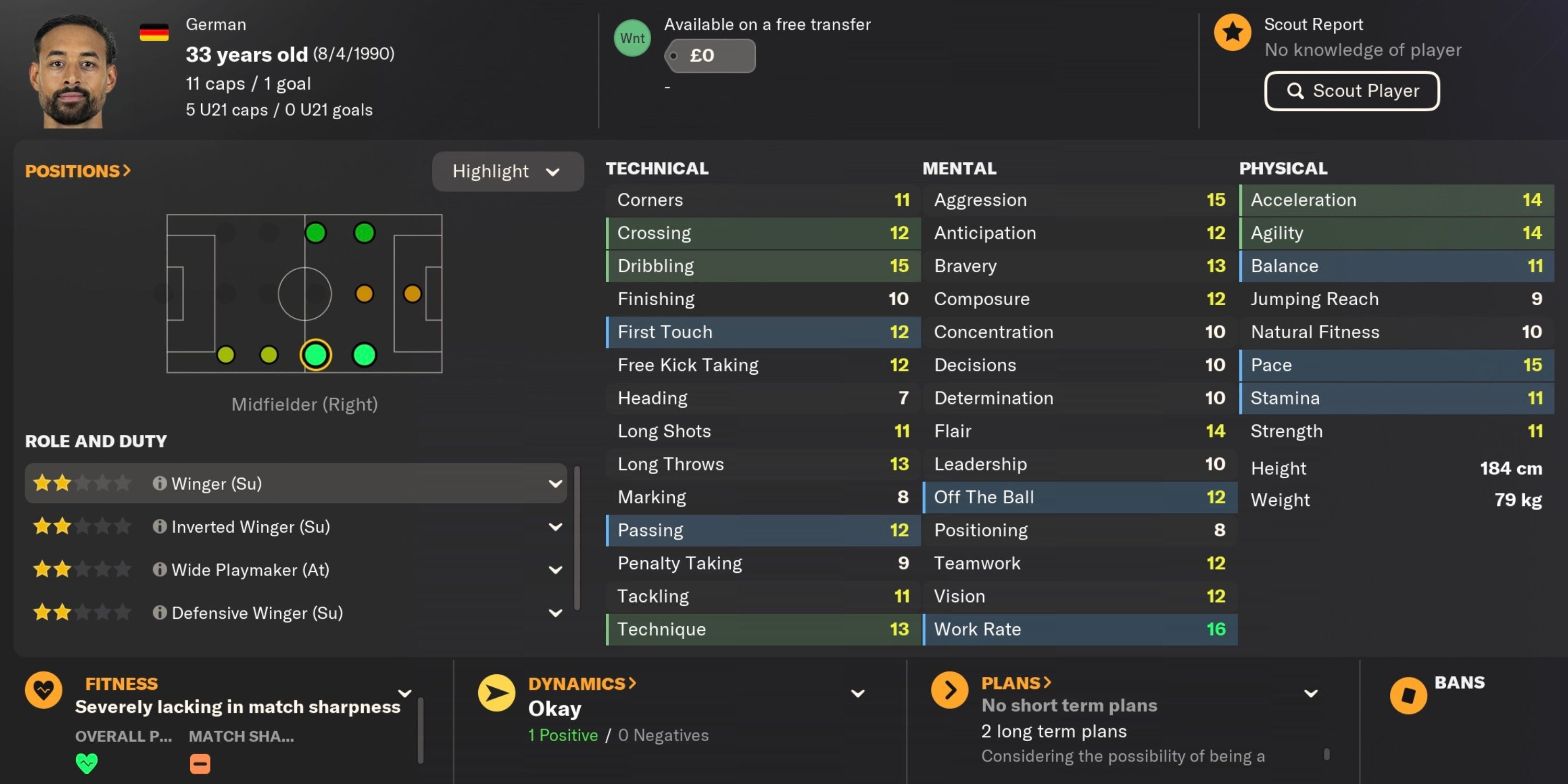 Remember the days when Karim Bellarabi used to be one of the most feared attackers in the Bundesliga? Yep, so do we. He was electric and at the heart of Bayer Leverkusen's success. Yet now he is a free agent, unlikely to be able to cut it at a top side in FM24, but he still has the quality to easily be a starter for teams in the Championship. For around £10k per week, you can pick up a strong free agent without it coming at too much of a cost to your overall wage budget. His 15 dribbling is already catching our eye.
Read more: The 10 best attacking midfielder wonderkids in Football Manager 2024
17
Helder Costa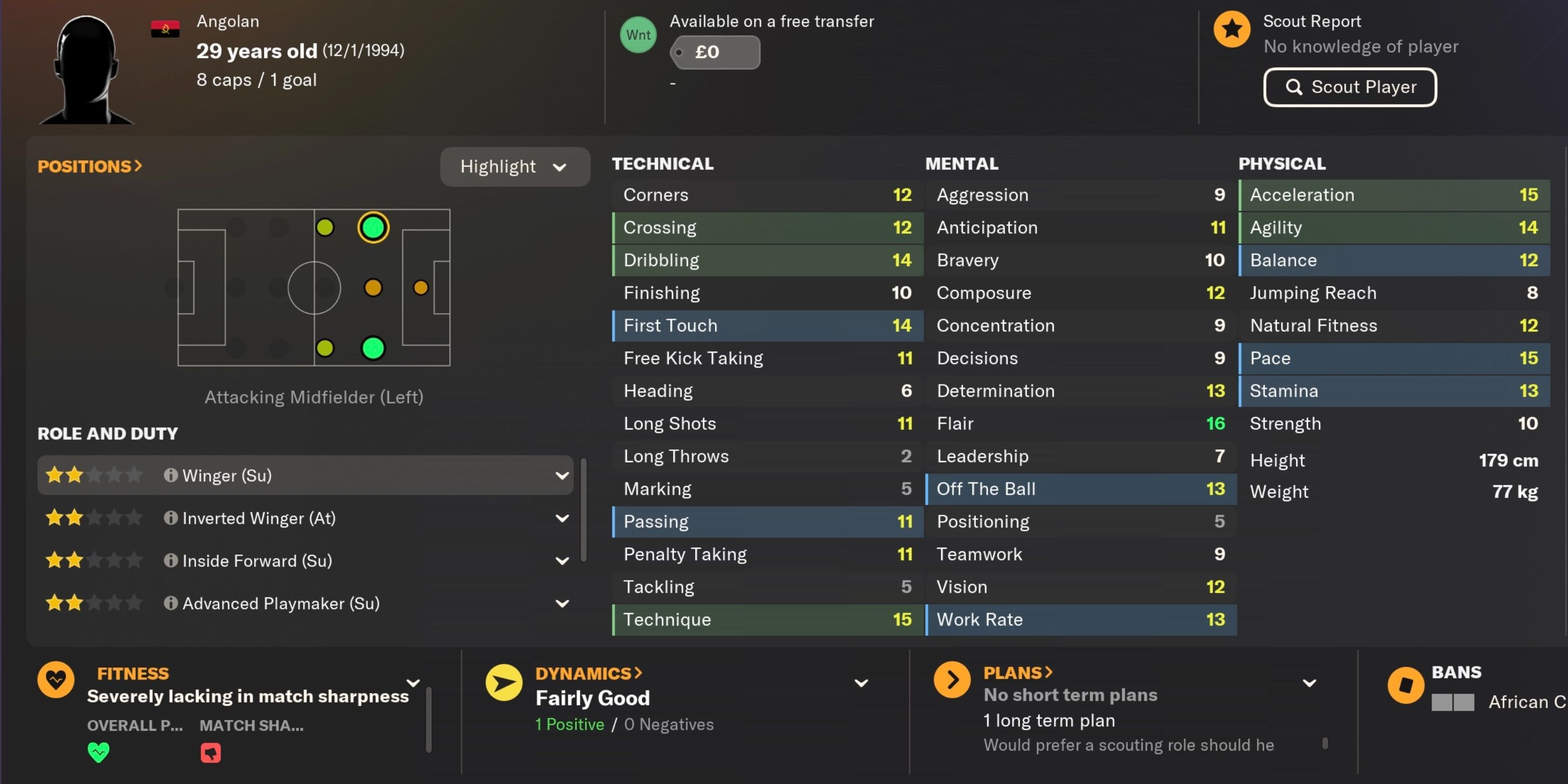 Remember the times when Helder Costa used to cause carnage in the Championship? Yep, so do we. Helder Costa epitomises what a 'street will never forget' player is all about, showcasing his talent week in, week out for Wolves in the Championship. It led to a promotion and – although his time with Leeds was not as successful – he still has the ability to make an impact for you. With Costa only asking for wages of £10k per week, it seems like a smart and clever piece of business if you want an exciting winger on the flank.
16
Sergio Asenjo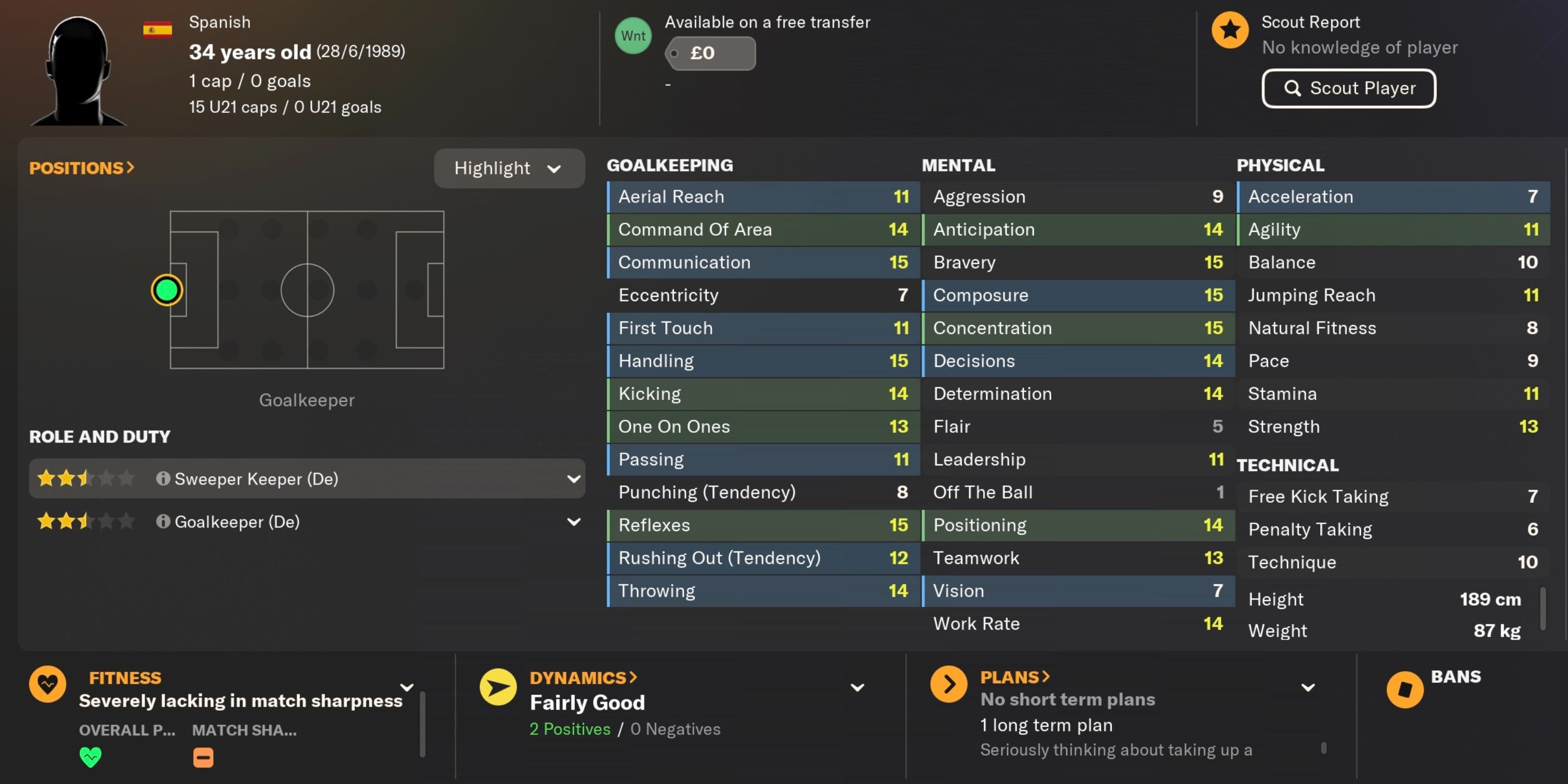 Spain have been lucky with goalkeepers over the years. Of course, David de Gea stands out the most (you might see him later in this list), but Sergio Asenjo has been just as impressive throughout his career. In FM24, he's the perfect goalkeeper for a team in a top-tier relegation battle. He has some noticeable weaknesses, mainly his seven acceleration and nine pace, but as long as you don't use him as a sweeper keeper, he has all the qualities you need to compete. For wages of potentially £15k per week, it seems like a no-brainer to sign Sergio Asenjo.
15
Roberto Soriano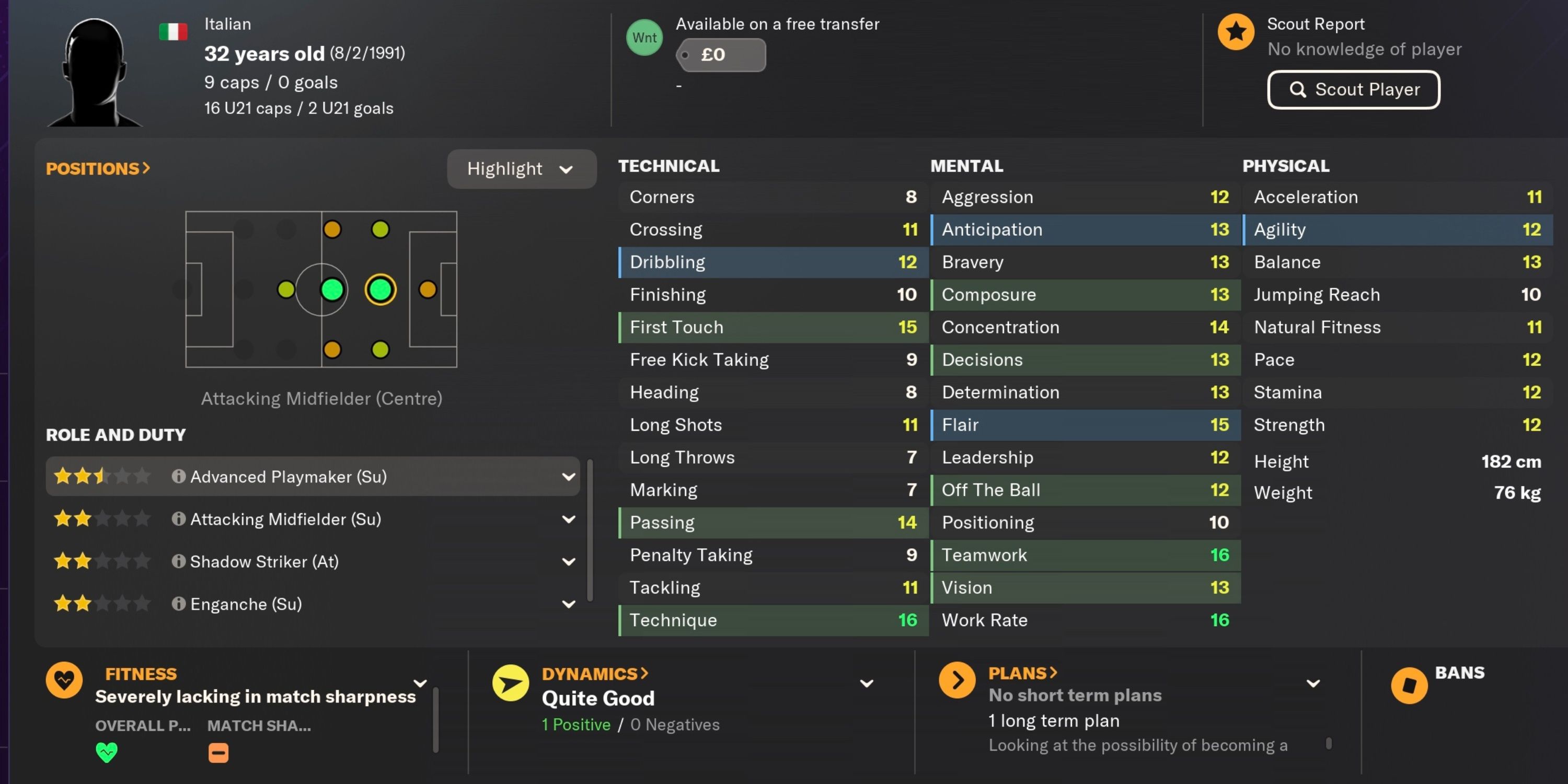 Compared to other options on this list, Roberto Soriano is one of the more expensive options. How can he be expensive when he's a free agent, you may ask? Well, Soriano asks for wages between £20k to £30k in FM24, meaning you have to be comfortable paying a large fee to an ageing player; that's not even considering the signing-on fee! However, capable of playing as a number ten and within the midfield, the Italian has everything you need to make an impact in a plethora of divisions. FM24 is all about dictating matches; Soriano can do exactly that.
Read more: The 10 best right winger wonderkids in Football Manager 2024
14
Marlos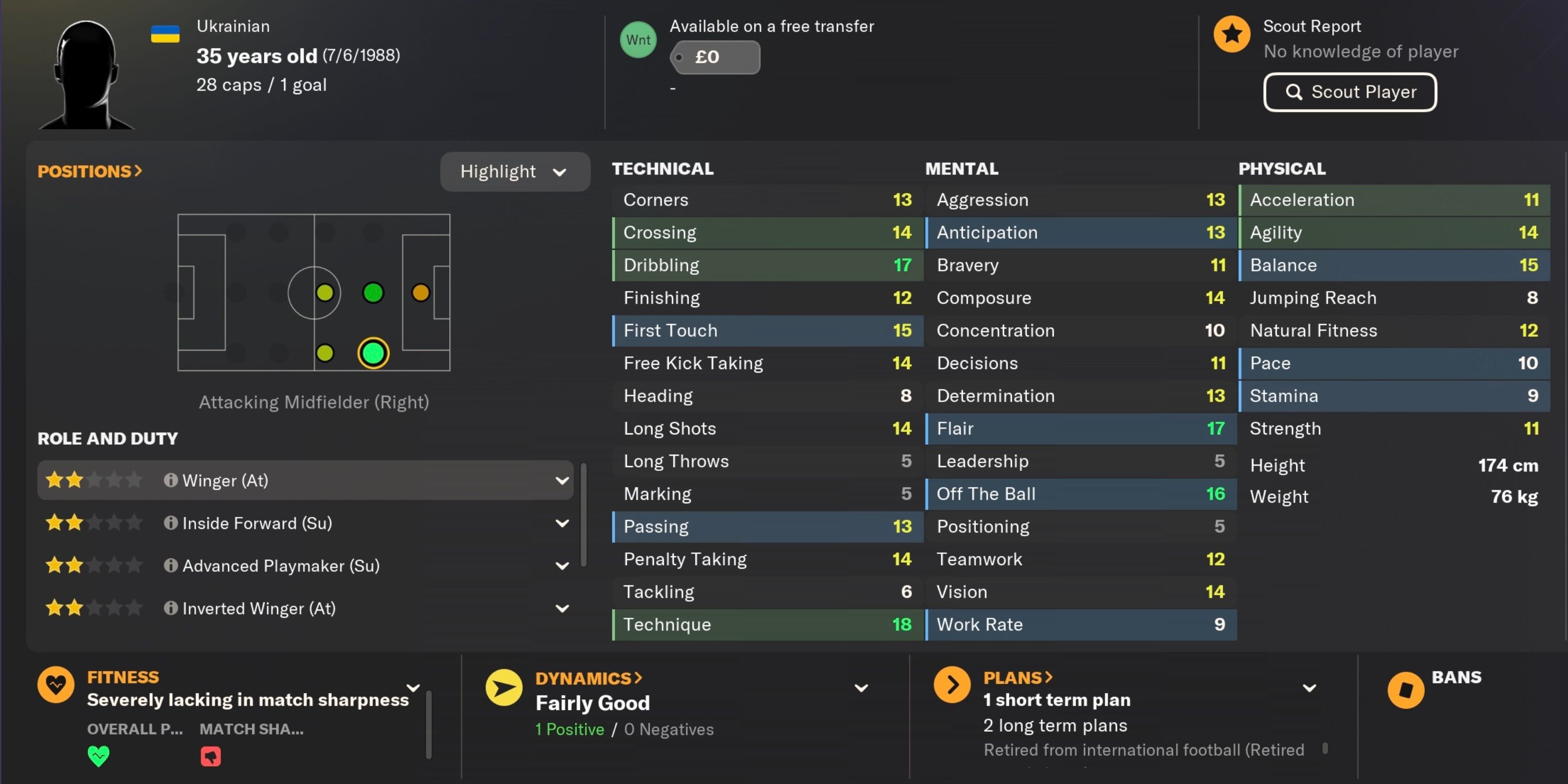 Age is consistently talked about in football. Anything over 30 is considered old, and some people instantly think there's a sharp drop-off once you reach that age. Spoiler: there isn't – well, for most players at least. 35-year-old Marlos has all the characteristics to perform for you for one year, with European experience potentially proving handy in high-pressure matches. With Marlos also only asking for £5k per week, it's a possible signing for League One clubs, which would be a statement signing in a challenging league. You'll have to move quickly though, as plenty of clubs will have eyes on him.
13
Kostas Stafylidis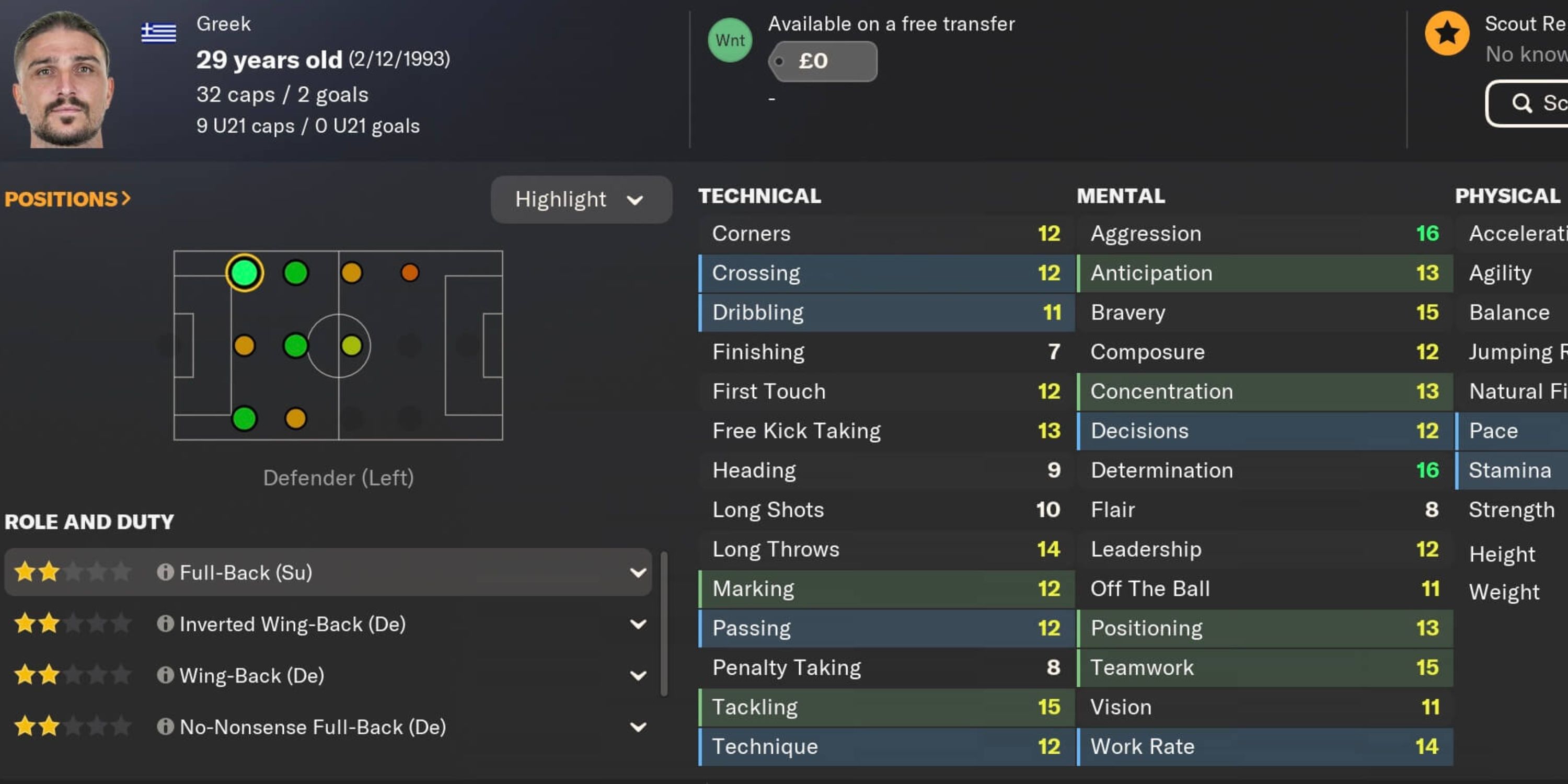 When you think of full-backs, you think of an exciting modern-day full-back that can drive forward, beat their man and place a stunning ball into the box. It's pretty incredible to look at, but the reality is very few are like that, especially in the lower leagues. Kostas Stafylidis epitomises what a no-thrills full-back is all about, but he'll get the job done for you, potentially as a squad player. With the Greek full-back only asking for £10k per week, he's also not too expensive, something that is key as you look to navigate your way around the price of modern football.
12
Jean-Philippe Gbamin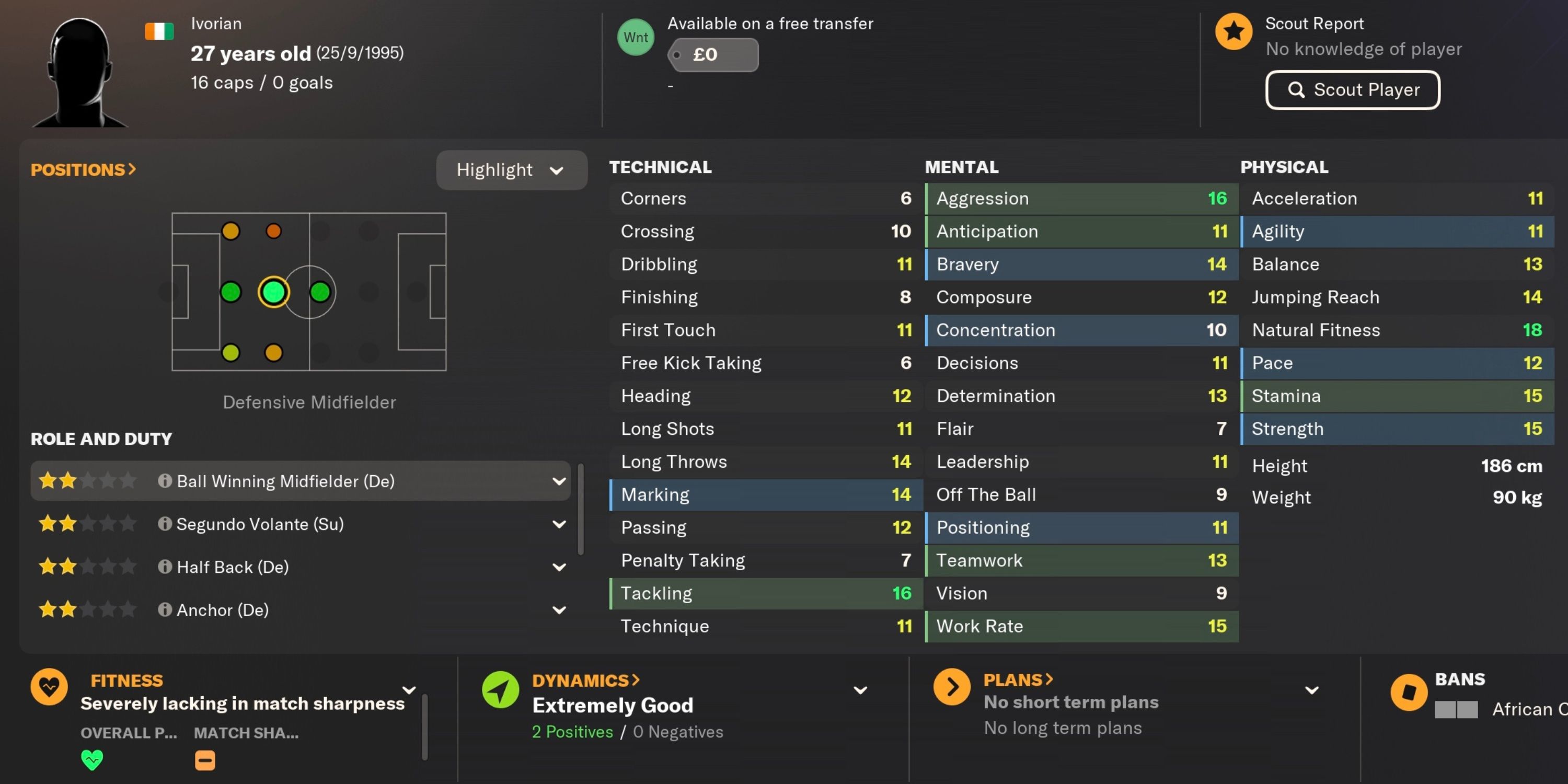 Everton's recent ten-point deduction symbolised their recent history in the Premier League. Somehow they've stayed up every year, but their financial struggles have been evident, mainly due to woeful recruitment each window. Jean-Philippe Gbamin was exactly that when he signed for Everton, making just six appearances in four seasons. Considering he cost £22 million, it's a woeful return. However, he is still capable of making an impact for teams slightly worse off than Everton. Whether that's a Championship team – potentially facing Everton next season – or a team in Europe, Gbamin will help you out in Football Manager 2024.
11
Aleix Vidal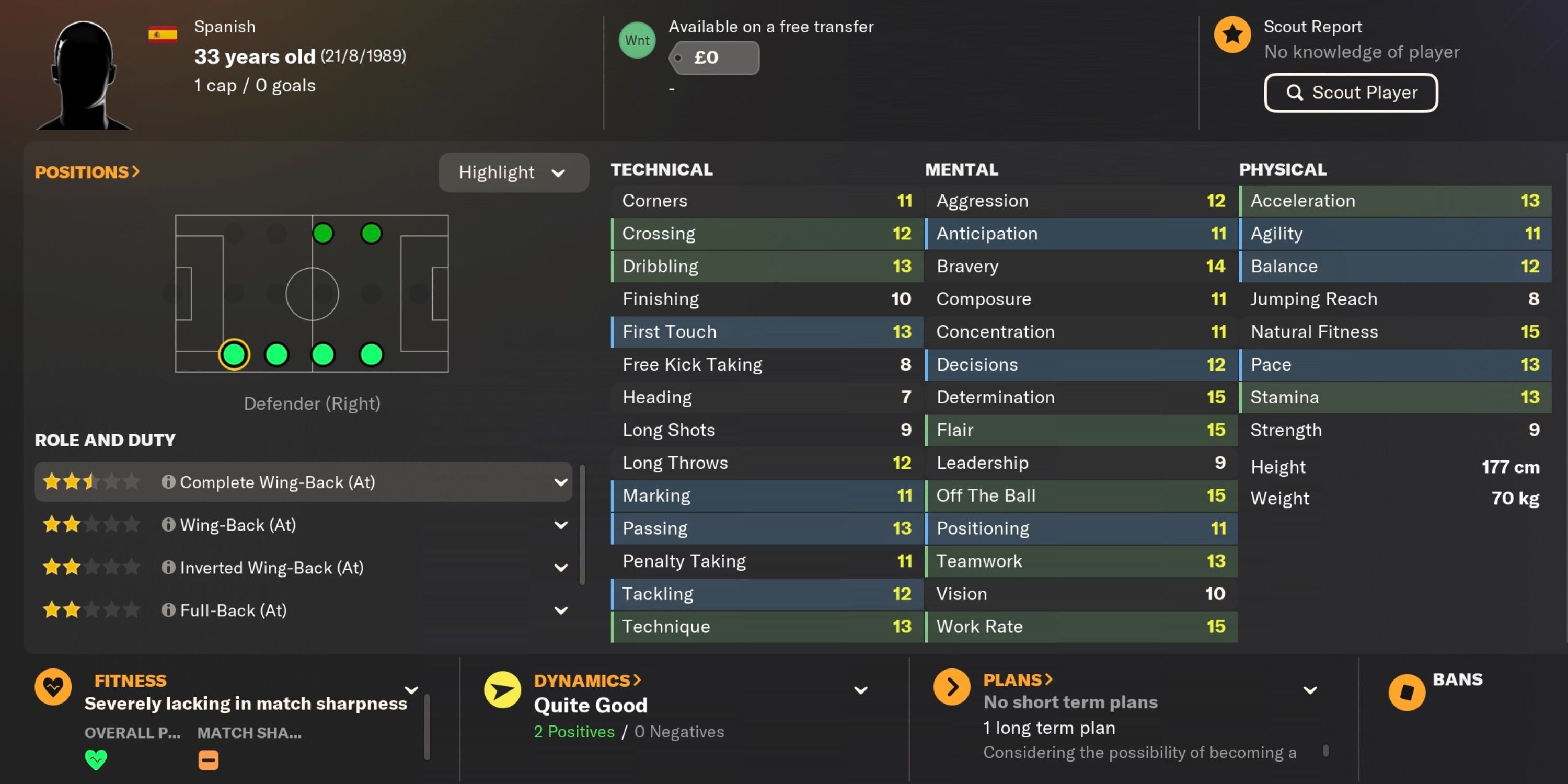 La Masia has a history of producing some of football's greatest talent. A quick look at Andrés Iniesta, Xavi and Lionel Messi would showcase that. In fact, it's probably the best in the world, yet Aleix Vidal, who spent a short section of his youth career at the club, has not kicked on to the same heights. However, he is still an effective option if you're a team in a relegation battle. Vidal started more than 20 games in La Liga last season at Espanyol, showcasing his effectiveness at the back, whilst he only wants £15k per week at the most!
10
Erik López
Erik López is a name you probably haven't heard of unless you follow the MLS. However, at just 21 years of age, Erik López might be one of the best free signings you'll ever make. Released from Atalanta recently, he is now searching for a new club, but at such a young age, he still has his whole career ahead of him. It means you'll be able to – potentially – make a profit from him, knowing a major club will be after his signature if he performs for your side. There are very few young free agents, but Erik López is the main star this year.
9
Brian Fernández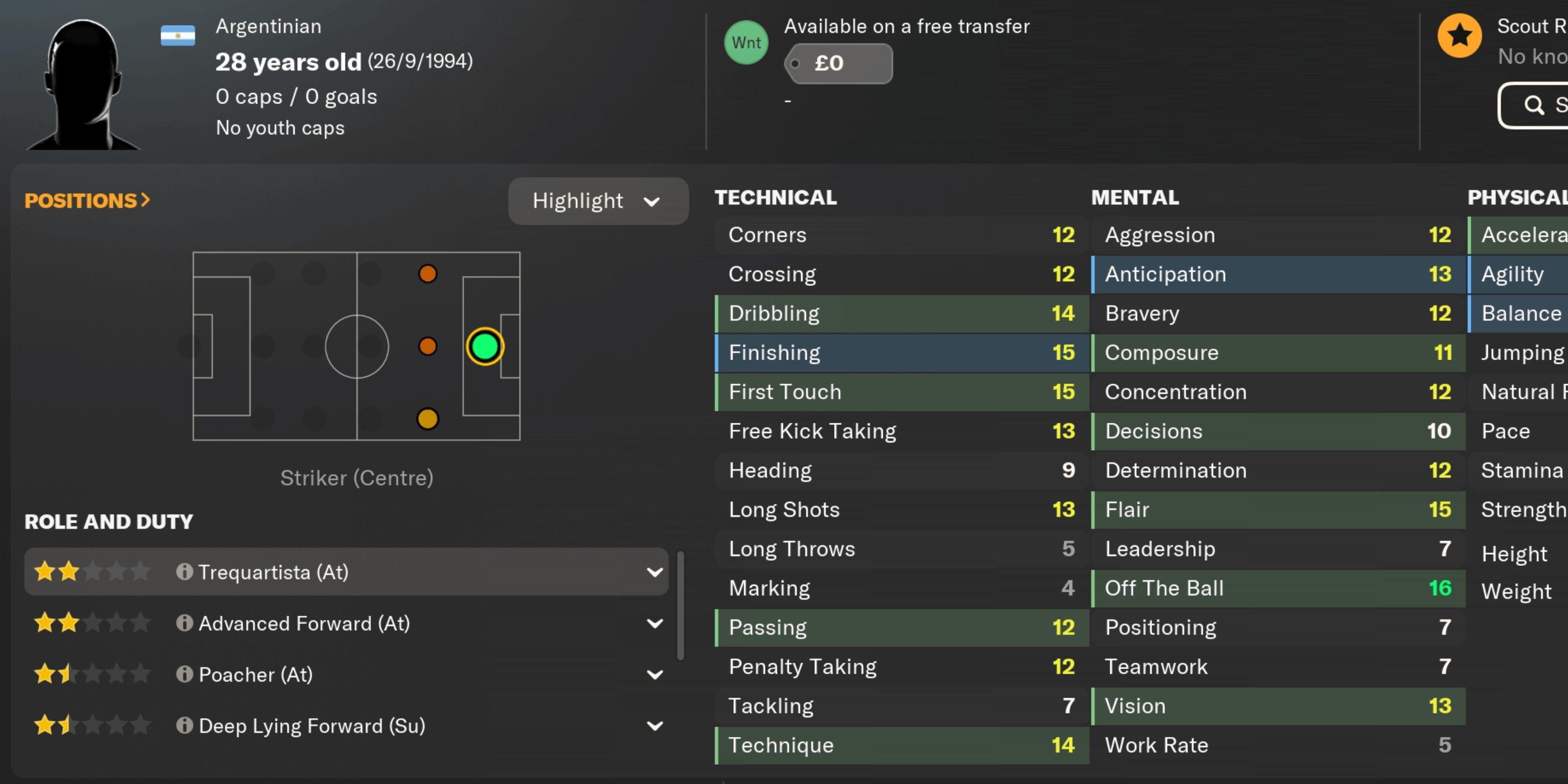 Brian Fernández is probably a name you're not familiar with. Scoring goals for fun during his career in South America, he never made the flight to Europe, but in FM24, he can. Famous for hardly breaking a sweat while still being able to score a lot of goals, the Argentinian's 15 finishing, 15 first touch and 14 dribbling make him an overpowered signing for some clubs. Obviously, there are some weaknesses, and he's not the youngest striker in the world, but for a wage of £5k to £10k per week, you get a player capable of finishing chances in the final third.
8
Bobby Wood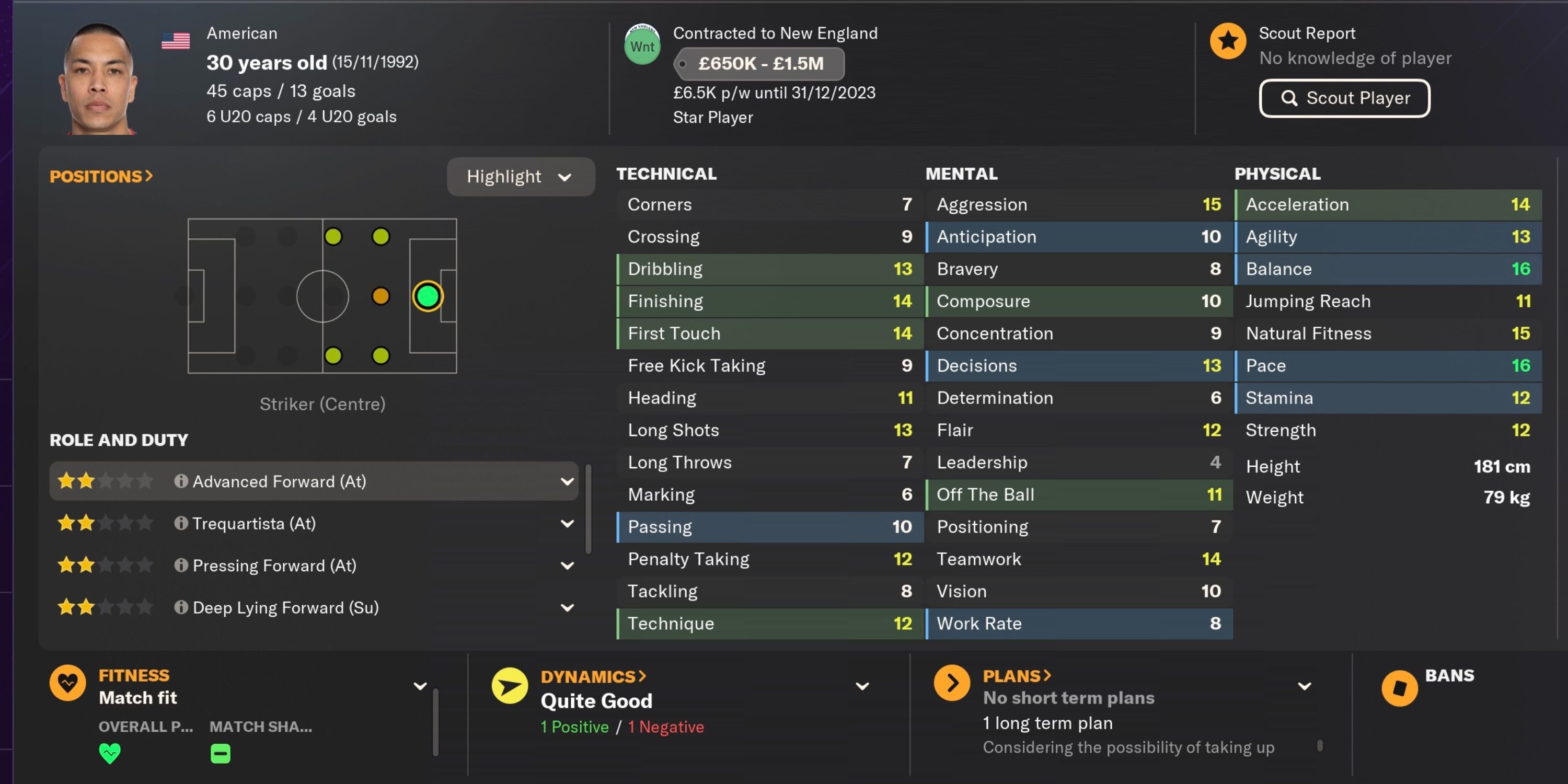 You might be thinking in the screenshot: "Bobby Wood is attached to New England. He's not a free agent." Well, in fact, you would be correct, but with his contract expiring at the end of 2023, he's set to be a free agent in your save very soon. Wood has spent his entire career in Germany and the United States at seven different clubs and only averages one goal every five league games. It's not exactly incredible, but it's your job to change that. He'd make the perfect rotational striker in the Championship, providing an impact off the bench.
Read more: The 10 best left winger wonderkids in Football Manager 2024
7
Shkodran Mustafi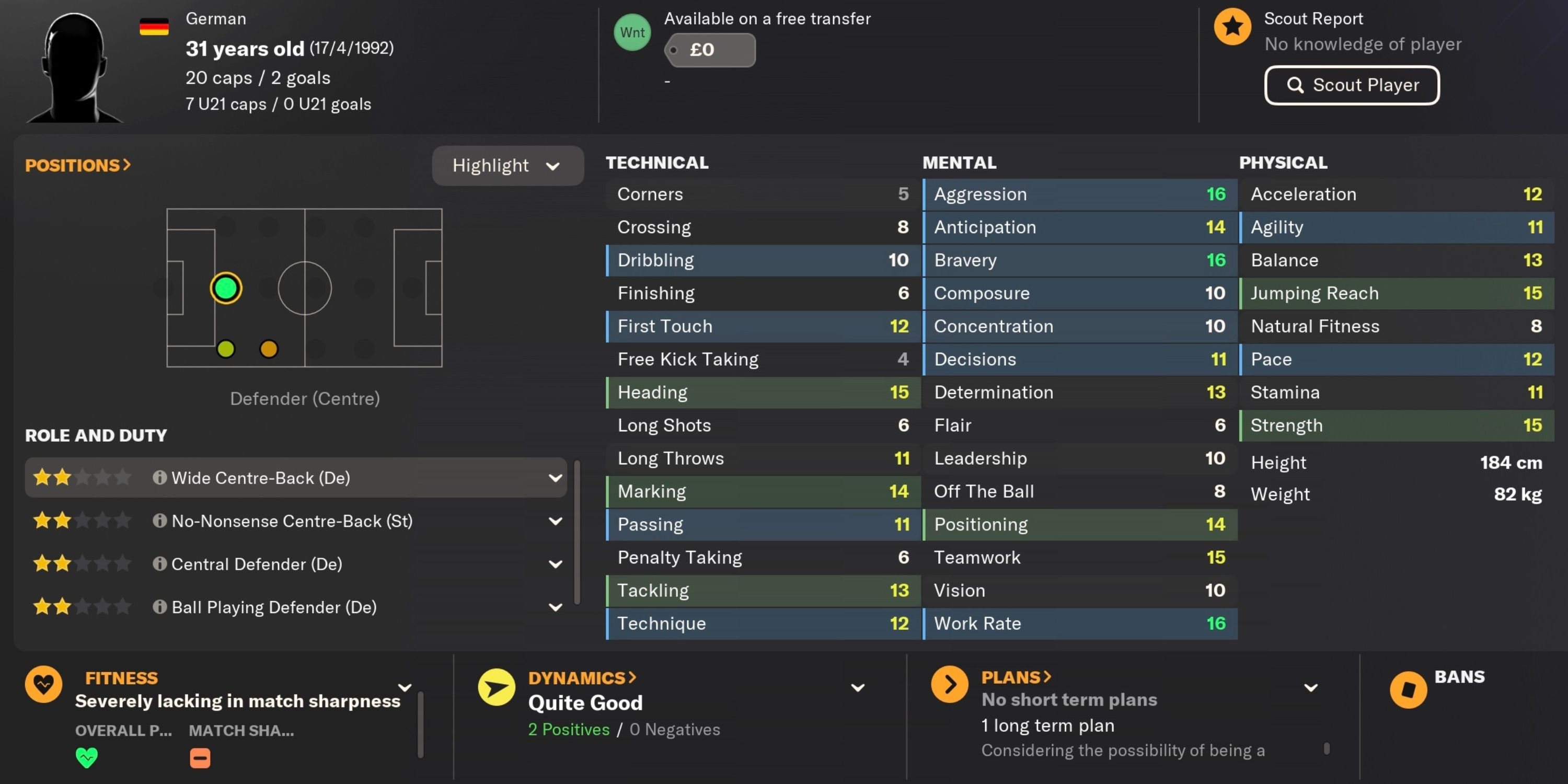 It's crazy to think there was once a time when Shkodran Mustafi was a World Cup winner, shining at the 2014 World Cup in Brazil. He's one of the very few World Cup winners to be without a club, in fact. His time at Arsenal ruined his reputation, consistently struggling in the world's most competitive league, but he is still capable of performing. In FM24, his 13 tackling and 15 jumping reach make him a perfect option at CB, especially if your main goal is promotion back to the promised land. Of course, he's not young, but for one year, he's a viable option.
6
Diego Perotti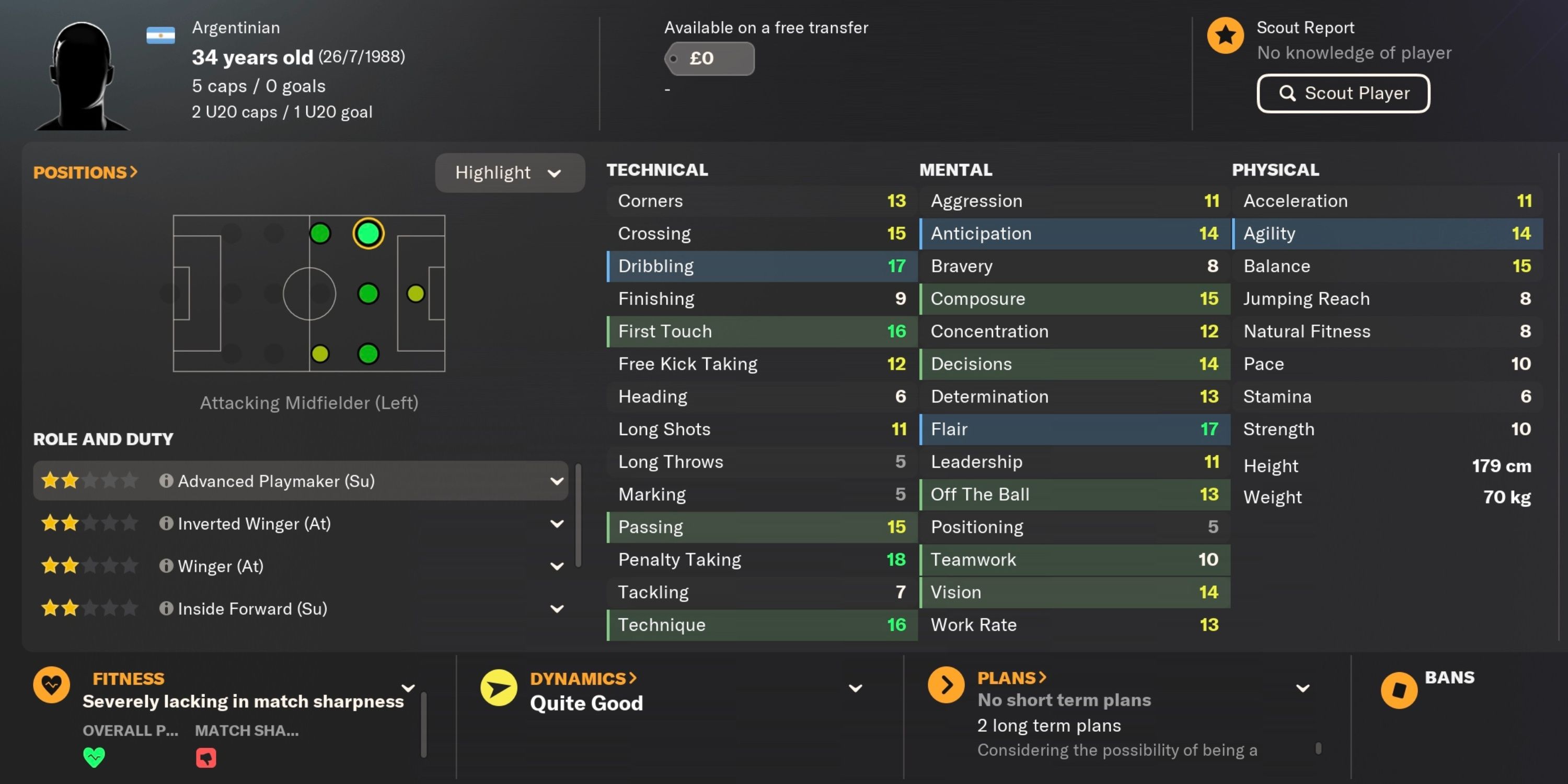 Diego Perotti has had an eventful career. From playing at Roma and Sevilla to even featuring for his country, Perotti has had a career many would love to have. He even won the Europa League with Sevilla! However, now at the end of his career, Perotti is looking for one final challenge and that might be you. With 17 dribbling and an incredible first touch (16), he has all the characteristics to make an impact in FM24, especially off the bench. He lacks stamina and pace, but that's the only downside for a player that used to be one of the best in the world.
5
Luan Silva
Luan Silva is another young free agent available in this year's game. Previously at Esporte Clube Vitória, he failed to reach the heights of other Brazilian talents. However, he's still only 24 and has most of his career ahead of him. Because of his nationality, he might struggle to qualify for a work permit in the UK, so signing him in Germany (which has relaxed laws) might be the easiest way to add him to your squad. Finally, make sure you use a large database, otherwise, Luan Silva will not pop up as a free agent in Football Manager 2024.
4
Javier Pastore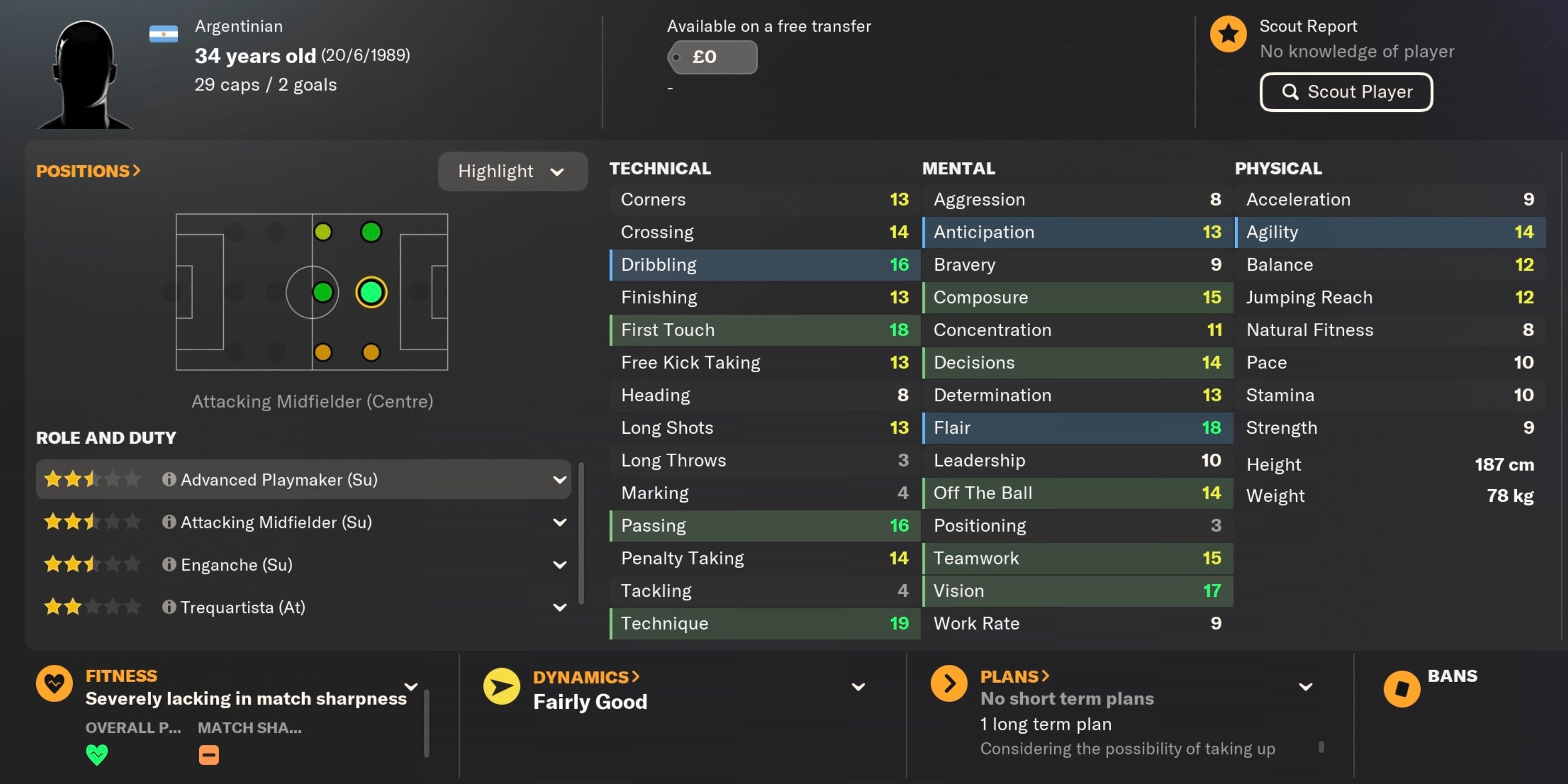 Everyone remembers the days when Javier Pastore was one of the most exciting midfielders in the world, right? He was electric to watch, particularly at Paris Saint-Germain. In fact, throughout his career, clubs have spent over £60 million in transfer fees to sign Pastore throughout his career. Yet, at 34, his best days are behind him, but he is still looking for one more adventure. He only wants £8k per week as a salary, so bringing in the Argentine in the Championship is a very viable option; think of the talent he would bring to away days in Preston!
3
Jose Campana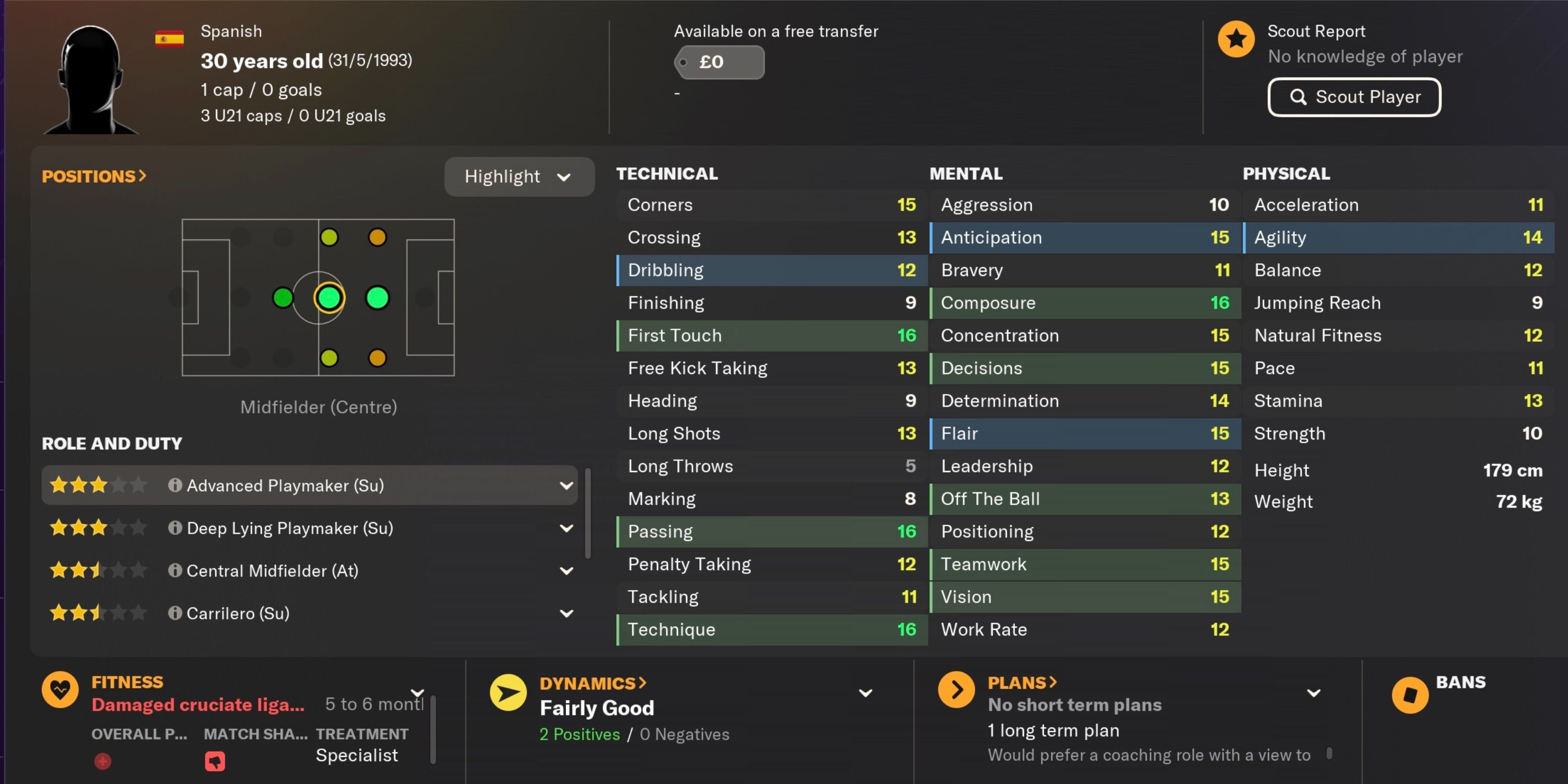 Coming into the top three, Campana is strongly considered the best centre midfielder available to sign as a free agent in FM24. In fact, he's probably capable of playing for several Premier League clubs, maybe even helping a push for Europe. With 16 passing, 16 technique, 16 composure and a spectacular first touch (also at 16) he will help dictate matches in the middle of the park. However, with the Spaniard asking for a wage of potentially £40k per week, he won't come cheap. At 30, he still has several years ahead of him before he starts to decline.
2
Jesse Lingard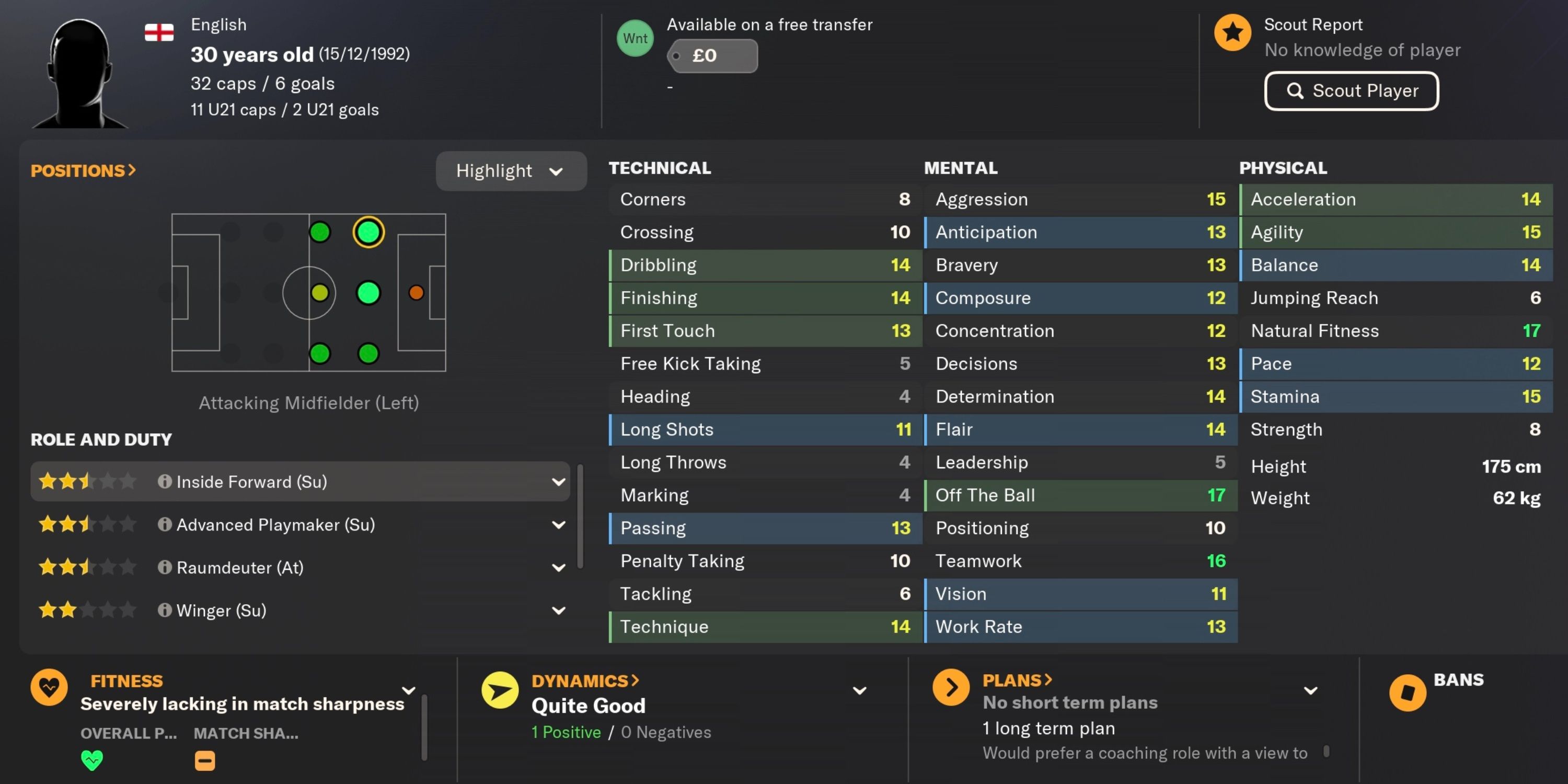 A scorer of the winning goal in an FA Cup final. Scorer in a World Cup for England. Finally, a key player for Manchester United over the years. Where did it go wrong for Jesse Lingard? He's now without a club after recent moves to West Ham and Saudi Arabia failed, which opens the door for you to sign him in FM24. He's only asking for £20k to £40k per week, whilst he'll provide creativity in the middle of the park. He's not a spectacular player, showcased by just his technique of 14, but he'll do a job in the Premier League.
1
David de Gea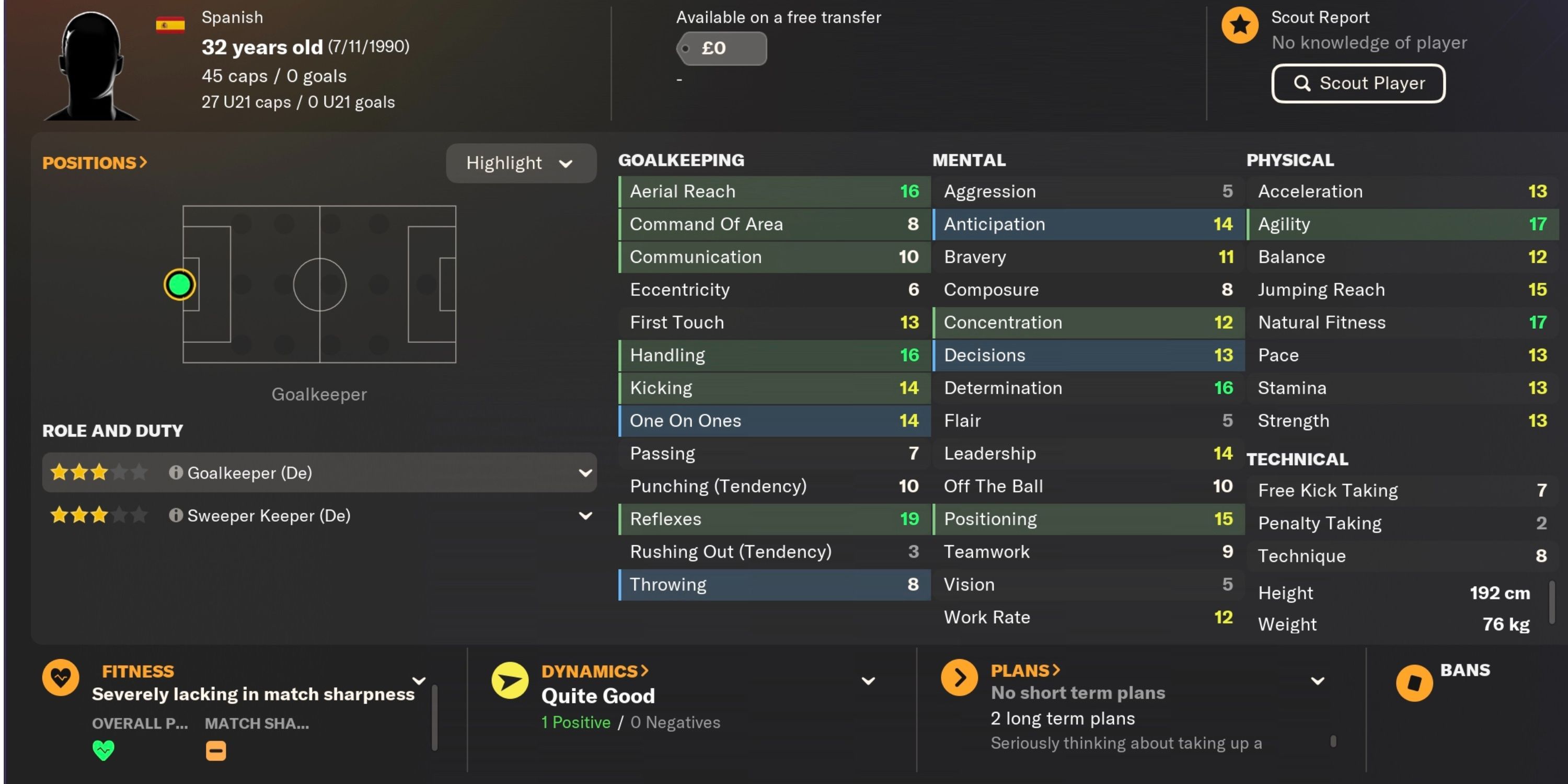 Ladies and gentlemen, meet the best free agent in Football Manager 2024 – David de Gea. Is anyone actually surprised? No, probably not, because the Spaniard – who has been out of football since leaving Manchester United in the summer – has all the qualities to compete at the top of European football. At 32, he still has several years left at the top of the game, but don't use him as a sweeper keeper, because he lacks the passing to do so. For a wage of just £60k to £80k per week, de Gea is the best free agent in this year's game.
Read more: The 10 best defensive midfielder wonderkids in Football Manager 2024