The 2022 World Cup ended in spectacular fashion as Argentina and France played out one of the most chaotic finals in the history of sport.
You know the drill by now: Lionel Messi scored twice, Angel Di Maria finished off a superb team move, Kylian Mbappe lashed home a hat-trick and Argentina snuck the win on penalties.
However, while Messi and his compatriots prepared to lift the trophy which they have coveted their entire lives, there were also some other accolades that FIFA needed to dish out.
Who won awards at the 2022 World Cup?
First, Messi made history as the first male to be crowned the player of the tournament at two separate World Cup editions, collecting the Golden Ball award just as he had done in 2014.
Then, with Mbappe having outscored his Paris Saint-Germain teammate at the Lusail Iconic Stadium, the Golden Boot award for the most goals at the competition fell into his hands.
Buy your Kylian Mbappe t-shirt from the GMS Shop
Buy your GMS Mbappe t-shirt to celebrate the 2022 World Cup.
Far more controversial, however, was the awarding of the Golden Glove to Emiliano Martínez as the standout goalkeeper despite Dominik Livaković, Yassine Bounou and Wojciech Szczęsny all proving far better candidates for the prize.
And similarly, Jude Bellingham can perhaps feel a little miffed that it was Enzo Fernández who collected the gong for the finest young player at Qatar 2022.
2022 World Cup quiz: How much do you remember about the tournament?
What is the World Cup team of the tournament?
So, a bit of a mixed bag really in terms of FIFA's decision-making, and that couldn't help but lead us down the rabbit hole of what the statistics made of the World Cup's top performers.
Would the numbers be any more accurate than the convictions of football's governing body? Well, that's the question we set out to answer by heading over to the data gurus at WhoScored.
They have been awarding match ratings for every player in every World Cup performance based on a series of key metrics regarding defensive, offensive and passing sides of the game.
And when those ratings out of 10 are averaged out across the tournament, then you come as close as possible to an objective ranking of the best players over the entire month of World Cup action.
Squeeze that into a formation that optimally accommodates those who finished at the top and then you have yourselves the team of the tournament in the eyes of the statistics.
And that, in turn, shines a light on whether FIFA really got their awards right on the big day, so be sure to check out what the data said about things with Qatar 2022's best XI down below:
To keep up to date with all our sports news, sign up to our weekly newsletter.
Did the stats get it right?
Your suspicions were right, folks: FIFA got a good deal of their awards completely wrong.
In terms of goalkeepers, it was Livaković who impressed the statisticians the most with his penalty shootout heroics leading the charge in what proved to be an all-round impressive seven games from Croatia's number one.
Meanwhile, there's no sign of real-life award winner Fernández, but there is a place in midfield for fellow young player of the tournament candidate Bellingham who is two years his junior.
And Luka Modric can't wiggle his way into the XI despite collecting the Bronze Ball on Sunday, instead succumbing to superior numbers from Manchester United duo Bruno Fernandes and Casemiro in the centre of the park.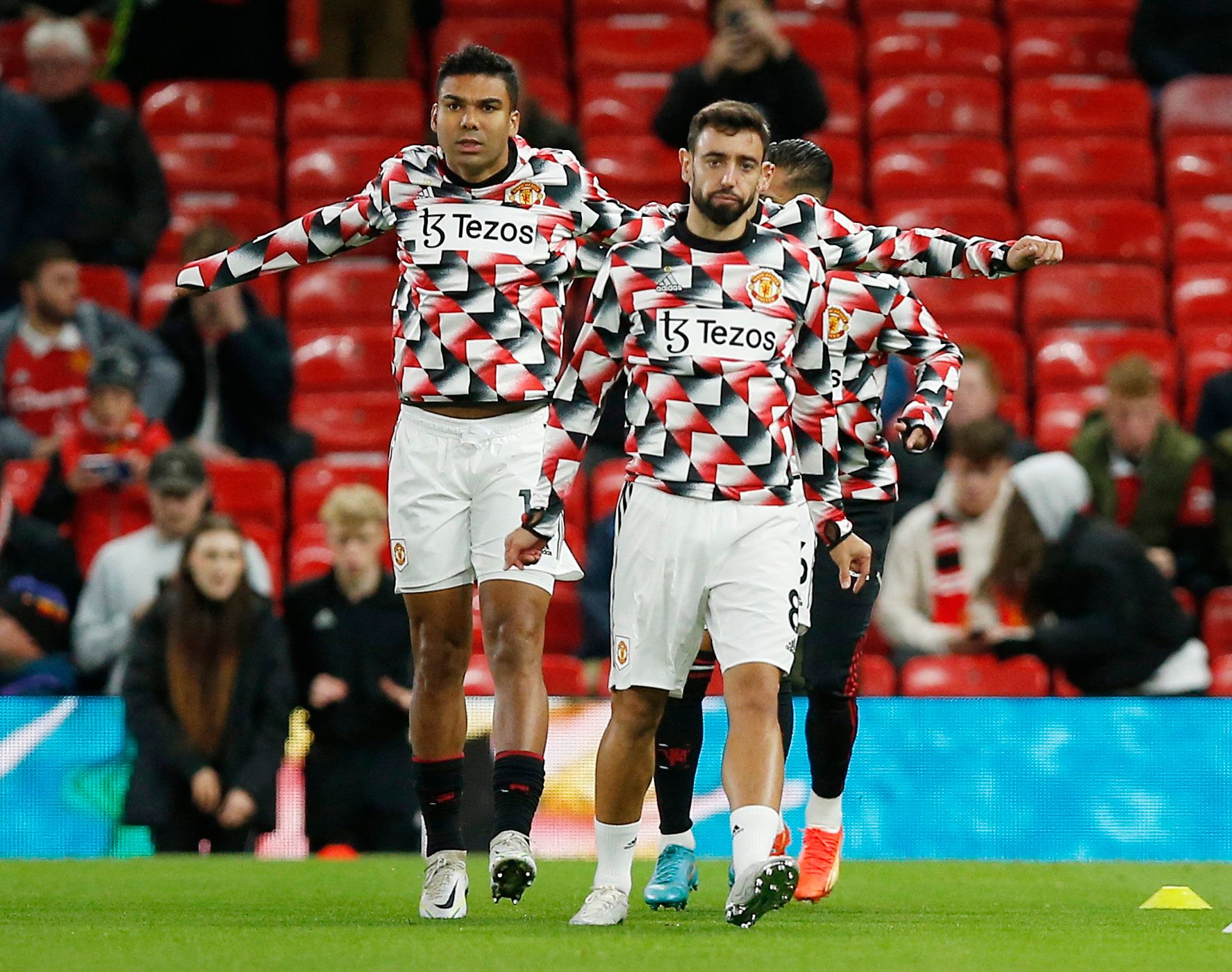 Soccer Football – Premier League – Manchester United v Tottenham Hotspur – Old Trafford, Manchester, Britain – October 19, 2022 Manchester United's Bruno Fernandes and Casemiro during the warm up before the match REUTERS/Craig Brough EDITORIAL USE ONLY. No use with unauthorized audio, video, data, fixture lists, club/league logos or 'live' services. Online in-match use limited to 75 images, no video emulation. No use in betting, games or single club /league/player publications. Please contact your account representative for further details.
Speaking of United, Harry Maguire makes his way into the team as well, which might seem a little generous when compared to Joško Gvardiol and Romain Saïss, but is by no means an outrageous shout as he was arguably England's finest performer out in Qatar.
But if you're starting to think that the stats really are away with the fairies, then reel that in with the fact that Mbappe, Messi, Antoine Griezmann and Achraf Hakimi are all deservedly present.
The numbers don't always get it right, that's for sure, but there's good reason to think that they did a lot better than some of the conclusions that FIFA drew upon Argentina's triumph.
Check out our 2022 World Cup hub page
You can find all of the latest football news and rumours right here.