Tottenham Hotspur's defensive frailties are a thing of the past, but that does not mean that improvements to the backline are not requisite for sustaining the success that has arisen from Ange Postecoglou's managerial magic wand.
The Australian tactician took to the dugout down the N17 in June with sights set on making his mark where a line of illustrious predecessors had fallen, but so far he has been a triumph, launching Spurs into the ascendancy.
The Premier League table-toppers have put last year's malaise firmly behind them, having finished eighth and conceded 63 goals in the league term – a concession rate below only 2022/23's relegated trio and newly-promoted Nottingham Forest and Bournemouth.
Micky van de Ven was signed to combat the papery backline, a centre-half of remarkable speed and athleticism, arriving from German side Wolfsburg for £43m with Liverpool loathe to meet the expensive tag for one of modest experience; he's been a bona fide success so far.
Jurgen Klopp's loss is Big Ange's gain, and this glittering new partnership with the mighty but mercurial Cristian Romero has formed the base of the framework for the relentless churning of results.
This starring defensive axis looks poised to retain its vigour for years to come, but there is no question that Spurs must bolster and deepen the ranks in 2024 to compete across multiple fronts.
Tottenham's finish last term has left European football accessible only through the screen this year, and with Fulham defeating Postecoglou's side in the Carabao Cup in September, rotation is not as weighty a concern. That will change soon, based on the exploits over the past few months.
With Eric Dier's contract expiring in June and the England international having failed to earn a single minute this season, fresh faces are a necessity, and chairman Daniel Levy might have identified a perfect, cost-efficient solution.
Tottenham transfer targets – Victor Nelsson

According to the Daily Express' Charlie Gordon in July, Spurs had ended their interest in Galatasaray central defender Victor Nelsson after moving for Van de Ven, though recent reports suggest that the road to London has been reopened for the ace.
While Nelsson is one of the Turkish Super Lig's standout defenders, a contractual stalemate has left him alienated from Okan Buruk's starting line-up, and a January exit looks increasingly likely.
And in light of these revelations, outlet Aksam have revealed that Tottenham could now revisit their interest, with the previous €25m (£21m) valuation in reduction.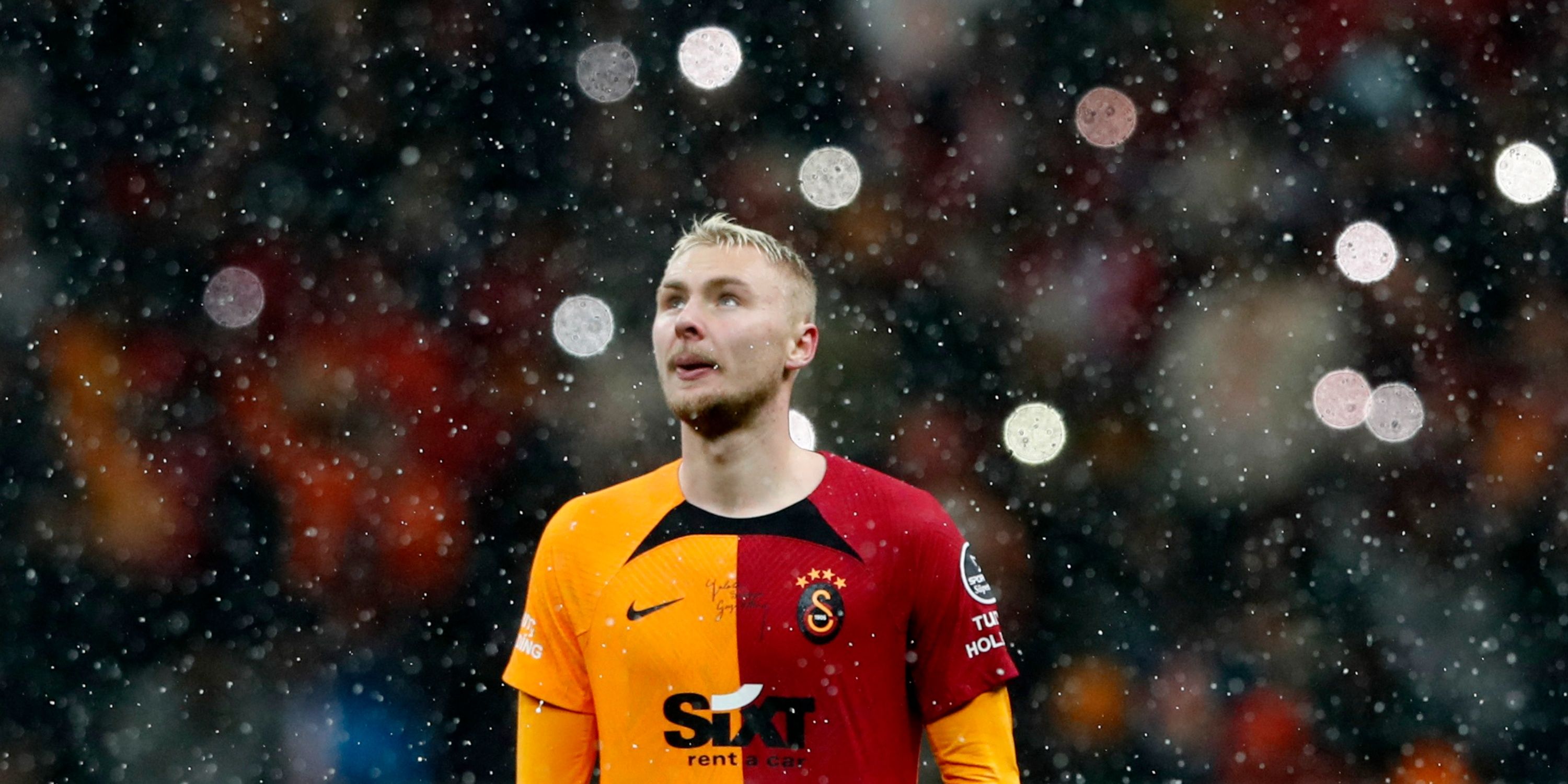 Various reports – relayed by Sport Witness – suggest that Tottenham offered around €20m (£17m) for the 25-year-old's services in the summer but Galatasaray were indeed pushing for the aforementioned fee, halting talks.
Aksam believe that Gala would now be willing to part with the player for just €15-20m (£13-17m), and given that Postecoglou is searching for a defender to support – not surpass – his current pairing, this looks to be the deal to make.
Victor Nelsson's style of play

The Danish defender has been an important member of Galatasaray's efforts over the past several years, having joined the club from Copenhagen in 2021. Since then, he has completed 93 appearances, winning the Super Lig last season after featuring heavily.
Following the recent contract dispute, however, Nelsson has been consigned to the periphery and has not started any of Galatasaray's past six league matches after beginning from the outset across the opening four.
This is not really in relation to his performances – the ace has performed well, completing 87% of his passes and winning a whopping 77% of his duels – but Buruk appears to be preparing for life without his services.
The 6 foot 2 titan clearly possesses excellent timing and immense anticipation, not diving into challenges if proving a little hesitant at times, but his positional awareness and reading of the game have attracted Postecoglou's interest as he looks to strengthen.
And if Dier does leave in January, then there is much worth in pushing ahead with discussions to secure an upgrade that will not leave the aspiring Lilywhites with a shallow surface.
How Nelsson compares to Eric Dier

Dier has been something of a stalwart for Tottenham since joining from Sporting Lisbon in a deal worth £4m in 2014, though having been branded a "liability" by writer Mitch Fretton, his time appears to be up.
The dynamic defender, aged 29, did not look up to scratch last term and was at the epicentre of the woes, and his new manager's decision to cast him to the fringe might be a ruthless decision, but this stony streak is paying dividends and it's difficult to argue against it.
Last season, as per Sofascore, Dier completed 86% of his passes and averaged 3.3 clearances per game, though made two catastrophic errors to sit atop a pile of inconsistent, wobbly moments, with journalist Ryan Taylor even claiming that he is "nowhere near the required level" for a team of Tottenham's ambitions.
Nelsson, in comparison, has been noted for his "exemplary development" by well-informed talent scout Jacek Kulig and is now eyeing an opportunity to impress at the highest level, in the Premier League.
Nelsson offers a similar set of skills to his Tottenham counterpart, last season also completing 86% of his passes and making 3.3 tackles per game, but he clearly holds greater stability at his core and would be a composed presence at the club.
Victor Nelsson: Style of play (WhoScored)

Strengths

Weaknesses

Concentration

Tackling

Aerial superiority
The defensive "monster" – as Nelsson has also been dubbed by Kulig – certainly offers skills of similar quality to Dier's, with his 2022/23 metrics aligning with the Englishman's, and while some might feel that this should serve as a deterrent given Dier's non-existent presence at the Tottenham Hotspur Stadium, this does not paint the full picture.
Nelsson is a rising star, a wanted commodity by multiple Premier League sides – supposedly including rivals Arsenal – and given that he would not be expected to carry the weight of the world on his shoulders upon joining, seamless integration and a utility role will allow him to acclimatise nicely.
Whether Postecoglou forges ahead with a winter bid remains to be seen – as does all transfer murmurings at this stage of the season – but with Dier headed for the door, Nelsson is the man to bolster the backline of an outfit on the up.