The second edition of our "Americans in the Bundesliga" deep-scout feature for calendar year 2023 once again held to our tradition of scoring any action involving U.S. actors in the country's domestic cup.
Far fewer Americans had midweek Pokal fixtures lined up this week. Publication was withheld whilst waiting to see if Gio Reyna might get any time against Bochum on Wednesday.
Gio ended up only being used as a late time-killing sub. Gio, along with the weekend's other goal-scorer Jordan Pefok, receive sections that are not graded due to their limited action.
Kevin Paredes, Joe Scally, and John Anthony Brooks receive full graded sections with American-scale grades ranging from "B" to "D" Level.
We've once again five sections to present in the second installment of the "Americans in the Bundesliga" column of the new calendar year. In stark contrast to last week, however, the latest report runs a little shorter. Moreover, only three players receive graded sections. Giovanni Reyna and "Jordan" Theoson Siebatcheu both netted goals over the weekend, yet did so in very brief relief shifts in which they saw little action.

Kevin Paredes also worked a relief shift for VfL Wolfsburg, but factored in enough to the play to receive a grade this time. Paredes leads the pack this time with a "B-". Joe Scally and John Anthony Brooks went the full 90 for their respective clubs. Scally comes in on "C-Level" while Brooks barely escaped failing marks.

Jordan Siebatcheu, 1. FC Union Berlin
Matches played = 1/1, Matches started = 0/1
Minutes played = 11/90, Positions played = LS
Grade = N/A
With a total of only eight recorded touches in a very brief relief shift, Jordan's latest deployment naturally doesn't warrant a full graded section. The fact that he broke an exceptionally long league scoring drought that dates back to September with a dramatic late-winner in Union's latest victory remains highly noteworthy. The goal itself may have resulted from some fluky bounces, but the American striker certainly earned it. Three tenacious ground wins proceeded the tally. The finish itself was confident and cool.
Those with access to the tape might be interested to observe just how much Jordan's body language and demeanor shifted after that immensely important goal. Matters didn't get started too auspiciously for the 26-year-old in Urs Fischer's familiar 3-5-2 "double stack". He actually lost his first four aerial duels (79th, 80th, 81st, and 82nd) before netting the 2-1 in the 84th. While he even lost his fifth (86th) after the goal, he quickly began to look like a completely different player thereafter.

Strong aerial wins and flicks-on came in the 87th, 90th, 90+1, 90+5, and 90+7. Jordan appeared well plugged into the attacking flow during sequences in the 88th and at 90+2. He connected with passes and held the ball up well in both instances. One sincerely doubts that any of this will be enough for the D.C. native to displace recently re-signed veteran striker Kevin Behrens in Fischer's primary XI, but we might see him subbed on earlier or maybe even receive some Europa League starts in the coming months.
Good news here.

Giovanni Reyna, Borussia Dortmund
Matches played = 2/2, Matches started = 0/2
Minutes played = 20/180, Positions played = AM
Cumulative Grade = N/A
There's good news for Gio fans as well this week, though his two extra brief appearances for Dortmund in the league and cup don't leave him with enough relevant action to merit a grade. The 19 minutes played near the end of the Freiburg rout featured pretty much half-hearted, half-speed play from teams understandably eager to get an already-decided match over with.
We once again saw Reyna function as an eight.
Lineup—Borussia Dortmund—72nd minute (5-2-3)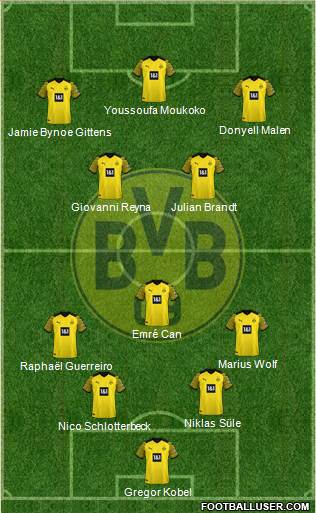 Reyna's fifth league goal of the season came courtesy of a rather flat finish in the 82nd. It's questionable as to whether the American youngster had much intent on it. There certainly wasn't a great deal of power behind it. Freiburg keeper Mark Flekken saw it late through a double-screen, yet appeared to showcase a poor reaction nonetheless.
Reyna racked up 20 touches during his first relief stint. Honestly, neither Gio not anyone else on the pitch seemed remotely interested in putting forth too much effort. A positive to see this American keep up his statistical steak with his third goal off the bench in the new calendar year. One could still label this a "stats pad". As noted in the introductory paragraph, Reyna's last-second sub against Bochum in the cup was meant to kill time.

Kevin Paredes, VfL Wolfsburg
Matches played = 1/1, Matches started = 0/1
Minutes played = 24/90, Positions played = LB, LWB 
Cumulative Grade = B-
Despite logging limited minutes as a substitute in Wolfsburg's 2-4 loss to Bayern on Sunday, the Virginia-native's involvement in this wild affair was considered relevant enough to merit a graded section. Paredes' strong form off the bench continues. The columnist recored 27 total touches for the 19-year-old, along with plenty of involvement in his squad's forward play. It shall prove most interesting to see if – with some clear personnel dilemmas following his squad's recent downtick – Kovac opts to insert our subject here back into the starting XI.
Paredes' section rather inadvertently morphed into a closer look into Kovac's tactics in the Bayern loss; something far too intriguing to ignore after it was given shorter shrift in the most recent tactics column. Three total major in-game tactical shifts occurred on Sunday as the VfL trainer desperately attempted to out-maneuver his former team. The opening constellation, now famously pitched after Bayern rushed out to a 3-0 lead, looked as follows:
Lineup—VfL Wolfsburg—Match 19 (3-3-2-2)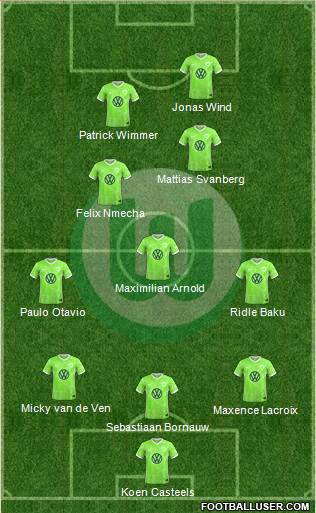 Curious to see Kovac cede so much space on the flanks when he knew full well that Joao Cancelo and Kingsley Coman had a demonstrated propensity for tearing those areas up. The VfL gaffer fell back to something a bit more familiar when it became apparent that a drastic change to the shape was neccessary. Jakub Kaminski replaced Maxence Lacroix. The back-three was broken up. Immediate improvement in the upfield link-up play came via this:
Lineup—VfL Wolfsburg—31st minute (4-1-4-1)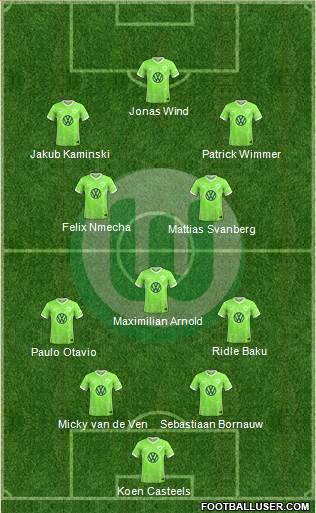 In all candor, this is what Kovac should have started with. Kaminski pulled a goal back before the half. A dominant performance from the German Wolves in the initial ten minutes after the restart nevertheless yielded no more tallies. Kovac still found himself presented with an opportunity to hit his old club hard. Joshua Kimmich's sending off on double-yellows in the 54th led to yet another reformat. Kovac went with a 5-3-2.
Paredes entered alongside Omar Marmoush in the 66th minute. The pair relieved Patrick Wimmer and Paulo Otavio. Most interestingly, Paredes operated as a left fullback/wingback. The natural attacker had plenty of defensive work on his docket. We'll discuss some mixed results from our American functioning in the set-up below:
Lineup—VfL Wolfsburg—67th minute (5-3-2)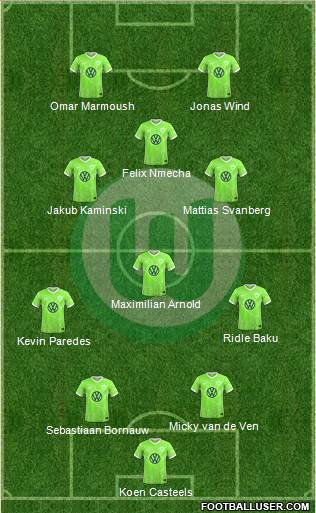 Within the span of a single minute, one can watch Paredes both out-dribble and lose a track on German teenage phenom Jamal Musiala. Paredes stunningly outclassed Musiala in the 72nd, leaving this observer scraping his jaw off the floor. Unfortunately, in the 73rd, the American lost an aerial duel against the German and then totally gave up on tracking Musiala in the lead up to Bayern's 4-1.
Some more poor marks can be found in the 67th, 89th, and at 90+2. He committed a foul against Musiala in the 69th. Much better defensive work is on display in the 90th, when Paredes tackles away from Paul Wanner beautifully. Solid touches forward and successful pass connects were noted in the 70th, 76th, 80th, 86th, and 89th.
There were regrettably many errors this time. Poor lane runs occurred in the 82nd, 84th, and 87th. The lone pass that Paredes sent stray (83rd) happened to be a fairly egregious turnover. Shots and crosses (77th, 90+4) needed better polish. After demonstrating remarkable maturity shaking off a Benjamin Pavard foul in the 68th, he totally lost it after a Mathys Tel infringement at 90+1.
In light of the fact that Paredes already incurred a booking for blowing his stack in a recent match, Kovac will likely keep Paredes in reserve for now. The mistakes in this one obviously don't help his case either. Overall, the columnist doesn't feel it necessitous to drop the teenager down to "C-Level" for this performances. There were enough positives to consider him well above average.

Joe Scally, Borussia Mönchengladbach
Matches played = 1/1, Matches started = 1/1
Minutes played = 90/90, Positions played = RB
Grade = C+
No tactical changes from last week from BMG trainer Daniel Farke. The Fohlenelf trainer deployed the exact same XI in the exact same shape as last round in Saturday night's disappointing 0-0 draw with Schalke. Gladbach find themselves in need of a shake up. Our American subject here might end up forfeiting his starting role as part, even though he didn't play particularly badly in the latest match. For whatever it's worth, Scally involved himself well enough in what can kindly be described as his team's "attack".
Scally shook off a pair of tepid throw-ins and charged up the right in the 2nd. After keeping the ball secure against two S04 markers, he lofted in a useful cross. Two more nice runs came in the 20th. A deft square into the box was the final product of the latter sequence. The CFG New Yorker also made himself useful on charges in the 17th, 23rd, 41st, 45+2, 56th, 60th, and 88th. Cycle, overlap, and passing work in the 38th, 49th, 53rd, 54th, and 69th could have been better.
The Long Island native often found himself taken out of the game as the majority of Schalke's sorties ran through Soichiro Kozuki's side. This led to him supplying slack marking during cases in which he was called upon. Examples can be found in the 3rd, 5th, 8th, 63rd, 72nd, 83rd, 90+3, and 90+4. Scally was very lucky hat Marius Bülter didn't punish him in the 74th. Defensive colleagues Ko Itakura and Ramy Bensebaini had to bail him out in the 52nd, 86th, and 89th.
Scally got off to a pretty terrible start in the air. Three losses occurred between the 14th and 16th. He recovered later on with first-rate aerial wins and defensive headers away in the 57th, 79th, 81st, and at 90+1. Convincing ground wins and clearances can be found in the 1st, 26th, 37th, 45+2, 61st, and at 90+2. Losses in the 68th and 71st nonetheless marred his record. It proved an above average performance from this American, but only one just a notch better than last time.

John Anthony Brooks, TSG 1899 Hoffenheim
Matches played = 1/1, Matches started = 1/1
Minutes played = 90/90, Positions played = CB
Grade = D-
Matters don't get much better for one of this column's all-time favorite subjects. The Berliner's struggles continue, though it does merit repeating that the failed coaching regime of André Breitenreiter asked far too much far too soon from this Bundesliga heavyweight. Even a player of Brooks' exceptional talent cannot be expected to shoulder the full responsibility of an attack-initiation plan that barely qualifies as a plan at all. Breitenreiter's final starting tactical set up is available – in all of its grotesque horror – is available in the latest tactics column.
Here's the half-time reformat:
Lineup—TSG Hoffenheim—46th minute (4-2-4)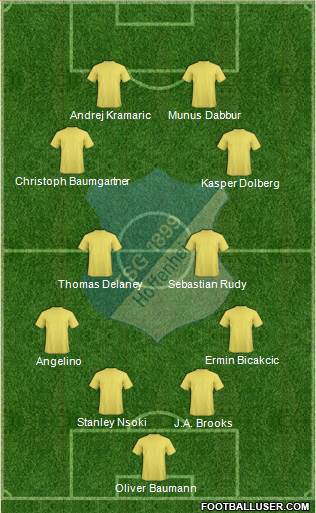 Equally as silly. Onerously demanding. Totally unworkable.
Now that we've presented what Brooks was operating in, we can delve into the specifics of his performance. Only 55 recorded touches from the USMNT veteran on this day. Not all were bad. Quality headers both backward and forward can be found in the 1st, 3rd, 6th (twice), 42nd, 45+2, 45+3,  48th, 50th, 57th, 62nd, 78th (twice), and at 90+1.
As one can infer from the time stamps, there were phases during which Hoffenheim had proceedings well at hand. The Kraichgauer resembled an actual football team at some points in this embarrassing rout. Brooks also put in some decent defending on the ground (5th, 36th, 45th, 51st, 52nd, 54th, 61st) and drove the attack with good passes, switches and set-piece takes in the 7th, 13th, and 72nd.
When it comes to the most important question for a defender, however, the truth remains grisly. Brooks totally blew his marking on Philipp Hofmann's opening goal in the 22nd. He can be caught ball watching like a putz on Philipp Förster's 2-0 at the half-hour-mark. The backtracking on the 3-0 in the 40th was atrocious. He fell asleep on Erhan Masovic's corner conversion in the 69th.
While Brooks wasn't directly at fault on Moritz Broschinski's 5-0 in the 83rd, our subject here was extremely lucky that egregious infractions in the 8th, 9th, 10th, 14th, 15th, 19th, 47th, 55th, 80th, and 90+2 weren't punished. He screwed up royally on a disallowed Bochum goal at 90+3. Cynical fouls – for which he somehow escaped a booking – came in the 9th, 58th, and 65th.
A poor headed shot off a corner onto the roof of the net (29th) and total mishits of the ball (33rd, 81st) illustrated just how far off his game the 30-year-old is at this point in time. Brooks seems to be making the TSG defensive ranks, and particularly his otherwise strong defensive partner Ozan Kabak, significantly worse.
It still appears as if new TSG trainer Pellegrino Matarazzo doesn't have much of a choice but to keep turning to him. Some may think it crazy that Brooks doesn't receive failing marks for this performance. The context is taken into account. So too are some flashes of what the Berliner is capable of. The columnist isn't prepared to fail him yet.
If improvement doesn't come soon, it's a different matter.
Thanks so much for reading! You can catch the the release of all Peter's columns on twitter, @ViceytheSS.
Twitter DMs are open for football conversations, corrections, and (if you truly insist) general abuse. 
All columns debut on Bulinews before appearing on Peter's website as the season progresses.
Related stories