Leicester City supporters have been through all levels of emotions in recent years, from the highs of winning the Premier League title in 2016 to the lows of being relegated to the Championship in 2023.
The Foxes defied all odds in that 2015/16 campaign and were written off from the get-go having survived relegation by the skin of their teeth in the season prior.
Despite being tipped for the drop, the industrious and energetic performances of midfield duo N'Golo Kante and Danny Drinkwater as well as the formidable attacking partnership of Riyad Mahrez and Jamie Vardy dragged Leicester to England's top prize.
Throughout that campaign, that unplayable attacking pairing were involved in a whopping 59 of Leicester's 68 Premier League goals, etching their name into Foxes folklore in the process.
While Vardy is still plying his trade in the Championship at the age of 36, Mahrez has achieved world domination since departing the East Midlands.
How much did Leicester City sign Riyad Mahrez for

In January 2014, Leicester captured a 22-year-old Riyad Mahrez for around £400k from Ligue 2 side Le Havre, a fee which turned out to be one of, if not, the biggest bargains in the club's history, aside from Vardy's £1m move from Fleetwood Town in 2012.
A skilful right winger, who possessed incredible attacking attributes, including his precise ball control, ability to manipulate the ball in tight areas and his wand of a left foot – all combined together to produce countless match-winning moments.
In his first 18 months at the club, he helped Leicester win the Championship title in 2014 and then consolidate in the Premier League in 2015, but in 43 appearances across those campaigns, he only managed to post seven goals and eight assists.
While he showed glimpses of his world-beating class during the early stages, the true potential of his talents were showcased in the following campaign as Leicester scooped the Premier League and the Algerian startled defences with his fleet-footed dribbling and ruthless finishing.
As previously mentioned, his indispensable partnership and telepathic understanding with Vardy was instrumental in their success and Mahrez had the season of his life, plundering 17 goals and supplying ten assists in the top flight.
Those tremendous returns saw him get shortlisted for the 2016 Ballon d'Or alongside world-class players such as Cristiano Ronaldo, Lionel Messi and Neymar.
In the 2016/17 season, Mahrez tailed off in the top flight, only recording six goals and four assists, but did play a vital role in Leicester's run to the Champions League quarter-finals with six contributions in nine appearances.
The 5 foot 10 whiz used the allure of Champions League football as fuel to earn a move to an elite European club and on the back of his 12 goals and 11 assists in 2017/18, Manchester City came calling.
How much did Leicester sell Riyad Mahrez for

Man City smashed their transfer record at the time to capture Mahrez for £60m from Leicester and the rest is history.
Across his five-year spell at the Etihad, which came to an end in the summer as he completed £30m move to Al-Ahli, the 83-cap Algerian was instrumental to City's trophy-laden period, winning the Premier League title in all but one of his seasons at the club.
Dubbed by Pep Guardiola as "exceptional", Mahrez had to contend with a whole host of star-studded competition in Manchester, battling it out with Phil Foden, and Bernardo Silva among others for a spot on the right flank.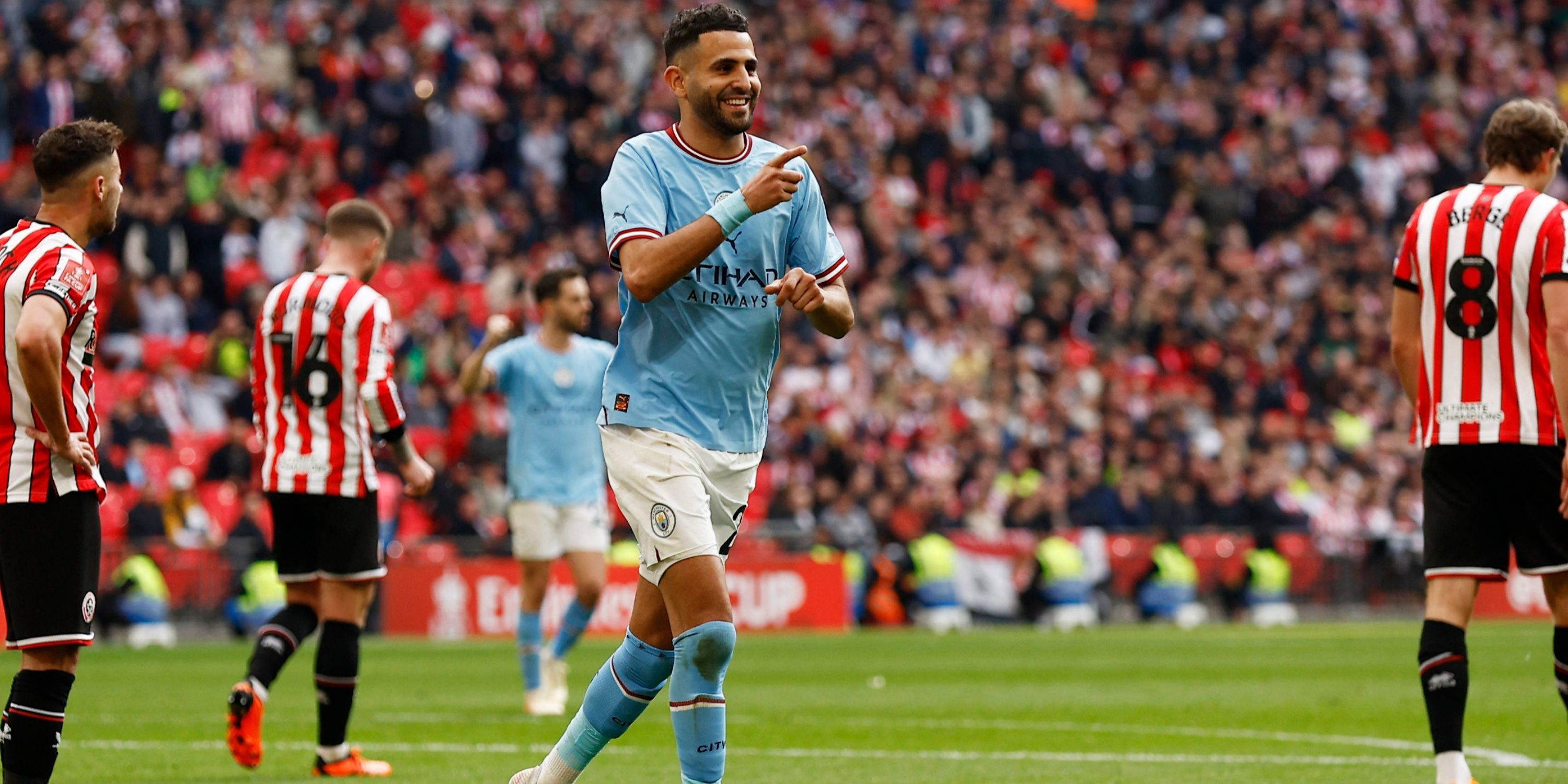 Despite falling victim to the Spaniard's rotation policy, he was still adored by his former teammates and centre-back Aymeric Laporte was one of many who showered him with praise, labelling him as "unbelievable" for his performances in a City shirt.
He may have bid farewell to Manchester this year, but he capped his time at the club in the best way possible by playing a crucial role in their treble-winning campaign, scoring three times in the Champions League, five times in the FA Cup – including a hat-trick in the semi-final against Sheffield United – and posting 15 goal contributions in the Premier League.
| Riyad Mahrez's stats at Manchester City | G/A |
| --- | --- |
| 2022/23 (46 games) | 15 goals / 13 assists |
| 2021/22 (46 games) | 24 goals / 9 assists |
| 2020/21 (48 games) | 14 goals / 9 assists |
| 2019/20 (50 games) | 13 goals / 16 assists |
| 2018/19 (44 games) | 12 goals / 12 assists |
In 236 appearances for the Citizens, he plundered 78 goals and supplied 59 assists – not bad for someone who was originally discovered by Leicester in the French second division and cost them a measly £400k.
Now currently ripping it up for Saudi Arabian club Al-Ahli with four goals and six assists in 11 matches, Mahrez will always be remembered by the Foxes faithful for dragging them to an unthinkable title win, yet what could have been had he remained at the King Power instead…