Carlo Ancelotti is one of the greatest managers of all time, winning trophies wherever he went. However, Ancelotti's greatest achievement saw him set a new record by becoming the first manager to win the league title in all of Europe's top 5 leagues.
Ancelotti has taken charge of some of the biggest clubs in European football, with hugely successful stints with Premier League giants Chelsea, Serie A goliaths AC Milan and PSG to name a few.
We'll be looking at the five title-winning seasons that Ancelotti masterminded in this article, with some incredible performances from teams across the European Isles!
Here's a closer look into Carlo Ancelotti's title-winning campaigns in the top 5 European divisions, including the Premier League, Serie A and beyond.
---
Carlo Ancelotti's Title wins in Europe
5) AC Milan – Italian Champions 2003/04 
DUBAI, UNITED ARAB EMIRATES – JANUARY 03: Carlo Ancelotti, manager of AC Milan addresses his players before a training session at the AC Milan Winter Training Camp at the Al Nasr Sports Club on January 3, 2009 in Dubai, United Arab Emirates. (Photo by Ryan Pierse/Getty Images)
After winning the UEFA Champions League and the Italian Cup a year prior, Carlo Ancelotti got his first league title during the 2003/04 season with a very impressive AC Milan side.
Ancelotti began the 03/04 campaign by lifting the UEFA Super Cup after defeating UEFA Cup winners FC Porto 1-0, with the goal coming from forward Andriy Shevchenko. 
However, it would be a Serie A campaign to remember as Milan would dominate and finish top of the league, 11 points ahead of AS Roma.  The squad featured the likes of Dida, Nesta, Maldini, Rui Costa, Rivaldo, Kaka and more. 
Plus, the campaign saw Ukrainian forward Shevchenko win the Ballon d'Or after carrying on his form from the 02/03 season by hitting another 23 league goals in the 03/04 season!
---
4) Chelsea FC – Premier League Champions 2009/10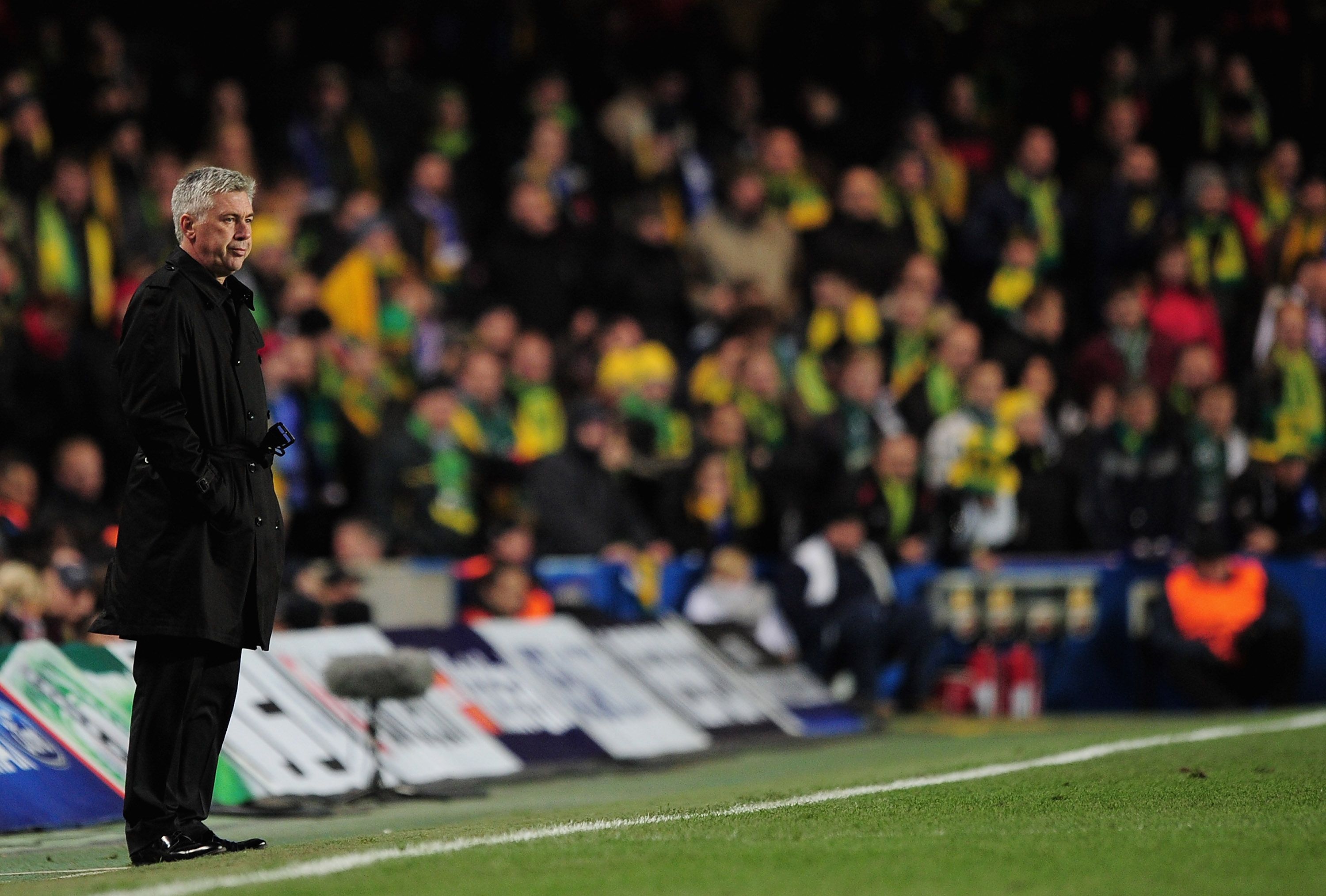 LONDON, ENGLAND – NOVEMBER 23: Chelsea manager Carlo Ancelotti is thoughtful as he watches his team during the UEFA Champions League group F match between Chelsea and MSK Zilina at Stamford Bridge on November 23, 2010 in London, England. (Photo by Shaun Botterill/Getty Images)
After winning six trophies with AC Milan, which included 2 UEFA Champions League trophies, Ancelotti would move from Italy to England to take charge of Chelsea. 
The 09/10 season saw Ancelotti's Chelsea side lift the Premier League title after beating United by 1 point. 
However, the talking point was Ancelotti's attacking style which saw four Chelsea players score over 10 Premier League goals, with Lampard and Drogba getting 51 Premier League goals between them. 
Ancelotti's men would see success domestically as his side lifted the Community Shield and had FA Cup success after a 1-0 win against Portsmouth, with a goal coming from a direct freekick from Didier Drogba. Chelsea got huge results in this campaign, winning games 8-0, 7-1 and 7-0, defeating Manchester United, Arsenal, Liverpool and Tottenham Hotspur along the way.
---
3) Paris St. Germain – French Champions 2012/13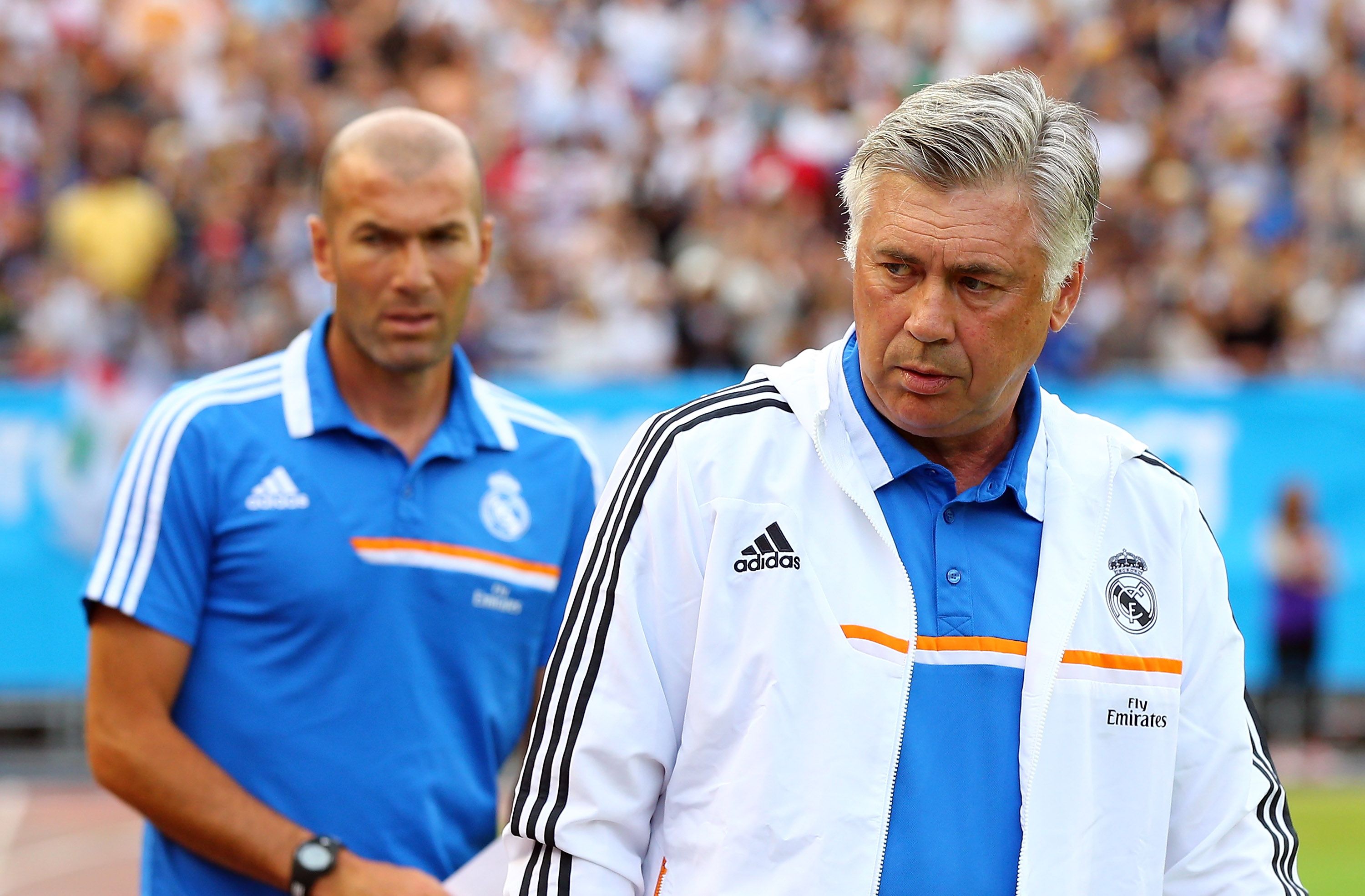 GOTHENBURG, SWEDEN – JULY 27: Carlo Ancelotti, head coach of Real Madrid looks on before the pre season friendly match between Real Madrid and Paris Saint-Germain at Ullevi on July 27, 2013 in Gothenburg, Sweden. (Photo by Martin Rose/Getty Images)
Ancelotti's next managerial step came in January 2012 when he joined the French side Paris Saint Germain. 
The 2012/13 season saw the Italian lift the Ligue 1 title after a dominant display that saw PSG finish 12 points ahead of Marseille, and the pick of the goals came from new signing Zlatan Ibrahimovic, who hit 30 league goals that season.
Ancelotti would leave PSG in June of 2013 to join Real Madrid in the following season after an incredibly successful stint in the French capital.
---
2) Bayern Munich – German Champions 2016/17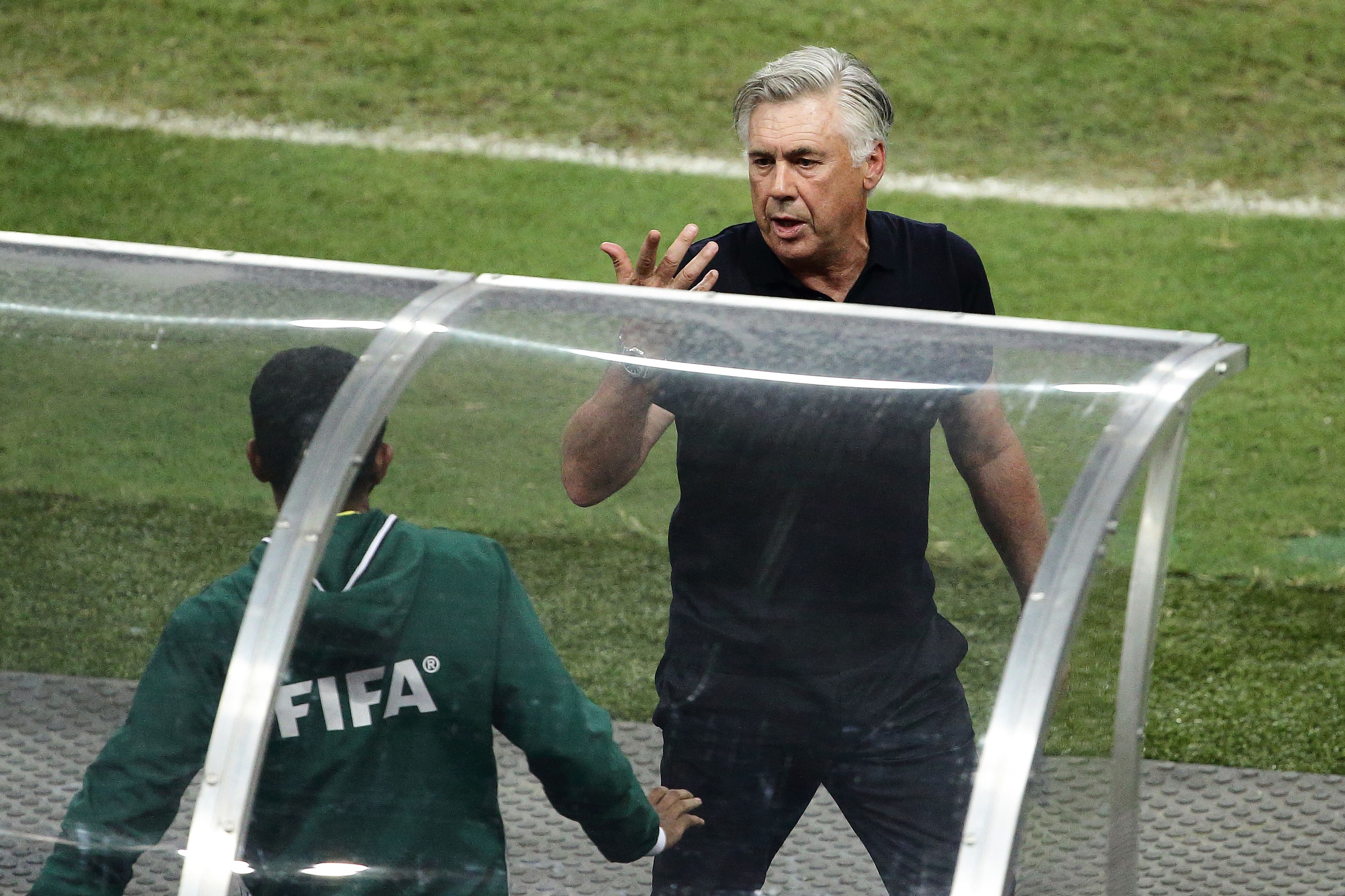 SINGAPORE – JULY 27: Carlo Ancelotti, manager of FC Bayern Munich argues with the fourth official during the International Champions Cup match between FC Bayern and FC Internazionale at National Stadium on July 27, 2017 in Singapore. (Photo by Suhaimi Abdullah/Getty Images for ICC)
Ancelotti's 2-year spell at Madrid saw him win five trophies in 2 years, which included a UEFA Champions League and Spanish Cup.
However, his next league title would come in the 2016/17 season when he lifted the Bundesliga with German giants Bayern Munich. 
Ancelotti's arrival continued Bayern's narrative of Bundesliga dominance, with the German side finishing 15 points ahead of RB Leipzig. 
The season would see the arrival of Renato Sanches and Mats Hummels to increase squad strength. However, the talking point would be the 30 league goals from forward Robert Lewandowski. Ancelotti would spend one season at Bayern winning just the Bundesliga.
---
1) Real Madrid – Spanish Champions 2021/22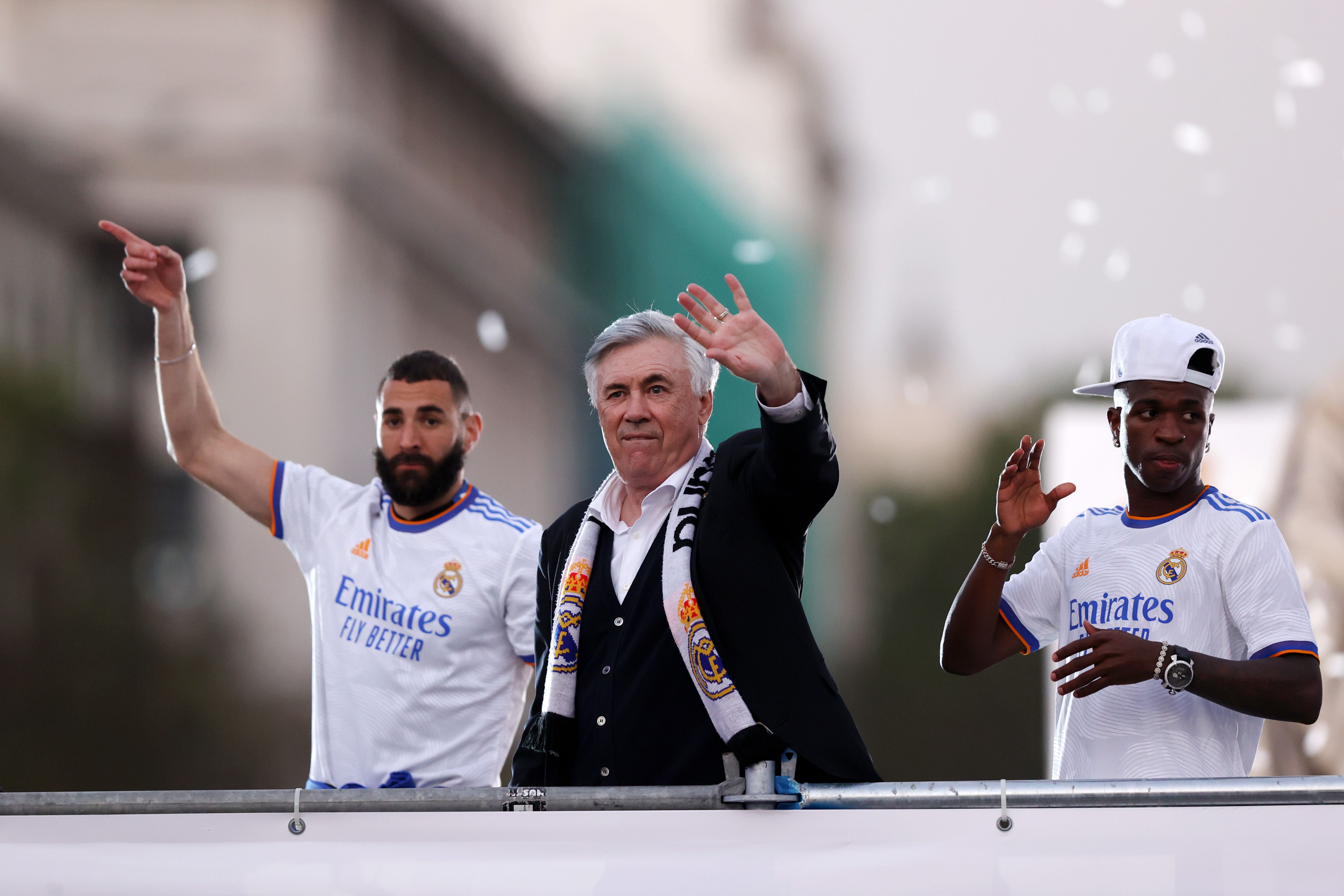 MADRID, SPAIN – APRIL 30: (L-R) Karim Benzema, Carlo Ancelotti, Head Coach of Real Madrid and Vinicius Junior celebrate at Plaza de Cibeles following their victory in their LaLiga match against RCD Espanyol which lead to their 35th LaLiga Championship title on April 30, 2022 in Madrid, Spain. (Photo by Gonzalo Arroyo Moreno/Getty Images)
The 2021/22 season can be considered one of, if not the greatest, of Ancelotti's managerial career.  Ancelotti's methods caused a resurgence in Madrid as a new era of Real Madrid found its stride. 
The Italian would get the best out of the likes of Karim Benzema and Vinicius Jr, who controlled the front line, which saw them lift the UEFA Champions League, Supercopa and La Liga titles. Ancelotti's La Liga win saw the Italian manager become the first ever manager to win the league title in all top 5 European leagues.
Madrid's adaptation to Ancelotti's methods saw Captain and marksman Benzema crowned the 2022 Ballon d'Or winner for the first time in his career.  Madrid would win La Liga in convincing fashion, finishing 13 points ahead of rivals Barcelona.
In his managerial career, Ancelotti has won 24 trophies, including 2 World's Best Manager awards, making him one of the greatest ever and Carlo Ancelotti the master of Europe's top 5 leagues!
---
You can find all of the latest football news and rumours right here on GiveMeSport!