A clip of Leroy Sane fuming with Sadio Mane during Bayern Munich's clash against SC Freiburg – just days before the 3-0 loss to Manchester City – has emerged.
Sensational reports from Germany has claimed that the pair had an altercation in the changing room after the loss to City, resulting in Mane punching Sane in the face.
Sky Germany say that Sane's lip was bleeding and the two had to be separated by teammates.
READ MORE: Sadio Mane reportedly punched Leroy Sane in the face after Man City 3-0 Bayern
After those initial reports, footage then emerged of the apparent reason Sane lost his cool with Mane on the pitch.
It came in the 83rd minute as Sane attempted to play the ball to Mane's feet, who looked to run in behind City's defence. The mix-up of communication led to City easily regaining possession as they led 3-0.
Sane could be seen jumping up in frustration as the home side attacked yet again.
READ MORE: Sadio Mane v Leroy Sane: Moment they clashed on pitch during City v Bayern
But it seems their disagreements go further back.
A few days further back, at least.
Another clip has emerged of Sane seemingly losing his cool with Mane.
Bayern won the match 1-0 thanks to Matthijs de Ligt's goal but there seemed to be a disagreement between the two wingers.
As Bayern looked to break down Freiburg, Sane had the ball at his feet. He passed the ball to his teammate before throwing his arm in the direction of Mane seemingly telling him to make a run.
The ball eventually made its way to Mane but Sane wasn't interested and turned his back on the ball and showed no attempt to get involved.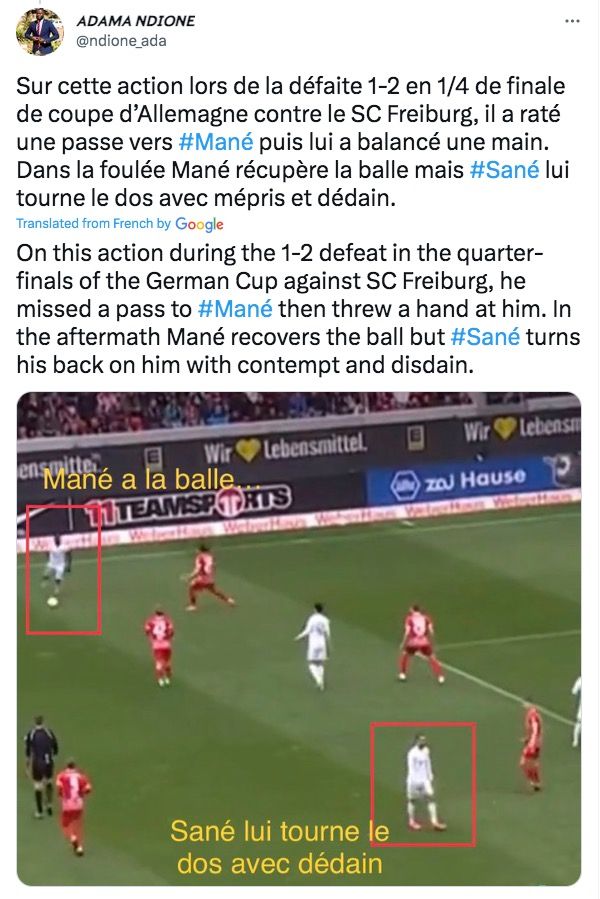 All is not well at Bayern.
Despite all of that – and the 3-0 first leg defeat – Bayern boss, Thomas Tuchel, has insisted the tie isn't over yet.
"This does not feel like a 3-0 but it is a 3-0 and it is a huge, huge task now to turn this around," he admitted.
"We are realistic but we will not give up. It will not be over until we are in the shower."
Whether Mane will be called upon next week for the second leg remains to be seen…