A weekend of big wins for the strongest starting sides in 2023/24 German Bundesliga leaves just two points separating the league leaders from the sixth-placed club. German record champions FC Bayern München are back at the summit via goal differential following a 7-0 thrashing of VfL Bochum.
Our Sunday evening recap piece covers all the action from the just completed fixtures as usual. This weeks installment contains draw-ups for Union Berlin, Hoffenheim, Dortmund, Gladbach, Dortmund, Bayern, Bochum, Heidenheim, and Frankfurt.
Many interesting trends continue to unfold over on the world's best footballing beat. No subject of interest escapes out focus in the most recent edition of "Tactics Talk".
| | |
| --- | --- |
| Harry Kane | FC Bayern München |
Bundesliga Tactical Banter: Round Five
The "Suave Swabians"
It seems apt to lead off this week with the surprise team of the season. Did Anyone have VfB Stuttgart gracing the top-four through five rounds of action? This columnist certainly didn't. Friday night's 3-1 home win over Darmstadt accorded the Cannstatter Ultras a chance to unfurl their "Spitzenreiter" ("league leaders") banner before the team as the players went to salute the "Fan-Kurve". This was quite the special moment, even if fans and players alike obviously knew that the VfB wouldn't finish up the weekend in first place. Four wins. Plus ten goal differential. Ten goals in five matches from Serhou Guirassy.

What's going on with Stuttgart tactically? In point of fact, we were just checking in with Sebastian Hoeneß' 4-1-4-1 last week. It remains in place, though it now appears as if one of Hoeneß' former FCB II and TSG protégées Angelo Stiller has a looser assignment than he did last time alongside Enzo Millot. In any event, so much for the stated concerns about the missing Woo-Yeong Jeong. The build-up play within this team's ranks is actually very deft. Though some may not be so interested in hearing about it after the round two issues and the most recent own-goal, a pair of actors run the engine well out-of-the-back.
The writer specifically refers to Alexander Nübel and Dan-Axel Zagadou. Yes, that's correct. Two of the players catching the most flak run one of the smoothest attacks in the league. Nübel accrued 30 touches on Friday night and played 88 percent of his 26 quick-play passes accurately. Zagadou played over 80 passes (85 percent completion), racked up some 90 touches and went on 16 sprints. The 4-1-4-1 clicks especially well whenever Atakan Karazor falls back as the sweeper. Chris Führich and Pascal Stenzel again proved their quality with top notch involvement in goals.
Before we get too terribly excited about the squad's overall prospects this season, it should be noted that Jeong's current tour-of-duty with the South Korean U24s is only the beginning of what Hoeneß shall have to contend with this year. Both the African and Asian continental championships are slated to take place this January. Silas, Guirassy, Jeong, and Hiroki Ito will all be called away for extended spells. We've thus far only seen the Württembergers beat one quality team, and it remains debatable if we can label Freiburg a "quality team" at this point.
The upcoming schedule still suggests we'll be talking about the southern "Autostädter" for some time to come. Wins against Köln and even Wolfsburg appear reasonable ahead of the next international break. Hoeneß' side can possibly also expect to take points off Hoffenheim and Union before October is out. So long as the short-passing game out-of-the-back continues to work slick, this team can hope to bag three points against anyone on any given day. Stuttgart can look forward to more uplifting salutes from the Cannstatter section of the stands.

A surprise "Top-Spiel"
Bremen-Köln in the Saturday night headliner left many of us feeling as if we were in for a snooze-fest. The fact that Frankfurt-Bochum in the previous round's late Saturday kickoff delivered suffocating and crushing boredom obviously didn't help. Two teams with sputtering attacks squaring off. Steffen Baumgart's deliberately defensive-minded football would surely clamp down on Ole Werner's nascent post-Niclas Füllkrug 3-5-2. Yikes. What could we reasonably hope for here? The desire to skip it entirely clawed at the souls of us eager to do something else with our evening before the German winter strikes.
The first quarter-of-an-hour effectively confirmed our worst fears. Literally nothing happened until Köln located a little joy on the left through Leart Paqarada and Linton Maina. Baumgart compensated for right-winger Rasmus Carstensen's absence (suspension) by moving Dejan Ljubicic up from midfield to the right flank, dropping Florian Kainz down from the ten-slot into the double-six alongside Denis Huseinbasic, and inserting Luca Waldschmidt into Kainz's place. After some early hiccups, this did enable the cathedral city side to furnish the better football. Köln grabbed a deserved early lead in the 31st.

Davie Selke converted the 1-0 off a well-designed Kölner corner that Bremen had trouble clearing. That shook us observers out of our dejected torpor. We then got to witness German football fan-favorite Rafael Santos Borré net his first tally in Bremen dress. Marvin Ducksch supplied a lovely assist on the 1-1 in the 38th. The two teams traded chances as the half drew to a close. The second 45 – albeit with a few lulls of its own – proved much more entertaining. Romano Schmid pressed high to create some chances for the Hanseaten. Senne Lynen unlocked Justin Njinmah for the 2-1. Naby Keïta sparkled off the bench.
The full-time whistle brought with it the satisfaction that there are now at least a few talking points surrounding Werder. One genuinely looks forward to seeing what Borré, Lynen, Njinmah, and (most especially) Keïta have in store for us next. New SV left-wingback Olivier Deman has his starting role locked down now and continues to improve. On the Kölner side, Faride Alidou and budding German-American forward Damion Downs (on his Bundesliga debut) showed us something off the bench. Downs came close to a late equalizer. Plenty of interesting fresh faces for Germans to scout in the weeks to come.
Did we another classic quote from Baumgart?
Not this time.
Selke and Baumgart merely labeled it "shitty".

And then there were five
Six teams entered the weekend searching for their first win of the season. Enrico Maaßen's FC Augsburg were the only team from the bottom-of-the-pack to bag their first three points. Gladbach, Köln, Bochum, Darmstadt and Augsburg's opponents Mainz still sport zeroes in the "W" column. Plenty of Germans made time for Augsburg-Mainz solely for the morbid reason of getting some sense of how two of the league's worst teams were doing. Answer? About as badly as one might expect. The first 15 minutes counted as a total "comedy of errors".
Edimilson Fernandes, Danny da Costa, and Ludovic Ajorque took advantage of horrible FCA marking to score the opener in the 6th. Mainz through they had a second four minutes later after a slapstick scene in which FCA keeper Finn Dahmen couldn't get off his backside to recover an Ajorque effort off the post. The goal was disallowed due to a narrow offside position. Five minutes after that, Mainz conceded their own slapstick goal. Dominik Kohr and Anthony Caci couldn't clear a ball after bogging down Ruben Vargas. Demirovic slotted home the 1-1 in the 15th.
The match calmed down significantly thereafter. Fewer mistakes from both sides unfortunately meant that the football itself settled into a boring slog. Matters only woke up shortly before the end of the opening 45. The goal that enabled Augsburg to retake the lead was at least an aesthetically pleasing sight. Football fans generally like to watch a team convert off a long-throw. Kevin Mbabu and Patric Pfeiffer did their bit on Ermedin Demirovic's second of the afternoon. Augsburg, interestingly enough, hung onto a lead for the first time this season despite being reduced to ten men for the final half hour.
Inherent lessons? Not many. The story of former FCA captain Jeffrey Gouweleeuw returning to the Augsburg XI and giving an emotional post-match interview gave us something. Gouweleeuw reflection on his history and commitment to the club stirred something inside the soul of a Bundesliga die-hard. Apart from that, only the farcical moments stuck in the mind. Poor Ajorque had a chance to equalize at the death, but involuntarily cleared his own effort off the line at 90+6. More slapstick. Plain bad football from these teams. Little else to note.

The "Burning Questions": Round Five
Can Union turn it around?
Some legitimate fears expressed in last week's column have proven to be fully founded. The magnificent footballing fairy tale we Germans remain so proud of wilts. It's naturally hyperbolic to claim that the fairy tale has descended into a horror story just yet, but the fact that Urs Fischer's "Eisern Union" have dropped four matches on-the-spin doesn't count as pleasant subject matter. Hoffenheim taking the Köpenickers out at home – as presaged last week – leaves a bitter aftertaste in the mouth.
What precisely is going wrong for die Eisernen? It's a simple matter of the limitations of Fischer's basic system manifesting themselves once again. The attack can all-too-easily fall into too predictable a pattern. A well-prepped opponent requires only a slender lead to snuff it out with stretch passes. That's precisely what transpired on Saturday afternoon at the Stadion An der Alten Försterei. As soon as the TSG's Andrej Kramaric converted the 1-0 from the spot in the 22nd, a feeling that there might be no way back set in.
Lineup—Union Berlin—Match Five (3-5-2)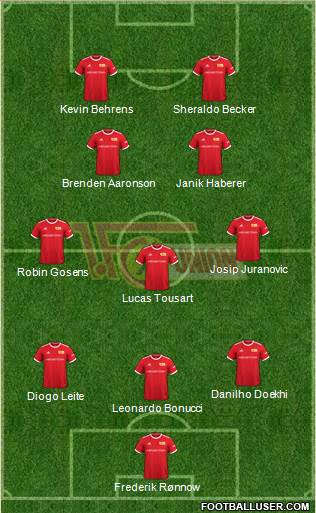 One should note that Alex Kral's late scratch due to injury did hamper Fischer's match plan to a great extent. Former Hertha midfielder Lucas Tousart – on his way back from injury and confidence struggles with Germany's other capital city club – clearly hadn't been drilled in the midfield divot position. Union's distribution play lacked a certain creative spark. Long verticals in the direction of Kevin Behrens and counters that took far too long to develop left the hosts unable to get anything going in the first half.
TSG trainer Pellegrino Matarazzo also selected his squad well. The lone personnel change from last week initially seemed totally wrong. Florian Grillitsch – scorer of a wonder-goal in the 3-1 victory over Köln wasn't even in the squad. Anton Stach received his starting debut for his new club in Grillitsch's place. Stach then settled all the way back on a double-pocket with defender John Anthony Brooks, turning what had been a perfectly effective 3-5-2 into a 3-3-2-2. It made little sense until one saw how well it wore down the opposition ranks.
Lineup—Hoffenheim—Match Five (3-3-2-2)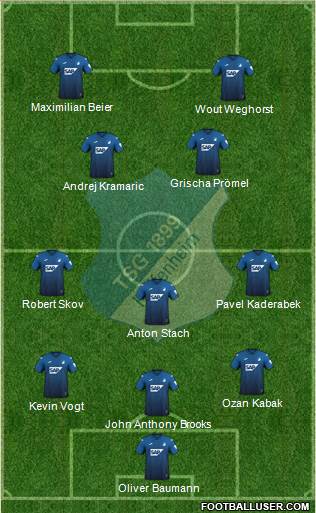 With a six full actors settled in beneath the halfway line, the Sinsheimers could play keep-away football until their hosts gradually succumbed to discouragement. Moreover, Brooks' inverted positioning kept him on the mark against FCU lead-striker Behrens whilst Stach and the other two central defenders canceled out Sheraldo Becker. It only took one promising counterattacking charge for the visiting Kraichgauer to double their advantage. Former Union man Grischa Prömel made the 2-0 happen with a skillful set-up of Maximilian Bauer in the 38th.
Union were most fortunate not to head into the tunnel behind even further. New big-name acquisition Leonardo Bonucci conceded the early penalty with a completely dirty foul and blew his mark on Hoffenheim's second goal. The 36-year-old – a rookie in a certain sense having played for his first team outside of Italy's Serie A – isn't accustomed to how the Bundesliga works at all. Shocking that he thought he could get away with that blatant tug-down of Kramaric in the 22nd. Danilo Doekhi nearly conceded another penalty shortly before the half, tripping up Beier just outside the box.
Fischer could have justifiably yanked Bonucci or Doekhi at the half as both played exceedingly poor. Instead, the FCU trainer opted to take off an offensive underachiever who managed few quality touches and committed several poor fouls. American Brenden Aaronson made way for Chelsea loanee David Datro Fofana. Overall play improved in a freshly re-jiggered 3-4-3. Fofana displayed some tactical brilliance right from the start. Behrens also nearly capitalized on a mistake from Brooks a few minutes after the restart.
Lineup—Union Berlin—46th minute (3-4-3)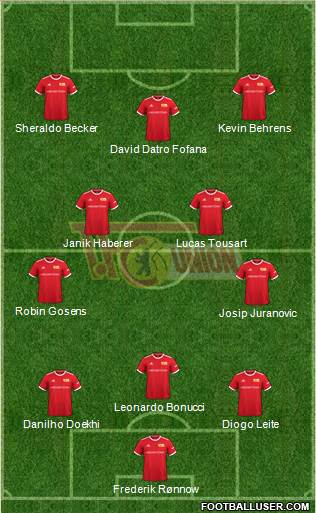 Unfortunately for the capital city side, key new starter Stach remained on point and shut this down. Matarazzo also bested Fischer with his own two new introductions in the 55th. Mërgim Berisha and Ihlas Bebou entered for Beier and Weghorst on like-for-likes. Within seconds, the pair combined on an opportunity to make it 3-0. After an admittedly energetic phase lasting approximately 12 minutes just after hour-mark, Union simply ran out of steam. Major props to the TSG defensive line for crowding the box and breaking up play.
The FCU unwinding
It wasn't all that long ago that we were lavishing praise on Fischer for doing anything and everything right when it came to his personnel selections and tactics. The thread has been lost in large part because he began making questionable selections in round three. Some specifics one can point to include non-form-based benchings of Fofana and Aaronson. The FCU trainer rotated out his most technically gifted players for reasons not entirely clear. Tousart – one could argue – deserved his chance. That experiment nonetheless needs to end now.
Form swings from talented wingbacks Robin Gosens and Josip Juranovic screamed for the head-coaches usual rotations at that position, yet we haven't seen those with the same regularity of last year. Bonucci, in general, appears something of unwelcome distraction. This writer never fully understood why an administrator as skilled as Oliver Ruhnert went after this piece of excess baggage. Maybe even the most pragmatic of managers simply can't resist an ego-driven coup every so often. Robin Knoche deserves his place back.
The FCU forward path
The implicit recommendations in the above paragraphs will, in all likelihood, be implemented. The road regrettably doesn't get much easier for the Köpenickers as they face the spry Heidenheim, sporting Braga in the Champions' League, and Borussia Dortmund before the international break hits. Signs point to continued descent into a quiet slumber. That could potentially do the smaller club good. With expectations lifted off their shoulders and the spotlight shone somewhere else, a quiet and focused rebuild remains possible.
The team will likely still regress.

How close was Gladbach-Leipzig?
We'll handle both narrow 1-0 victories for (Leipzig over Gladbach and Dortmund over Wolfsburg) here in the "Burning Questions" section. The RBL-BMG affair was by far the more entertaining and intriguing affair. Yes, the Gladbach ultras rolled out an unkind welcome for their unpopular former head-coach Marco Rose and sporting director Max Eberl. Banners bordered on the obscene. Understand that this club's fan-base has its own pain and suffering to process. Also appreciate the fact that their team did their utmost to hold their own against a heavily favored (and hated) opponent.
Gladbach trainer Gerardo Seoane built a 3-5-2 specifically designed to halt the RB 4-2-2-2 with a strong press. Rose's side encountered massive difficulty playing through it. The ball rarely escaped the midfield for the entire first half. On a couple of occasions, Rocco Reitz and Julian Weigl were able to press back on counters. Without Tomas Cvancara involved in the attack, however, the final punch didn't materialize. The hosting foals laid down some light accents on set-pieces in what was a smart tactical set-up.
Lineup—Gladbach—Match Five (3-5-2)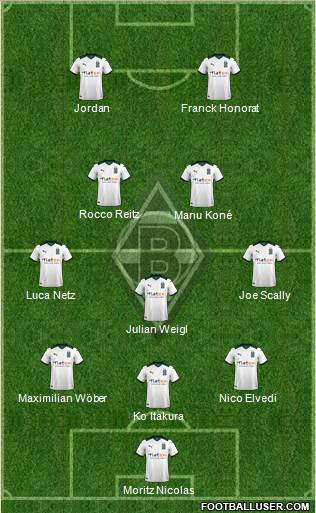 This constellation has some potential to it, though it clearly suffers from Manu Koné's rawness returning from injury, Reitz's inexperience when selecting passing lanes, and some less-than-stellar recent form from wingbacks Joe Scally and Luca Netz. The fight displayed by Seoane's actors nevertheless remained consistently commendable, even if the quality clearly didn't match up against RB. One felt a bit for the foals as Ko Itakura and Nico Elvedi were just a split-second too late on their marks on Timo Werner's game-winning goal.
Ultimately, we witnessed a match that could easily construed to be boring. Neither side topped the 1.0 xG mark. Watching the foals fight the proverbial good fight still proved serviceable enough for football fans. Seone's XI kept up the high defensive press consistently. Of the five Bundesliga sides still seeking their first win, it very much seems to be the case that Gladbach are by far the strongest. The current points-haul probably wipes out the prediction that they might challenge for Europe this season, but they by no means look to be a relegation-threatened side.
Yes, that's the last thing BMG fans want to hear.
More mid-table mediocrity.

What's the takeaway from Dortmund?
Here we have the 1-0 victory that proved more of an eyesore, despite the fact that the xG figures were higher and Dortmund furnished more creativity that their fellow German Champions' League representatives. Subjectively speaking, others will select the other 1-0 as the more boring one. It depends on whether highly intense midfield duels happen to conform to one's taste. In the BVB-WOB encounter, Edin Terzic's Borussen looked as if they were still shaking off the "Champions' League Blues" despite five rotations from Tuesday's lineup.
A 4-2-3-1 from Terzic failed to generate much against a 4-2-3-1 from VfL trainer Niko Kovac. Wolfsburg remained compact and stymied Dortmund at the halfway line. Former Dortmund skipper Marco Reus came close with an early free-kick and the first 20 minutes qualified as "watchable" football. After that, however, matters got ugly as hell for the duration of the half. It was nice to see Niclas Füllkrug dropping as far back as possible to try and get the builds moving. Apart from that, this formation was simply torrid.
Lineup—Dortmund—Match Five (4-2-3-1)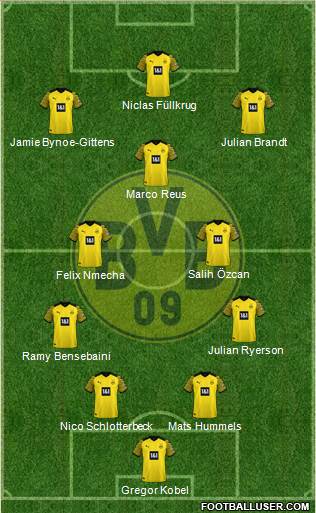 Nothing really worked. Jamie Bynoe-Gittens and Julian Brandt rotated furiously in vain. The wingers tried switching sides officially after the break. The approach play maintained a crisper feel about following the restart, with Bynoe-Gittens getting an effort in and Füllkrug botching a brilliant pass from Mats Hummels. The game really only shifted when Terzic re-instituted his 4-4-2 from last week. A straightforward tactical lesson emerges from this weekend's BVB fixture.
Lineup—Dortmund—64th minute (4-4-2)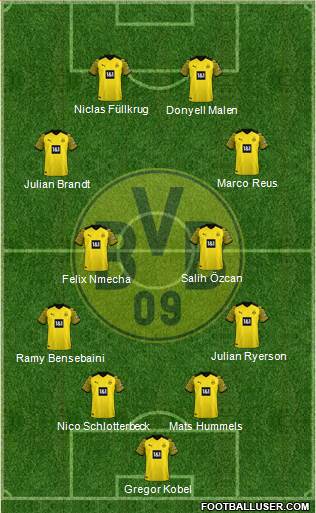 Here's the true recipe for success. Brandt narrowly missed Füllkrug shortly after this shift. Malen deserved to finish off Brandt's pass on the 1-0 in the 69th after his brilliant set-up work. Marco Reus simply arrived one step ahead of him. Dortmund never really relinquished control of the game once this shape took hold, with the exception of one chance from Jonas Wind. One can envision this eventually clicking much better, potentially with Emré Can playing alongside Salih Özcan in midfield and Felix Nmecha in Reus' place.
Malen up front remains the key.
Terzic may have turned a corner.

"Weekly Wortschatz": Round Five
"Dreifacher"
Do Germans really have a special word for "hat-trick"? In all honesty, the writer assures you "not really". A "hat-trick" is a "hat-trick". Every other way of describing how many goals a player scores in a given match conforms rigidly to an ordinal number system. Two goals – what the English refer to as a brace – are a "Doppelpack". The exceedingly rare instances in which a player scores four or five goals are labelled a "Viererpack" or "Fünfterpack", respectively. The author honestly forgets what the English terms for four or five goals in a single match are. Something absurd like a "hambone" and a "whale rib". Whatever.
In any event, we don't use the word "Dreierpack" very often. The word many German sources utilized to describe Harry Kane's inaugural Bundesliga hat-trick "Dreifacher" is even rarer in a footballing context. It came as a surprise to see it pop up in many articles covering Bayern's 7-0 demolition of Bochum. The columnist hypothesizes that there were two reasons for this. First, Germans feeling potentially affronted by the truly pathetic state of our national team might have been guided by pride. Too much Anglicization. We wanted to use our own word. Secondly, well, this match was basically over four minutes in.
Plenty of time to think over word choice.
Lineup—Bayern—Match Five (4-4-2)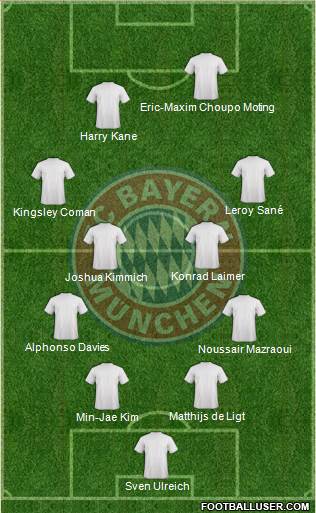 Ahem. As as interesting as it was brutal. Leroy Sané out wide to Kingsley Coman on the left in the 4th. Eric Maxim Choupo-Moting wide open in his attacking lane. With that, we were pretty much finished. Coman and Alphonso Davies had a field day with the shell-shocked Bochum ranks down the left. Kane had his first – albeit courtesy of a propitious bounce eight minutes later. Once Matthijs de Ligt converted the 3-0 off a corner in the 29th, we had what this column refers to as a "lid". Game over.
There remains nothing truly negative to say about Tuchel's Bayern after this slaughter. One could nitpick Joshua Kimmich for a couple of poor efforts if one wishes. Everything else proceeds as smoothly as possible. Three goals and two assists from the record-breaking Kane. Mathys Tel scored again off the bench. Choupo played an overall amazing game. The FCB trainer possesses three very happy strikers at this point. Tuchel kept Kane on for the full 90 – at a risk – in hopes that he would grab that third goal.
Well played, sir.
Letsch's half-baked plan
A word or two on Thomas Letsch's tactical plan seems merited. Note that it's never easy to prepare for a trip to the Allianz in the middle of "Wiesnzeit Fever". Some credit is due to the VfL trainer for at least trying something innovative. Making adjustments to his usual 3-5-2, Letsch declined to reply a natural striker on his top axis. One knew something was afoot as soon as the team sheets were released. Philipp Hofmann remained on the bench in favor of Christopher Antwi-Adjei. Believe it or not, there were a couple of cases in which this system almost worked.
Lineup—Bochum—Match Five (3-4-1-2)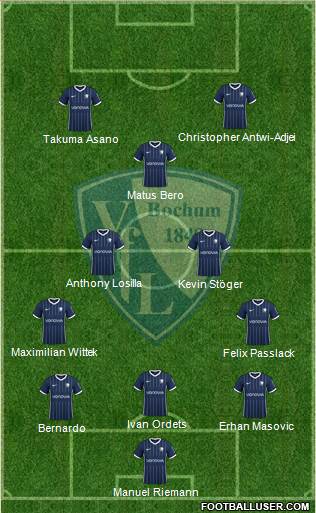 It might have worked a little better had the early goals not sapped the VfL's strength. The added layer of defensive protection occasionally caught the FCB speedsters in stride. It did become apparent that, in choosing not to deploy a striker, Letsch actually deprived himself of the only real potential this had on the counter. Hofmann would have been perfectly capable of reaching some of the longer launches thrown forward by the back ranks. Letsch yanked wingbacks Felix Passlack and Maximilian Wittek for Hofmann and Noah Loosli in the 36th. The ensuing 5-4-1 probably should have been the initial  plan.
Oops.

"mit Mann und Maus verteidigen"
From preparing to face the German giants to preparing to face what many consider to be the best Bundesliga side at this point in the season, it's time to check in with 1. FC Heidenheim trainer Frank Schmidt's plans for facing Bayer 04 Leverkusen. In the process, we'll check in with one of the author's favorite German phrases; one that pops up in footballing context quite frequently. Such a wonderful idiomatic expression! This writer always found it madly interesting that both the German and English forms of it sprung from nautical origins.
A little translation of this "to defend with man and mouse" gets one nowhere. What Germans mean here is probably most appropriately translated as "all hands on deck". These are a pair of seafaring metaphors designed to refer to the need for total alertness amongst a shipping crew in the case of an emergency. The people of the Isle – accomplished naval conquistadors that they are – order all available bodies to their topside stations. Germans – being less skilled in this regard – think that the mice and rats in the cargo hold are available to help out.
We're under attack!
Bring up the mice!
It's important to note that the German phrase actually carries with it more fatalistic connotations. The "Mann und Maus" analogy suggests that the ship stands a fairly decent chance of sinking. All the available bodies called topside must report for duty knowing full well that it may be time for everyone to go down together. Things can fall apart at any moment. That's eventually what happened to Heidenheim against Xabi Alonso's Leverkusen. We'll reiterate for the "nth" time that the Spaniard's variable 3-4-3 is the best formation in the league, run by the best trainer.
Lineup—Heidenheim—Match Five (4-4-2)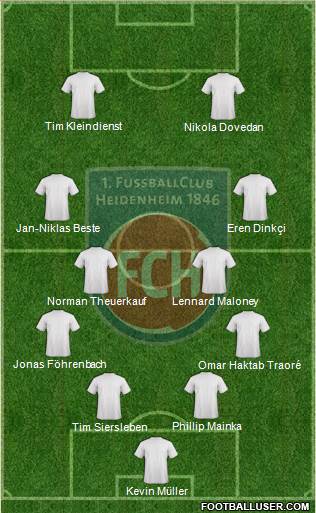 The 4-4-2 that secured the historic first-ever league win against Bremen last week flattened out and backed up. Space between the top two axes was noticeably wide. The choice of Nicolas Dovedan over Marvin Pieringer clearly constituted a less attack-centric approach. This literally was quite the "all hands on deck" situation. The fact that the visiting BaWü border-landers escaped the first half at the BayArena with a 0-1 deficit showed that the approach could yield something.
Only a Victor Boniface goal separated the sides despite 75 percent Bayer possession, 65 percent duel win rates, 93 percent easy-breezy passing for the hosts, a 14:1 shot ratio and (in all seriousness) a halftime xG total of 2.2 to 0.0. Tim Kleindienst had something of a quarter-chance near the end of the opening 45. That was about it. Boniface, Jonas Hofmann, and Jeremie Frimpong (ruthless!) all missed out on chances to bag braces. This was a dominant display of the highest order.
Heidenheim equalized out of nowhere when Jan-Niklas Beste served up Eren Dinkçi in the 58th. Most everyone watching will surely agree that match official Christian Dingert totally miffed this one up by allowing the goal to stand. Tim Siersleben fouled Hofmann in the lead up. Moreover, an offside Dovedan screened B04 keeper Lukas Hradecky. Somehow, both of these infringements didn't factor in. Luckily justice was served shortly thereafter when Exequiel Palacios unlocked Hofmann on the 2-1.
Two more goals (Boniface from the spot and Amine Adli) ensured that the match ended with a befitting scoreline. Sadly, tactics-heads didn't get the moment from Xabi that we so desperately craved. The ever-so-awesome trainer trends to favor us with at least one nuanced shift per match. Usually we get a chance to see him hand a slip paper to one of his on-pitch players ahead of it. Alas, that didn't come to pass this time. After a 4-2-3-1 re-format in Thursday's Europa League win, Xabi appeared content to go "hands off".
Great coaches do that too.
We all miss Xabi already.

"Hexenkessel"
As temperatures begin to drop across the Bundesrepublik, we've all been made aware that the "Season of the Witch" approaches. That's actually quite apparent when it comes to what comes out of the mouths of Bundesliga coaches and players at this time of year. Indeed. Time for gaffer's to describe their trip to a tough away opponent as a step into the "Hexenkessel" ("witches cauldron"). Sebastian Hoeneß used the metaphor some two years ago when describing how Hoffenheim ultimately failed when visiting Bochum.
The columnist loved it way back then. As soon as Christian Streich used it to describe the upcoming visit to Eintracht Frankfurt this coming Sunday on a tight turnaround from Thursday's Europa League fixture in Greece, he knew precisely what word feature would lead the Freiburg-Frankfurt segment. The Eintracht ultras always invariably deliver when hosting a big fixture at Deutsche Bank Park. The atmosphere from the sold out crowd in Sunday's capper proved, as always, second-to-none.
Might the SGE supporters soon have a quality football team to cheer on? That, of course, is the topic we've been tracking possibly more closely than any other in this column through the young season. Dino Toppmöller's unenviable task of trying to fashion something workable out of a team that got totally torn apart this past summer remains fascinating. Inquiring minds are drawn to it all. Even new Bundestrainer Julian Nagelsmann turned up in the commercial capital to have a look at how his old assistant coach was doing.
How did it go? Kersplat. Toppmöller seemed to let a very good chance to pick up some points go begging. The SGE trainer actually stumbled upon something workable late in Thursday's home UEL win over Aberdeen. Omar Marmoush – as he did whilst playing for VfB Stuttgart and VfL Wolfsburg worked well as a left outer lane striker. Freiburg – missing the suspended Nicolas Höfler and the injured Michael Gregoritsch – were low on rotative possibilities and remained quite vulnerable.
Sigh.
Toppmöller's latest hand:
Lineup—Frankfurt—Match Five (4-3-3)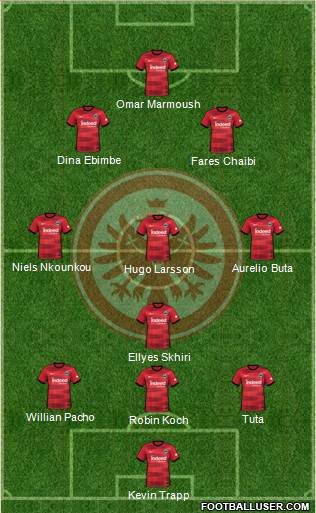 Sigh. We're really throwing anything up against the wall and hoping it sticks at this point. Placing the inexperienced Hugo Larsson in front of Ellyes Skhiri almost seems like a deliberate attempt to sabotage any muscle memory with respect to the link-up play. Placing Marmoush alone atop the front axis central literally reverses the gains made from the previous match. Encroachment play outside the box remained so limp that the SGE saw over a dozen shots blocked. Whrew. Never nice to see one's prediction for a labored and boring affair come true.
Talking points for what was the 2023/24 Bundesliga's first goalless draw of the season are fairly scant. It proved odd to witness cameras catching Bundestrainer Nagelsmann sharing words with a co-coach in the stands. What on earth was he talking about? Certainly not Mario Götze, Ansgar Knauff, or Robin Koch. The 36-year-old maybe wasn't even scouting for his new assignment yet, but rather checking in on an old friend. This columnist must report that the main talking point emerging from this one has to be the fact that Toppmöller squandered the points away.
Four league goals through five rounds? The sluggish starts under Adi Hütter and Oliver Glasner weren't much better, course. In point of fact, Glasner's SGE had only scored one more league goal at this point in the 2021/22 campaign. The Eintracht administrative team will certainly give Toppmöller more time. What happens to a rather pressing problem with respect to Toppmöller's RheinMain Adler is that – when contrasted with what Oliver Glasner was attempting to put together early in his reign – the embers of a system aren't even there.
The only time that the atmosphere in the stands spilled over onto passion on the pitch occurred when Kevin Trapp, Robin Koch, Maximilian Eggestein, and Junior Adamu got involved in a scuffle late on. Not a pleasant scene, but at least something wickedly worthy of the "witches cauldron" atmosphere. Toppmöller's task now revolves around coming up with some better brew. Not much bite to the bland stuff we're seeing here. Probably an evening devoid of lessons for Nagelsmann as well.
Thanks so much for reading! You can catch the release of all Peter's columns (and occasionally catch him goofing off) on whatever the hell they're calling twitter these days @PeterVicey.
Twitter DMs are open for football conversations, corrections, and (if you truly insist) general abuse. 
Full color re-posts of the columns are eventually archived on Peter's website.
Related stories