No shortage of ultra-intriguing developments over on the world's best footballing beat!
Though sound defeats for Union Berlin and Eintracht Frankfurt spread the title-race out a bit, there are still only four points separating league-leaders Bayern from fourth placed RB Leipzig after the conclusion of the most recent matchday.
Bayern themselves remained deadlocked with Dortmund at the top after another huge win for the BVB. The relegation race is practically as tight as it can be following big wins for Schalke and Hertha.
As always, our comprehensive round recap feature here at Bulinews is here to help everyone sort it all out with coverage of all nine fixtures. Bayern, Hertha, and Köln receive draw-ups this time.
A match of immense significance for the title race, Frankfurt's loss to Leipzig, rounds out the column in the "focus" section.
| | |
| --- | --- |
| Timo Werner (left) and Konrad Laimer (right.) | Photo: GEPA Pictures/Roger Petzsche |
Bundesliga Tactical Banter: Round 22
The Dortmund Pinnacle
Borussia Dortmund's unprecedented ninth consecutive victory absolutely must serve as the lead story of the round. Can this truly be happening? After a seemingly endless series of false dawns, it would appear so. An incredible development when one considers where this team stood at the end of league play just prior to the World Cup break. The amazing upswing becomes more sensational still when one considers where BVB star-performer Julian Brandt stood at that time.

The once inconsolable German talent has now scored in four straight league fixtures and leads the team with eight goals and twelve scorer points across all competitions. Admittedly, Brandt was the first to concede that the finish on his latest game-winning-goal (off his back) was reflective of a larger wave of luck that enabled Dortmund to narrowly move past Hoffenheim for the second time this season. There's some truth inherent in these deliberately humble words.
The Kraichgauer did make make matters difficult for the BVB and there were plenty of moments that could have led the match to swing the other way. One could nevertheless say that, on balance, Edin Terzic's Schwarzgelben produced far better consistent work and exhibited far greater polish en route to a deserved victory. Looking very ball secure back in the simpler version of the head-coach's 4-1-4-1, just about everyone in the black-striped kit had a better day at the office than their counterparts.
Sebastien Haller forced two solid saves out of TSG keeper Oliver Baumann before Brandt finally broke through with the opening goal. So too did ever-present and ever-improving defender Nico Schlotterbeck. BVB skipper Marco Reus, the supplier of the assist on Brandt's 1-0, moved with silky smooth ease on most all of the attack charges. Reus generated plenty of more chances down the stretch whilst fullbacks Marius Wolf and Raphaël Guerreiro put plenty of quality on target and were unlucky not to score themselves.
Brandt remains correct in that, at a certain point, this fabulous ride will have to come to an end. There remains way too much football yet to be played. Luck shall crash in at some point and the unfathomable winning-streak shall come to an end. If this happens to take place against Bayern in the re-match of the league's Hin-runde fixture in four weeks' time we might all find ourselves singing a different tune. For now, the writer didn't observe as much luck as Brandt did in the latest win. Sparkling individual performances from just about everyone.
No real discernible weaknesses in this team.

The Bremen Redemption
Mentions of Bremen in this column have been scarce since the turn of the calendar year. This is in large part due to the fact that the Hanseaten haven't finished us with something especially memorable through the first six league fixtures. Though Ole Werner's men were able to cobble together a couple of victories against Wolfsburg and Stuttgart, the team never fully looked as if they recovered from the collective humiliation suffered at the hands of Köln in the first match back from the break.

That changed this weekend with their first complete team performance, albeit one against a depleted Bochum side missing Ivan Ordets, Danilo Soares, Simon Zoller, and captain Anthony Losilla. One fully expected a win from Werner's crew under such circumstances. The manner in which they delivered it, however, instilled real optimism for this side moving forward for the first time in 2023. The wholly deficient performances against Dortmund in round 20 and against Frankfurt last week can be quickly forgotten after this.
Werner's replacement actors in his usual tactical set-up finally all clicked together and stepped up as one at precisely the right time. Temporary (until Mitchell Weiser returns) left wingback Anthony Jung played with purpose and garnered a pair of assists in the very same week he signed a contract extension. Another recent re-signee, veteran sweeper Christian Groß, did a phenomenal job breaking up play and directing forward traffic ahead of the defensive line. Leonardo Bittencourt (at right wingback) and young skipper Marco Friedl also looked very strong.
Strikers Niclas Füllkrug and Marvin Ducksch at long last got their names back on the scoresheet. The case of the latter is quite significant in that Ducksch was able to shake off some of his set-piece-delivery problems with a direct free-kick goal underneath the VfL wall for the decisive 3-0 in the 59th. Füllkrug and Ducksch notwithstanding, the real stars of this show were buttressing support attackers Niklas Schmidt and Jens Stage. The team's two weakest players during this lackluster stretch both woke up in a big way.
Schmidt finished deftly on the 2-0 just before the half-time break. The right-slant support striker converted some of his recent promising form into a much needed second league goal of the season. In the process, he made a strong case for a permanent starting space behind the regular duo. Stage made an excellent impression with a lionhearted shift that saw him cover nearly every blade of grass on the pitch. The Dane worked his socks off to be omnipresent on most every SV charge and track. By far the best we've seen from the 26-year-old all year.
One can start to think about a six or seven game winning streak with this kind of form.

The "Spiegel Specials": Round 22
Hertha-Augsburg (2:0, 2:0)
Well, there's one opponent relegation favorites Hertha can reliably dispose of this season. It's been a little while since we checked in with "die alte Dame" with a draw-up. So long, in point of fact, that we need to back-track a bit to two rounds ago when the Charlottenburgers supplied the big surprise win against Gladbach. Sandro Schwarz debuted a new set of tactics in that fixture. Since the 20th matchday, the West Berliners have been lining up in a 3-5-2.
The nuance of the formation has nevertheless shifted:
Lineup—Hertha BSC—Match 20 (3-5-2)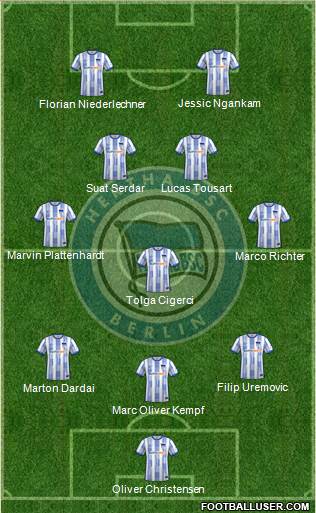 Captain Marvin Plattenhardt and natural attacker Marco Richter functioned high up the pitch in a formation that could have just as easily been labelled a 3-1-4-2. One shouldn't forget that it almost didn't work. Gladbach took advantage of the extra space accorded and initially grabbed a 1-0 lead during what would end up being a 1-4 defeat. The result that many of us German football watchers agree was one of favorite watches of the season only emerged when Marton Dardai furnished that stunning finish in front of his proud papa Pal in the stands.
Knowing full well that he would have to shore things up defensively against Dortmund last week, Hertha trainer Sandro Schwarz made adjustments prior to last Sunday's matchup. Richter and Plattenhardt moved back to more traditional wingbacks, keeping a tight axial line with midfield linchpin Tolga Cigerci. In that case, the alternate interpretation of the shape shifted over to a 3-3-2-2. This time, we beheld a tactic that nearly worked. The more organized and deeper Hertha press forced some early errors out of the heavy favorites.
How would Schwarz approach the latest affair? Effectively by sticking with his previous system, even if one of his personnel selections up front entailed a literal financial cost. the compromise that sees a natural fullback like Plattenhardt pinned to a natural attacker like Richter was kept in place. Dardai being a late scratch due to back problems (something addressed further below) also meant that Filip Uremovic had to run a straight pivot out of the back-three.
These are the current Hertha tactics:
Lineup—Hertha BSC—Match 22 (3-5-2)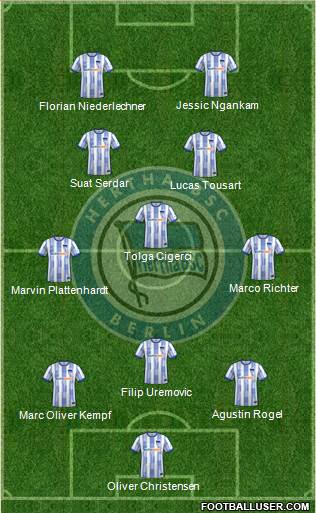 A massive 2-0 win means that they did ultimately work.
There are still a few circumstances to note.
Weather conditions
Whenever steady snowfall produces what Germans refer to as an "orange ball" game, results tend towards the "all bets are off". A couple of results involving Bayern during the 2020/21 campaign may serve to jog the memory. Recall, for example, the 3-3 draw with Arminia Bielefeld in February of that year or even the upset Pokal loss against Holstein Kiel a few weeks prior.
Tough visibility conditions certainly hindered the flow of proceedings at the Olympiastadion on Saturday. After an early chance involving Hertha's January Augsburg pick-up Florian Niederlechner, the game settled into a midfield stalemate. Structured actions from either side remained rare. The columnist himself doesn't recall either keeper getting tested by a shot in the opening 45.
The Berliner hosts certainly emerged from the tunnel as the more determined side. FCA net-minder Rafal Gikiewicz was called into action twice before Richter slotted home there 1-0 in the 61st. The second BSC goal was pretty fluky. Agustin Rogel's 70th-minute free-kick service was nowhere near the mark. Dodi Lukebakio found himself gifted a finish after some propitious bounces.
Augsburg errors
Although the fixture finished almost dead-even in terms of xG (Hertha 0.9, Augsburg 0.8), the manner in which the Fuggerstädter ranks began wilting after the opening goal seemed to presage a win for Hertha. FCA trainer Enrico Maaßen's younger and less-match-fit actors made far too many mistakes to justify a win or even a draw here.
In particular, one should call attention to Renato Veiga, Arne Engels, and Niklas Dorsch. Veiga – forced into central defense because of Felix Uduokhai's absence – easily sent well over 20 passes stray. Dorsch – in for the injured Elvis Rexhbecaj – couldn't hold his own in the duels and routinely turned the ball over. Engels sprinted past the ball all afternoon long.
Again, the weather conditions should be taken into account here. Dorsch and Engels might have had an easier time getting useful dribbles off had they been able to see more than 10 meters in front of themselves. One can only fall back on excuses so much, however. Hertha beat what was a very bad team on this day. The Charlottenburgers too weren't especially hot in the frigid cold.

Prognosis: "The Annual February Promise"
Ach. Is it really that time of year already? Given that the end of the month has arrived, the writer can't really avoid the big question anymore. Will Hertha, having picked up six points in the month of February, narrowly manage to avoid the drop again? Leverkusen, Mainz, and Hoffenheim stand on the docket before the March international break. What is the most relevant issue facing this club?
As noted above, we've some issues in the defensive corps. Marton Dardai's pre-match withdraw due to injury and Marc Oliver Kempf's subbing off with an eye injury later on forced skipper Plattenhardt to drop into the back-three. As it turned out this wasn't catastrophic as Maximilian Mittelstädt was available to take over. Schwarz may still have future problems building his back three with Rogel and Uremovic also having persistent issues.
Schwarz's new tactics prove that, as German football lovers won't deny, the former Mainzer trainer has quite a bit of "grey matter" working for him inside his skull. Another major tactical re-format looms on the horizon. This time Schwarz has almost no room left for error. He must get something workable and drilled on the pitch immediately.
While hoping for the chance to be surprised, the prediction here holds that the next constellation will only lead to more stumbles and dropped points in the coming weeks. Just like last year, we'll be focusing on Hertha quite a bit during the final months of this column. More stories to be told. Not particularly uplifting ones it nevertheless appears. The relegation playoff again for "die alte Dame".
There's the prediction.

Köln-Wolfsburg (4:2, 0:2)
Two teams a far cry from where they were last time they met in the "Hin-Runde". Interestingly enough, Steffen Baumgart had his lads lined up in the exact same formation as he did during that round. Back then, the writer was praising Baumgart's sensibility and assailing Niko Kovac handing his opposite member the match. Hmmm…things have changed. Tables have turned. Let's throw the 4-1-3-2 up again and see if we can't diagnose the problem.
Lineup—FC Köln—Match 22 (4-1-3-2)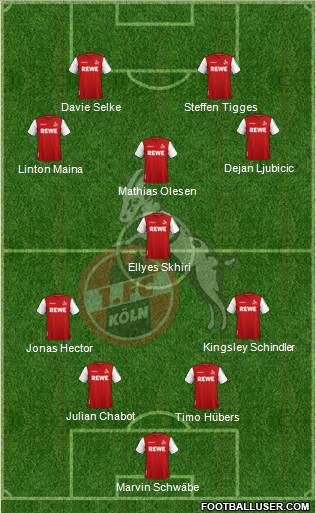 In this case, it's totally straightforward. The quality is missing. Baumgart surely wishes he had the injured Jan Thielmann and perhaps even the departed Ondrej Duda at this point. The fact that Florian Kainz had to drop out on short notice did the Effzeh gaffer no favors here either. Actors such as Matthias Olesen, Linton Maina, Dennis Huseinbasic, and Sargis Adamyan can show flashes of brilliance in fits and starts, but generally even out to their lower-tier level over time.
Heading into the second phase of this season, a very big concern for this side remained the issue of where the goals would come from. Die Geußböcke have surprised us in a certain sense by netting 11 league tallies in seven fixtures, but one shouldn't forget that seven of those came in the demolition of Bremen in the opening 2023 match and three more were scored in the home victory over Frankfurt. Ellyes Skhiri – who is actually himself responsible for five of these 11 goals – registered the lone other one against Bayern in round 17.
Few, if any league watchers, held optimistic prospects about January signing Davie Selke being the one to help this team with their scoring issues. It's no surprise at all to report that Selke still hasn't registered his first tally and that Köln have been shut out in four of their seven fixtures since play resumed after the winter break. Selke missed two huge chances again this week. The attack in general performed horribly in the latest match. Kovac's Wolfsburg easily learned their lessons from the previous meeting and defended totally one-dimensional play up the flanks.

Prognosis: The ides of March
Twenty-six accumulated points almost assuredly means that the Domstädter won't be dragged back down into the relegation conversation. Before getting to the dire predictions for the next three fixtures, one should (yet again) credit Baumgart with getting way more out of this crew than anyone could have reasonably expected. The cathedral city side – considered a relegation worry at the beginning of the season – are so no longer thanks to him.
That being said, upcoming fixtures against Union Berlin, Bochum, and Borussia Dortmund don't really bode well for this squad. Even the VfL stand a decent chance against a Köln-side that can't find its shooting boots. Skhiri can't both direct the team forward and be expected to score all of the time. Baumgart opted to whine about some officiating controversies this week rather than concede his own problems. Keeper Marvin Schwäbe is likely to be shaky in the coming weeks after conceding one of the softest goals of the season early.
It all appears to add up to a winless month heading into the international break. Probably at least one another 0-0 draw as well. The Kölner ultras did a wonderful job with the loud and proud choreos in commemoration of their club's 75th anniversary inside the RheinEnergieStadion this weekend. A shame that their team currently happens to be among the most quiet and subdued in the league. It's good enough to hold the class. Nothing much doing in the realm of entertainment, however.

Mainz-Gladbach (1:0, 4:0)
A fairly, yet not entirely unpredictable, comedown for Borussia Mönchengladbach one week after their victory over Bayern. Bo Svensson's FSV Mainz 05 complete the double over Daniel Farke's foals. Two clean-sheets for the Rheinhessen, who continue to vindicate those of us who tap them for a chance at attaining the European places. Gladbach, meanwhile, have provided more evidence for those of us taking the stance that they're far too intrinsically troubled to be considered European contenders.
From the very beginning of the season, Farke presided over a shaky foundation of a team. Ever since Marco Rose abandoned his mission with the club, most of the team's talent have been eyeing their own way out the door. Sporting director Max Eberl's burn-out-related departure left more of the ranks (not to mention then head-coach Adi Hütter) feeling as if the club lacked long-range drive and ambition. The surprise undefeated start to the season (through four rounds) didn't necessarily turn every skeptic around.
When Gladbach suffered their first defeat of the year against Mainz, the headline in this very column read "Gladbach finally falter". The team eventually began to conform to our lower expectations. They've steadily proceeded to do so ever since. Last week's win against Bayern – in which the early red-card obviously played a profound role – still laid bare the many deficiencies in this XI. Farke rolling out the exact same starting lineup this week when there were so many glaring issues that could have been addressed rendered this a foreseeable enough result.
The sight of Stefan Lainer on the team-sheet after his nightmare performance last week made no sense. Alassane Plea as the lone lead striker – a complete miscast for the French provider – also didn't need to carry over. It was only a matter of time before the offensively ineffective 4-2-3-1 succumbed to sloppy build-up play. Jae-Sung Lee's opener in the 25th came as a direct result of miscues from keeper Jonas Omlin and defender Nico Elvedi. Mainz could have easily added more as the BMG constellation routinely failed to win midfield first and second balls.
The "positives" Christoph Kramer admitted he "felt stupid" bringing up during his post-match interview include a fine chance from Hannes Wolf in the 56th and a near conversion from substitute Marcus Thuram in the 69th; both of which occurred when the foals still had a chance of coming back from a 0-2 deficit. FSV keeper Robin Zentner – wisely selected for a return to the starting XI this week by Svensson – denied the BMG with strong saves in both cases. Taking xG into account (Mainz 1.45, Gladbach 0.93), the final scoreline was definitely a bit skewed.
Alas, the overall result felt about as fair as it gets. Jonas Hofmann retained his trademark cleverness in attack. Otherwise, the BMG approaches remained mostly unimaginative. More problems from the midfield in generating quality build up play. More horrible errors from the back-four that any opponent with its salt could capitalize on. Mainz kept one-step ahead of the outclassed guests at just about every turn. It all began with a poor opening hand from Farke. The XI that beat shorthanded Bayern last week needed upgrades in the form of Thuram and Joe Scally. Period.

Prognosis: European nights at the MEWE
Having deconstructed the defeated side pretty thoroughly above, it's time to talk about the victors. As predicted last week, Mainz are now looking like a great pick to nab the seventh-place Europa Conference League slot. Huge-leap ahead for this squad in the "Race for Seventh". Another tally for Lee means that the South Korean international has now pocketed five Bundesliga strikes in his last five fixtures. Lee also registered an assist on what (to the surprise of this writer) was also Ludovic Ajorque's maiden Bundesliga goal.
As has been repeatedly emphasized in this column, Ajorque's mere presence in the Mainzer squad helps this team out immensely. The traditional French target man constitutes an absolutely brilliant traditionally targeted signing. Ajorque draws coverage in a manner that elevates the attackers behind him in a very noticeable fashion. The shots he takes also serve up promising rebounds for the second-axis-support to polish off. Such was the case during Marcus Ingvartsen's crucial goal before the half this time.
Behind the attackers, we have more strong performances from Dominik Kohr, Anthony Caci, and (still starting) Danny da Costa to note. It all adds up to an exceptionally well performing constellation that one can fully expect to see succeed against Hoffenheim, Hertha, and perhaps even Freiburg over the next month. Mainz entering the international break on a six-game winning-streak? It's not beyond the realm of possibility for this team at all. They work hard, generate turnovers, and have proven and confident finishers up front.

The "Burning Questions": Round 22
Was Bayern's win surprising?
Not in the slightest. There comes a time during every season during which the German record champions "small-ball-out" the small-ball clubs. Julian Nagelsmann found himself on the receiving end of this mighty roar some two springs ago. At the helm of the Bavarian giants last year, he even got his chance the quickly take care of Union almost precisely 12 months ago. Pretty much the same thing transpired today in this round's capper. Takeaways? Not many to speak of.
We can take a look at Bayern's latest tactics:
Lineup—Bayern München—Match 22 (4-2-3-1)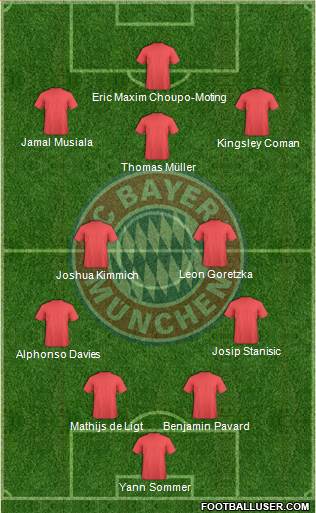 Of some interest here, the basic 4-2-3-1 did quickly and playfully morph into a 3-1-4-2 on the attacking rush. It's not exactly unprecedented to see the likes of Alphonso Davies and Leon Goretzka move forward without hesitation like true attackers. Something novel concerned Thomas Müller's quick conversion to an axial partner with Eric Maxim Choupo Moting in a set axial two striker set. This enabled Jamal Musiala to took in underneath and do…basically whatever the hell the German phenom wanted to do. That was pretty cool.
One should also note that – in stark contrast to the heavy rotations last week for which Nagelsmann took some deserved heat – the FCB trainer didn't bat an eyelash going with his best XI here. Naturally, he had no need to rotate with midweek free of any obligations. If he makes some curious calls next week against Stuttgart, something quite possible in the context of Sadio Mané's return, expect some of the questions surrounding his ideas to crop right back up again. Something to watch for. Nothing else one can say, really.

What were the lessons from Freiburg-Leverkusen?
Several interesting things to note from a match that, despite some disappointing lulls, turned out to be a well-played-match from both sides. SCF trainer Christian Streich coped with the unprecedented absence of skipper Christian Günter by moving Lukas Kübler over to the left while Kiliann Sildillia moved to the right-back slot in the same 4-4-2 from last week. In a bit of a twist, Michael Gregoritsch ad Lucas Höler flipped the lead/short striker roles
The constellation furnished some attractive football well worth watching. One can have few complaints about a performance in which Vincenzo Grifo shone from both open play and his specialized spot behind dead-balls. The fluidity of the 4-4-2 sometimes fell prone to gear-wrenching, but largely kept one's attention via sound optical play. Leverkusen – who deserved to win the game on balance – also featured some interesting tactical tweaks and brought the highlight-worthy play.
Xabi Alonso tried out what looked like a wide 3-6-1 spread. Robert Andrich definitely dropped back into the defensive ranks, yet got die Werkself going like a well-oiled machine out of the back. Unsurprisingly, most of the purchase came down the Bayer right via Jeremie Frimpong and Moussa Diaby. Those two proved a joy to watch and probably should have added three or more goals to the scoresheet. The introduction of Florian Wirtz into proceedings obviously livened everything up.
Wirtz brought life to Mitchel Bakker's side and set up Sardar Azmoun's wonderfully artistic finish. The subbed-on Patrik Schick nearly stole the winner late. A good match; as it turned out the only one we would be treated to on Sunday afternoon. Entertaining and captivating throughout. Bravo on both sides for delivering us something to talk about from the weekend cappers. May both teams snatch all three points from respective opponents Gladbach and Hertha next week!

How did Schalke pull it off?
A fairly big result for Thomas Reis' Königsblauen in the Saturday night "Top-Spiel". All of us German football lovers certainly appreciated the scenes at the Veltins Arena after the full-time-whistle. The Schalke actors proudly stood before their equally proud "Fan-Kurve" in commemoration of just their third league win of the season. No one saw this coming. Definitely not after Stuttgart's awakening last week and Schalke's run of four successive 0-0 draws heading into the encounter. Wow. Just when one thought die Knappen would never score another goal again, they netted two in the opening 45.
Expectations for Reis' crew dampened further with the news that – in addition to missing preferred wingers Tim Skarke and Soichiro Kozuki – the S04 gaffer would have to do without the only two defenders – Thomas Ouwejan and Jere Uronen – who provided his team with any offensive impetus out of the back all this season. When the team-sheet revealed that Henning Matriciani and Mehmet Aydin (two non-natural fullbacks) would work the flanks in the back-four, pretty much all hope of a competitive match was lost.
Fortunately enough, games are not played on paper. What we saw on the pitch from Schalke counted as a gritty and well-executed performance, even if the final product didn't exactly dazzle. Matriciani was crucial to Dominick Drexler's 10th minute opener. Attackers Rodrigo Zalazar, Michael Frey, and Marius Bülter played their hearts out until the deserved 2-0 arrived in the 40th. Over the course of a second half during which Stuttgart were unquestionably the much better side, keeper Ralf Fährmann atoned for a slip up on the 1-2 with several stellar, result-preserving saves.
Having picked up seven points from seven fixtures since the turn of the calendar year, is there really hope that Schalke can achieve the ostensibly impossible and avoid relegation? Signs still point to a firm "no" there as we'll need more odds-defying evidence from the attack. A commentator should nevertheless let it be known that the central defensive pairing of Maya Yoshida and Moritz Jenz once again really inspired this weekend. The duo may be the best functioning coupling in all of German football at the moment.
Yes, that was correctly typed.
Something might be possible if they can keep it up.

Weekly Tactical Focus: Another one bites the dust
Leipzig's Swedish attacker Emil Forsberg has already offered up his summation of this week's selected "tactical focus" feature. In classifying Leipzig-Frankfurt as "a game of two very different" halves, the ling-time Leipzig man sought to lend his opponents some credit for upping their game after the German Red Bulls completely blew the German Eagles out of the water during a totally lopsided first-half in which Frankfurt effectively killed the dreams many of us held of them had of being title contenders. How nice of him to be so charitable. The reality, sadly, was quite different.
Heading into the weekend, the columnist held some qualms about reserving the deeper dive for the same fixture covered in the "Hin-Runde" version of this column. A lot about the form of these two teams suggested that the result wouldn't be favorable to those of us who hold the traditional clubs dear. Frankfurt have been woefully inconsistent in the new calendar year. Glasner's Rhein-Mainers have dropped out of the title race by dropping points in half of their league fixtures. The midweek failure against Napoli presaged a nail in the coffin here.
Whereas Eintracht entered the encounter coming off a Champions' League disappointment, Leipzig were riding high following their surprise UCL draw against heavily favored Manchester City. Yeah. Matters weren't looking too good here. Marco Rose's RB effectively shook off the Union game that broke their unbeaten run. A repeat of Frankfurt's 4-0 thrashing of Domenico Tedesco's Leipzig in September didn't appear to be in the cards. Somehow the writer had the feeling that – for the second time in the young calendar year – he'd be declaring a title aspirant's hopes dead.
Sigh. And here we are. In order to demonstrate just how generous Forsberg's words were, it's relevant to throw both half-time and full-time xG up in the introductory section this week. Glasner's SGE did better in the second 45 largely by virtue of the fact that they could do no worse. Get ready for some stats even less easy on the eye than the descriptions of the football.
Half-time xG:
xG Leipzig–1.71, xG Frankfurt–0.02
Pathetic.
Full-time xG:
xG Leipzig–2.41, xG Frankfurt–0.57
Not much better.
Lineup—RB Leipzig—Match 22 (4-4-2)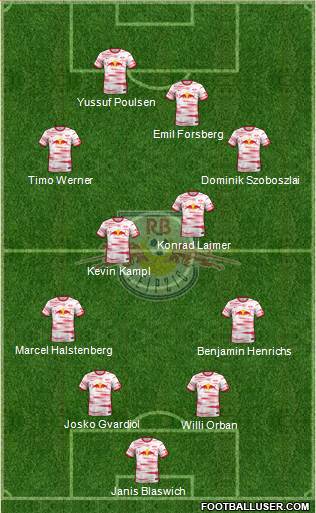 Three changes from Rose saw Benjamin Henrichs, Kevin Kampl, and Yussuf Poulsen replace Lukas Klostermann, Xaver Schlager, and André Silva. The 4-2-3-1 from Wednesday also turned into a thoughtful and lethal 4-4-2 excellently devised to put Eintracht out of commission early. Pretty nifty little double-stagger set-up, this. A sorely disappointed chronicler has little choice but to tip his cap to Rose before moving forward.
Lineup—Eintracht Frankfurt—Match 22 (3-4-3)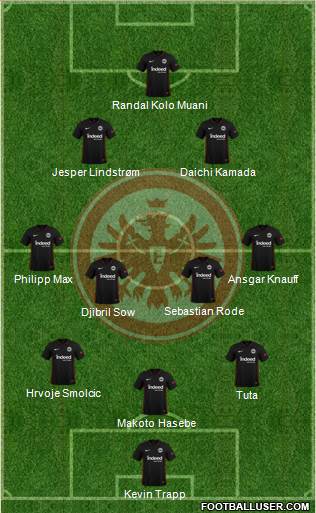 Glasner rotated in Makoto Hasebe, Hrvoje Smolcic, and Ansgar Knauff for Kristijan Jakic, Evan N'dicka, and Aurelio Buta. One must say that this constituted downgrades at every position. That might have been understandable in a context not influenced by the fact that Mario Götze had to sit out with adductor problems. Daichi Kamada moved up to Götze's place whilst Sebastian Rode took over in midfield.
One truly felt Götze's absence all throughout the the SGE's failed attempts to keep the attack coherent. In Glasner's defense, it was somewhat reasonable to expect that Kamada could perform in his more natural advanced position. The Japanese international did so brilliantly last year. There did exist a risk that Kamada's contribution might get overshadowed by Jesper Lindstrøm's current curious form run.
This unfortunately blew up in Glasner's face.
No changes to this until Lucas Alario replaced Makoto Hasebe in the 88th minute. The writer will once again come to Glasner's defense and say that drastic changes probably weren't all that pressing with the squad on the pitch playing itself into better positions and an acceptable 2-2 draw within reach.
One serious critique of Glasner concerns the fact that he probably should have yanked one of his ineffective in-rotations at the half. Rode, Hasebe, and most especially Knauff weren't cutting it at all. The triple change that enabled the 1-2 to be scored could have been executed much sooner. Perhaps we'd be discussing a different result then.
Match Flow: 1st to 6th minute
Pyro-haze at the Red Bull Arena led to turnover city in the midfield throughout the 1st minute. The hosting Saxons then got off a huge chance just as soon as the smoke cleared. Konrad Laimer, the undisputed man-of-the-match, cruised past three stunned SGE markers in the 2nd. The Austrian star set up Poulsen brilliantly. Poulsen flicked in an equally brilliant tight-angle effort from about five meters out that Eintracht keeper Kevin Trapp ended up having real problems with.
Trapp spilled the effort directly in front of the onrushing Marcel Halstenberg, who unfortunately shot over with his non-preferred right foot. Leipzig continued to control the flow of the match through the 3rd, breezily dancing around their rattled guests on a slow-roll build. Henrichs and Willi Orban eventually crawled up the right. Tim Werner drew a foul off a 4th minute throw. Rose's men played the free-kick back conservatively, but were able to put together another huge chance on an advance in the 5th.
Kampl, Halstenberg, and Werner cycled out wide left. Werner then hit Dominik Szoboszlai with a nice switch. The RB Hungarian hit Poulsen outside the box central immediately. Poulsen held the ball up with some skillful touch-work and did even better to orchestrate a one-two with Forsberg. The Swede became the second player to only just miss in as many minutes. Forsberg's fancy flick from the left grazed the right post. More Leipzig dominance and an incredible goal in the next minute.
After bow-arcing the ball around at the beginning of the 6th, another amazing hold up from Poulsen set-up the opener. Poulsen went back for Szoboszlai, who fearlessly headed forward. SGE defender Tuta took down Szoboszlai's header, but literally had zero time to sort out his feet before the ravenous RB press. Forsberg declassed the Brazilian center-back before playing Werner through with an incisive first-time through ball. Werner turned on the turbo.
Not even a slight stumble on Werner's behalf could screw up the finish. The German national team striker didn't need something special to overcome the completely unprepared Trapp. One simple touch proved sufficient to get the ball past the approaching SGE net-minder. The German Red Bulls had their dream start thanks to pure perfection on the hold-ups and press. The Hessian guests suffered one serious sucker punch. Recovery seemed almost impossible.
Match Flow: 6th to 35th minute
It would indeed take over a half-an-hour for Eintracht to produce anything of note. Leipzig maintained possession throughout the end of the 7th and entire 8th after we got rolling again. More great deep work from Forsberg and a few more notable hold-up from Poulsen during the spell. In a slight positive from Frankfurt, a midfield win from Djibril Sow nearly sparked an SGE counter. Rode drew a foul from Kampl on the 8th-minute rush. The ensuing 9th-minute free-kick proved worthless.
Lindstrøm got forward a bit on the right. Halstenberg still had plenty of time to box the SGE Dane out. Poulsen and Forsberg were back working their midfield magic before the 9th was out. Josko Gvardiol and Orban bow-arced around the stammering Eintracht press through the 10th. Knauff at least diffused a Halstenberg rush up the RB left at the end of the 10th. Knauff himself got eaten alive by the RB press in the 11th. Forsberg, Halstenberg, and Kampl then put on passing clinic to keep the ball on Leipzig toes.
Poulsen and Forsberg came close to combining again just outside the box in the 12th after a series of desperate SGE clearances couldn't get the ball past the half-way line. Kamada and Lindstrøm looked embarrassing by comparison on the left on a disjointed Eintracht back-build. Leisurely Leipzig didn't seem to mind being repelled on both flanks in the 13th and 14th. Poulsen kept the midfield metronome rolling with more fantastic hold-ups. Laimer charged forward again in the 15th.
A trip of Laimer by Philipp Max went unnoticed by match official Dr. Felix Brych. It mattered not as Trapp gave the ball right back to the hungry RB bulldozers. Henrichs and Szoboszlai saw shots blocked. Poulsen got the ball back out to Werner, who sent in a blocked cross from the left. Henrichs collected the loose ball, giving Eintracht another crack at a counter with a turnover. Kamada – with Randal Kolo Muani too far afield – hesitated on the ball in the 16th. Laimer was ultimately able to separate the Japanese international from the ball easily.
Sow tried to send Muani down the right in the same minute. Kampl had no problems clearing the SGE Frenchman's cut-back. Frankfurt were at the very least able to get something resembling a decent build together in the 17th. A long vertical for Muani missed by miles. Kamada miffed up the next SGE chance at getting something going in the 18th. A good midfield win went wasted with a poor shuffle out for Lindstrøm. Kampl nearly sent Werner through on a quick counter. Trapp was on his game and ahead of the ball this time.
The 19th belonged almost exclusively to broken SGE cycle builds. Tuta, Hasebe, and Smolicic couldn't make it happen. A pair of verticals for Muani and Windstorm again came in well wide of the mark. Leipzig then got a tad too careless on their possession recycle in the 20th. Rode picked up a duel win and tried to hit Kamada on the edge of the area. The omnipresent Laimer remained alert and intercepted the ball. Glasner's men looked more coherent on a rightward cycle-out in the 21st. Laimer eventually shut down Kamada again.
A Henrichs led charge up the RB right in the 22nd failed. Eintracht again tried to collect themselves on a more methodical attack build. Smolcic, Hasebe, and Tuta couldn't find a way out, but at least had some space to breathe for the first time in the match. Laimer eventually stepped forward to break it up in the 23rd. After another fearless Laimer charge forward, the Austrian worked the ball out to Szoboszlai via Forsberg. Werner took down Szoboszlai's switch over to the left down well. Smolcic blocked the German international's shot.
Werner nearly got another stab at it, but turned the ball over. Frankfurt's attempted build didn't last long as they turned the ball over themselves. In the 24th, it was once again Laimer punching through courtesy of a nice pass from Szoboszlai. Laimer tested Trapp with a powerful right-footed shot from the half-right. A Rode-led SGE charge in the 25th placed Muani in some space on the right. RB keeper Janis Blaswich and defender Gvardiol quickly closed ranks. The latter actor cleared Muani's cross out for a corner.
Linddstrøm went short with the 26th-minute take. The Dane's cross was cleared out for a throw, which Knauff could do nothing with. The next SGE sortie in the 27th produced another hopeful long ball for Muani. Orban remained several steps ahead of the SGE Frenchman. Orban and Gvardiol easily diffused similar hit-and-hopes in the 28th. Sow did manage to connect with Muani via Knauff in the 29th. Gvardiol stood well-positioned to clear Muani's cut-back.
The Eintracht back-three kept it safe with bow-arcs through Trapp through much of the 30th. Sow's eventual attempt to reach Muani ended with a heavy touch from the SGE striker putting the ball out of his own reach. Gvardiol, Forsberg, and Kampl (with some nice tricks) ran the next RB rush in the 31st. Kamada finally broke up the centralized cycle. A Frankfurt counter went nowhere when Knauff could find no way past Laimer and Rode supplied a poor second ball.
Eintracht tried to cycle out with Sow and Lindstrøm deep on the right in the 32nd. The Dane got hassled off the ball by Kampl. A switch over to Philipp Max on the left in the 33rd failed too with Henrichs on the coverage. There was nevertheless a turnover in the same minute that enabled Frankfurt to counter. Muani, Kamada, and Lindstrøm had a 3-vs-2 opportunity. Orban came in late on Muani as the SGE man attempted to reach Lindstrøm. Referee Brych briefly allowed advantage play.
When nothing developed, Brych whistled it back for a free-kick and booking for Orban. Eintracht were accorded a wonderful opportunity with a dead-ball about 17 meters outside the box central. With a such a glorious sight at goal, Glasner's squad understandably took their time setting up the free-kick. In the end, Max went for the take in the 35th. A beautiful deceptive effort with some serious dip and bite to it got deflected off the wall for a corner.
Max rushed back out to the right to take the corner quickly. A simpler design nearly caught Leipzig unawares. Knauff ended up taking too many touches at the end of the sequence, however, and no danger resulted. One could still divine something of an upper hand developing for the Hessian guests. The next few minutes would be crucial.
Match Flow: 35th to 40th minute
Regrettably for the Rhein-Main Adler, what little progress they had made would be quickly erased. Kamada was quick to attack a pair of midfield balls in the in the 36th. Unfortunately for the Japanese international, Laimer was quicker. Foul stoppages and throw-ins through much of the 37th. Laimer and Kampl were back driving the RB engine in midfield by the 38th. A long vertical by the forward stepping Gvardiol ended the sequence. An attempt by the SGE to break through via Knauff on the right in the 39th ran straight into Halstenberg.
The wonderful team goal that threatened to seal the deal came in the 40th. Szoboszlai and Forsberg kept the RB recycle going in midfield with some deft hold-ups. Suddenly, forward momentum erupted in a flash. Szoboszlai played Werner out wide right. Werner instantly spotted Forsberg running back into the box for a return ball. The Swede polished off Werner's square with his shin. Knauff floundered horribly on the mark. The 2-0 possessed all the hallmarks of a match-killer.
Match Flow: 40th minute to half-time
Some fight from the SGE to report on after the back-breaker. Henrichs put the brakes on Kamada easily in the 41st. Knauff and Smolcic could only go backwards on the 42nd-minute SGE build. Poulsen poached the ball. Werner might have had a brace if he had been able to take Poulsen's switch down in time. Szoboszlai was on hand to pick up the loose ball. The RB  Hungarian saw a good cross blocked.
Knauff got his pocket picked again in the 43rd, but, as Kamada was on hand to take the ball off Kampl, the SGE got a chance at a counter-charge. Lindstrøm blazed through on the right, yet couldn't dig out an accurate cross for Muani. Max and Muani got another charge rolling up the left in the 44th. Lindstrøm executed a clever dummy just outside the area. The Dane then failed to catch up to his own fancy footwork.
Szoboszlai, Werner, and Halstenberg worked their way forward with a nice leftward cycle in the lone minute of injury time. Laimer got his turn to overcook the footwork at 45+1. The Austrian tried to work the ball back to Werner with a clever back-heel. Werner wasn't ready for it. Brych blew the whistle on time to mercifully break off proceedings.
Half-time xG once more:
xG Leipzig–1.71, xG Frankfurt–0.02
Yikes. Aye, aye, aye.
Match Flow: 46th to 61st minute
This really would have constituted a great time for Glasner to make some changes. As noted in the introductory section, Knauff really needed to take an early shower here. If not him, then potentially Hasebe, Rode, or Lindstrøm. It wasn't to be. Without changes we continued. Both teams were pretty cautious through the 46th. Once Leipzig sorted themselves out somewhat, Werner, Szoboszlai, Laimer, and Henrichs were once again slicing their way through the SGE defensive ranks smoothy in the 47th.
At least Glasner's men were able to clear the final ball effectively. A 48th-minute SGE charge involving Sow, Kamada, Max, Muani, and Lindstrøm still fizzled out when the passing sequence ran into the RB box defending. Max and Szoboszlai collided on an aerial duel in the 49th. Treatment and a talking to for Max – upset at Brych's foul ruling – ate up the rest of the minute. A cautious RB slow-roll build in the 50th gave the ball back to the guests. Laimer single-handedly forced Knauff and Smolcic back.
Kampl then stripped Smolcic of the ball and nearly put through Poulsen for the 3-0. Poulsen, who also had Forsberg wide-open in the center, got dispossessed by a last-second Hasebe recovery. Eintracht then failed again to play their way past the RB press in the 51st. Forsberg and Szoboszlai kept the back-three under tight wraps. Sow finally went for Lindstrøm on a long switch wide right. The Dane did supply some sparkle with a nice cut-inside to the box. Blaswich ended up snuffing out Lindstrøm's tight-angle snapshot.
Some decent work from Sow and Kamada unblocked Muani central in the 52nd. The SGE sensation opted to have a go from just outside the 18. Blaswich did well to tip the treacherous effort over the bar for a corner. Blaswich easily collected Lindstrøm's quick-take corner. Knauff put in a rare piece of good work breaking up a Forsberg-Halstenberg-Laimer triangle in the 53rd. Lindstrøm, Rode, Sow, Max, Tuta, and Knauff did well to keep possession through the 54th.
Muani obviously served as the final target. In the final analysis, double-magic from the Frenchman against Henrichs and Orban proved too much to ask. The Frenchman couldn't beat Henrichs twice. Muani resorted to an offensive foul on Orban after Kamada worked the ball back in. Hasebe took care of a vertical aimed at Forsberg in the 55th. Mostly midfield back-and-forth through the 56th and 57th. Tuta and Szoboszlai put in some good defending for their respective sides.
We finally got a break in the action when Rode fouled Forsberg in a breakaway in the 57th. Glasner had at least two subs ready to check in, but staid his hand after evidently deciding to bring on a third. Rode received a booking from Brych for his action. Szoboszlai's 58th-minute free-kick was headed out only as far as Henrichs. The German national team fullback forced a save out of Trapp. The SGE keeper deflected out for a corner. Trapp fisted Halstenberg's quick-service clear.
Leipzig killed some time with a 59th minute bow-arc before Laimer dutifully shepherded the ball out into touch. Rose wanted to get a sub on as well; a potential match-killing one at that. Christopher Nkunku checked in for Poulsen in the 59th. The 60th belonged to the check in of Jakic, Buta, and Christopher Lenz for Rode, Max and Knauff. Straight-arrow plug-ins for Glasner, with Jakic in his natural midfield role. Rose clearly wanted to move Werner up to the lead striker role with Nkunku in the service-slot. Forsberg would fall back to the wings.
Before we could get to the changes on the overhead, however, Glasner's long-overdue subs made an immediate impact. Lenz played Kamada forward with a useful ball. Lindstrøm caught up on the underlap. Lindstrøm's cross just missed the head of the rising Muani, but Buta was on hand to collect and cut-back perfectly for Sow. The Swiss midfielder drilled home an emphatic finish into the upper-left-hand corner of the net from about ten meters out.
Whew.
Game on?
Match Flow: 61st to 70th minute
For a brief period of time. Rose had a plan for shutting this one down with a 4-2-3-1 re-format We would witness him do so with his own triple change in the 69th. The Hessian guests still had a small pocket of time to push for the equalizer. First, they needed to calm down. Frenetic, adrenaline-fueled play took up the 62nd and much of the 63rd. Kamada, Hasebe, Lenz, and Buta finally pieced together a solid string at the end of the 63rd. After some genuinely gorgeous work from Lindstrøm on the right, Kamada saw a cross blocked out for a corner.
Lindstrøm's 64th-minute service was headed onto the roof of the net by Smolcic. Buta did well to take the ball off Laimer in the 65th. A quick work-over to Muani up the middle had some promise. Forsberg tackled away from the SGE Frenchman at the last moment. A confident and crisp Eintracht cycle up the right in the 66th remained alive thanks to Buta on the second ball. Lindstrøm turned some more slick dribbling in the box. The Dane toasted Kampl and unleashed a steely shot that forced a quality parry out of Blaswich.
Frankfurt found themselves in immediate danger with a Szoboszlai-led counter. Werner and Nkunku came along. Henrichs ultimately received the ball on the overlap. Laimer missed out on a well-earned chance to get his name on the scoresheet with a poor wide finish of Henrichs' cutback. Gvardiol and Kampl got beat back by the suddenly spirited SGE press in the 67th. Things began to slow up a bit in the 68th when Forsberg hit the deck untouched. Jakic – in a bit of fair play – turned the ball out into touch.
It was clear enough that Forsberg wouldn't be able to continue. Rose got his first two subs – André Silva and Xaver Schlager for Werner and Kampl – on in the 69th. Amadou Haidara, who was warmed up and presumably ready to replace Forsberg anyway, entered at the beginning of the 70th. Leipzig took the play out of the back cautiously in the 70th, unmistakably wanting to get the late-match re-format set. The return to Wednesday's 4-2-3-1 would sadly put this match to bed early.
Match Flow: 70th minute to full-time
Glasner's SGE, despite having some fresh-legged subs on the pitch, ran out of gas against the more rigid and defensive-minded Leipzig constellation. Rose put two of his subs on the double-six. Laimer went forward while Szoboszlai switched flanks. Nkunku settled into an anchoring role. Pretty much a stalemate over the course of the next 12 minutes against this.
Lineup—RB Leipzig—70th minute (4-2-3-1)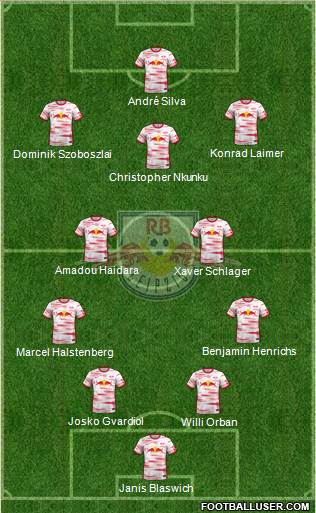 Muani just missed a through ball in the 71st. Lindstrøm gave us one last bit of show inside the box in the 73rd. Unfortunately, all the intricate footwork gave Gvardiol time to deflect his square for Muani back to Blaswich. Lindstrøm dug out a corner one minute later, which led to nothing. The same applied to a Muani earned corner in the 77th. That was pretty much all she wrote for the Eintracht equalizer push. Leipzig emerged stronger from the stalemate.
The air went out of the match until Laimer again missed a huge chance in the 84th. The star-of-this-show had been booked along with Hasebe for a dirty two-sided aerial duel just one minute prior, meaning he won't be available for next weekend's "Top Spiel" against Dortmund. Silva also narrowly missed out on the 3-1 in the 85th thanks to a vital tackle from Smolcic. Trapp denied Silva again in the 87th. Szoboszlai came within centimeters of Silva's head at 90+3.
Yes, the scoreline notwithstanding, we were done relatively early here. Frankfurt couldn't show enough in the final 20 minutes to be considered serious title contenders. The game ended with a whimper. So too, it appears, did the title hopes of the 2021/22 Europa League Champions. An eight-point-gap away from the top isn't totally insurmountable. It is nevertheless very, very unlikely to be overcome. So it came to pass that "another one bites the dust". On a weekend during which Union were humbled, it looks to be Bayern-Dortmund-Leipzig from here on out.
To bookend.
Full-time xG:
xG Leipzig–2.41, xG Frankfurt–0.57
Hmmm. A "tale of two halves" it was not.
Something else we've learned this weekend, courtesy of the latest transfer rumors, is that the rich will get richer next season. Laimer's (still not officially confirmed, but widely accepted) transfer to Bayern on a free next year will strengthen the German giants even more. Leipzig already have their replacement lined up. Irrespective of the fact that he didn't have the greatest match, Kamada's all-but-confirmed move to Dortmund hurts the SGE and helps out the BVB immensely.
Here we are. German football's "race for the Meisterschale" remains more intriguing than it has been in four years. That's great news of course. Laimer's absence next week against Dortmund probably also gives die Schwarzgelben the upper-hand in fixture we'd all love to see the traditional club win. Good news there too. With a bit of a wistful tone, however, it's sad to remark that some of the romance went out of the current campaign this weekend. So it goes sometimes.
All dreams must end at some point.
Thanks so much for reading! You can catch the release of all Peter's columns on twitter, @ViceytheSS.
Twitter DMs are open for football conversations, corrections, and (if you truly insist) general abuse. 
All columns debut on Bulinews before appearing on Peter's website as the season progresses.
Related stories