A riveting weekend of action over on the German Bundesliga beat leaves us with a table about as tight as it gets. Only six points separate first-placed Bayern and sixth-placed Freiburg after Dortmund, Union Berlin, and Eintracht Frankfurt all picked up three points in the latest round.
Our comprehensive Sunday evening recap column delivers reliably just as German football does. Bayern, Bochum, Hoffenheim, Leverkusen, and Hertha all receive draw-ups amid the sections this week.
In their first "tactical focus" section of the new calendar year, we'll be taking a deep-dive in the current state of perennial challengers Borussia Dortmund.
Some very intriguing stuff to report upon from the BVB's big win over Freiburg!
| | |
| --- | --- |
| Julian Brandt. | Photo: Borussia Dortmund |
Bundesliga Tactical Banter: Round 19
"Tempering the Iron"
Leading last week's column with the more chaotic capital city side regrettably left us with only a pair of paragraphs to discuss the more coordinated one. Köpenick's "Eisern Union" have now won all five of their fixtures in the new calendar year. Union Berlin's latest victory over FSV Mainz even catapulted them into first-place in the table on Saturday night. How about this? Long-time Bundesliga lovers feel as if we've somehow been transported back to the 90s or early aughts; back to the days in which one out-of-nowhere team always challenged Bayern for the title.

Union even possess the same blueprint of those old SV Werder Bremen, 1. FC Kaiserslautern, FC Schalke 04, or VfB Stuttgart sides. They run a simple, straightforward, and direct system through high times and rough patches. Urs Fischer's tactical tinkering in winter training camp led many of us to the conclusion that the FCU would fall down the table and fade away relatively quickly. Instead, the 4-4-2/4-2-2-2 proved a ruse. Fischer stuck with his original system and predictable rotations. The results have the entire Bundesrepublik buzzing.
The chief reason why all the predictions were wrong relates to Union's highly ambitious transfer window. No one foresaw this. Manager Oliver Ruhnert prepared us all for a conservative January focused mainly on roster reductions. Big name signings such as Josip Juranovic and Aïssa Laïdouni came out of the blue. As evidenced by his impactful play in the most recent victory, even the Jerome Roussillon pick-up counts as a very good 'get'. The collapsed Isco transfer even serves to strengthen this side. It further reinforces the identity of this team. No prima donnas here!
When it comes to discussing Union, however, it still needs to be emphasized that we're dealing with a side punching above its weight. Saturday's 2-1 win over Mainz constitutes the third consecutive match (after Hertha in last week's derby and Wolfsburg in the Pokal) that Union actually lost or just barely won the xG battle. It's naturally uplifting that so many different actors have their name on the scoresheet and skin in the game at this point. Union nevertheless displayed their real game for the third match running: Patient possession and little passing pinpricks.
Bo Svensson's Mainz wrestled the lead away from them once and nearly equalized again several times after Jordan put them back ahead. While German football lovers certainly hope for more pleasant surprises from this marvelous story, there shall likely be more flat matches in which the scales tilt the other way. Ruhnert's positional upgrades may yet prove this latest cynical assessment wrong, of course. We'd love nothing more than to hop on the intoxicating bandwagon that is Union. For now, inherent weaknesses remain apparent. A dose of caution is warranted.

Tempering two more teams
Somehow, the fact that Saturday evening's "Top Spiel" ended in a 0-0 draw didn't count as a surprise at all. This columnist even predicted the exact scoreline in a weekend outlook. The manner in which Gladbach and Schalke matched up tactically seemed to scream for a goalless affair. Gladbach's continued struggles to get the triangles right on their centralized midfield build-up play were still obvious in last week's 4-1 win over Hoffenheim. The mere news that Schalke were courting Colombian defensive midfielder Eder Balanta presaged a "bolt-lock-sweeper" for future S04 tactics.
Thomas Reis did indeed go with Balanta as a deeply positioned vacuum-hose just in front of the defensive line. The new acquisition didn't have to work terribly hard to suck up the slow traffic generated by the persistently poor BMG trio of Christoph Kramer, Julian Weigl, and Manu Kouadio Koné. We were thus treated to an absolutely torrid football match that failed to pick up at all until the final 15 minutes. Schalke substitutes Michael Frey and Marius Bülter were able to furnish some excitement near the end. That's about it.

If there is a lesson to take from this total dud, it concerns the fact that neither one of these teams is worth watching in the coming weeks. Daniel Farke's foals look to underwhelm against the likes of Hertha, Bayern, and Mainz. Marcus Thuram, Lars Stindl, and Jonas Hofmann just don't have the proper support system behind them. Thomas Reis' evolving 5-4-1 carries with it the potential to help Schalke bag some more one-pointers in coming fixtures against Wolfsburg, Union, and Stuttgart.
Good news for die Königsblauen's relegation prospects.
Bad news for general entertainment value.

Tongue-Lashing Stuttgart
Tsk. tsk. SV Werder Bremen have their first win down in Württemberg in over ten years thanks to the fact that Bruno Labbadia's VfB Stuttgart couldn't do as Köln did two weeks ago and put a mistake-prone side away early. Perhaps Stuttgart's best chance to pick up some much-needed points for the rest of the month went wasted. Ole Werner's Hanseaten, lining up without the suspended Mitchell Weiser, looked extremely uncomfortable early with Anthony Jung at left wingback and Leonardo Bittencourt taking Jung's place over on the right.
The SV shape buckled and frayed in the opening minutes. Chris Führich couldn't put away a chance after Niklas Stark whiffed on a tactical and Serhou Guirassy failed to capitalize on a howler from keeper Jiri Pavlenka. All of the early initiative from the Swabians evaporated once Guirassy had to be subbed off with groin issues in the 25th. The Cannstatt crew had foreseeable problems finishing with Luca Pfeiffer and Juan Jose Perea at top Labbadia's 4-1-2-3. Führich – the only true finisher among them – found himself denied by a Pavlenka parry once the SV net-minder settled in.
Gil Dias entered at the half, to no avail this time. Bremen eventually took the lead after an embarrassingly poor clearance from the otherwise reliable Konstantinos Mavropanos. Pavlenka then embarrassed the whole squad with a launch-unlock of Marvin Ducksch before the VfB could get set. Oops. A 0-2 loss at home. Not good enough. Nowhere close. Bochum and Augsburg pulled away from the relegation pack this weekend while the Swabians sit in 16th. A little hard luck in this one doesn't disguise the fact this team has almost no quality stationed on the final 25 meters of the pitch.

The "Spiegel Specials": Round 19
Bochum-Hoffenheim (2:3, 5:2)
We actually led the round two "tactics talk" column with the five-goal-affair between these two sides. In spite of the scoreline, that one earned the label "The Sinsheimer Bore". The reverse fixture was anything but. We got a chance to "Rollick in the Ruhrpott" with this one. Wow! German footballing enthusiasts couldn't have hoped for a better result here. A tradition-rich club from deep in the heart of the Revier finally lived up to the "Badass Bochum" reputation many of us had been peddling. One of the country's more reviled clubs, meanwhile, gets plunged into an immensely satisfying crisis.
So very interesting that Bochum captured a 5-2 victory just one week after losing by the exact same scoreline. VfL trainer Thomas Letsch made four changes to the XI that got manhandled by Mainz. The fact that Christopher Antwi-Adjei and Takuma "Jaguar" Asano began on the wings immediately filled one with confidence that something special was in store. Erhan Masovic and Philipp Förster over Keven Schlotterbeck and Pierre-Kunde Malong, one the other hand, connoted a definite formation changes that could prove risky. One wasn't sure what to expect until what we saw on the pitch delivered.
Lineup—VfL Bochum—Match 19 (4-2-1-3)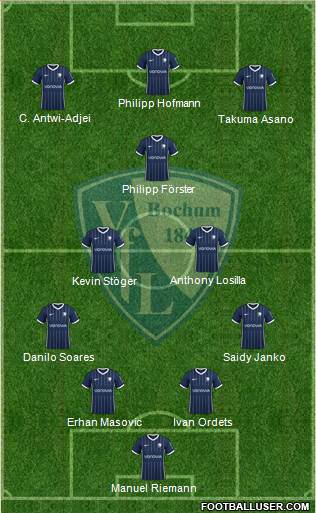 Brilliant. Absolutely brilliant. Antwi-Adjei and Asano didn't merely work the wings. They pressed as high as striker Philipp Hofmann on a full-throttle, full-frontal top-three axis. Letsch went "all-in" with his selection. Antwi-Adjei was ripping through the TSG defensive ranks seconds after the start. The former SC Paderborn winger nearly had both Hofmann and Masovic set up in the opening ten minutes.
Antwi-Adjei finally got his first assist after toasting Ozan Kabak – by no means an easy defender to dust off – and setting up Hofmann in the 22nd. After coming so very close to assisting a Masovic goal in the 28th, Hagen's proud native son then did properly lay off for Förster at the half-hour-mark. Antwi-Adjei completed a hat-trick of assists thanks to a through-ball for Asano before the half was out.
Nothing but positives to report upon for the 1848ers. Philipp Förster directed the midfield every bit as effectively as the likes of other current Bundesliga bloomers Emré Can and Ellyes Skhiri. Asano executed a glorious nutmeg on his goal. Masovic did ultimately get a goal, as did the newly acquired Mortiz Broschinski. Atnwi-Adjei could have easily racked up five assists with balls in.
Upcoming opponents Dortmund beware?
Well…let's take a look at what they were facing first:
Lineup—TSG Hoffenheim—Match 19 (3-4-1-2)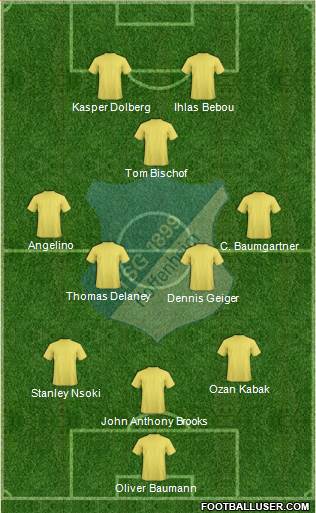 What….the shit…is this? One can't even truly divine how this was supposed to work. We'll note that part of the reason why Antwi-Adjei enjoyed so much freedom on the VfL left relates to Christoph Baumgartner's ludicrous positioning as a right-wingback. Thomas Delaney came in completely cold to pair with Dennis Geiger and there were consequences. Tom Bischof directing the show behind two tanking strikers? This was a cruel joke.
TSG trainer André Breitenreiter's desperate attempts to throw nonsensical constellations to the wall and hope that they stick reminds one of the final days of the Sebastian Hoeneß regime. The words flowing out of the mouths of both Breitenreiter and club sporting director Alexander Rosen remind one of days back in 2013 when owner Dietmar Hopp purged the club from top to bottom.
What semblance of a plan Breitenreiter once had has gone to pieces. The TSG trainer went with four changes at the half in another desperate attempt to make something, anything, work. Munus Dabbur and Andrej Kramaric both came on. Baumgarter moved all the way up on the left to work alongside Kasper Dolberg and the two new strikers in a 4-2-4. Kabak got yanked in favor of….wait for it….old toad Ermin Bicakcic. Holy lord!
Dabbur and Baumgartner got "pull-back" goals out of it. This random ramble remained a disorganized mess. From a German fan's perspective, it's almost a shame that the next head-coach will pull the surfeit of talent in this squad back into a 3-3-2-2, stabilize it, and pull the Sinsheimers out of the relegation discussion. All it takes is the implementation of an easy solution to stop this bleeding. That truth isn't so easy to swallow.

Prognosis: More "Kleines Revierderby Fun"
Having essentially prognosticated Hoffenheim's future in the above paragraph, we'll now turn our attention back to Bochum. There's another fun edition of the "kleines Revierdeby" coming up on Wednesday. The way Bochum are set up now leaves them intriguingly configured for Dortmund's current set of tactics, especially in direct duels Philipp Förster vs. Emré Can. Antwi-Adjei and Asano vs. Julian Brandt and Karim Adeyemi. Fun stuff.
Last week's Pokal tip proving to be an abject failure means that the columnist will responsibly refrain from making any grand upset predictions. One has the feeling that Letsch, like Bo Svensson, will engage in some ultimately needless tinkering against the heavily favored opponent. Svensson practically gifted Bayern their Pokal victory by leaving out Karim Onisiwo and Jae-Sung Lee.
We shall see. One certainly hopes that the 4-2-1-3 is here to stay. Perhaps Antwi-Ajei could even switch flanks to make way for the equally gifted Jordi Osei-Tutu. A pair of pacey flankers capable of rounding the outside faster than one can say their hyphenated-names has a tantalizing ring to it. In lieu of a betting tip, a general recommendation to tune into Dortmund-Bochum seems right. There's already a lot to talk about here.

Augsburg-Leverkusen (2:1, 1:0)
Yeouch. Augsburg do the double of what is supposed to be a Champions' League side. With all respect due to the Fuggerstädter for another hard-fought Friday night win in front of their hometown crowd, the tactical deployment of B04 trainer Xabi Alonso raises some serious questions. Inquiring minds wished to know why – despite having Florian Wirtz back from injury – Xabi reverted back to a 3-4-3 system he knew full well posed a risk of producing suboptimal results. We did ultimately receive a cursory answer about why Wirtz didn't start. Questions still remain.
Tracking back a bit to the previous round, virtually everyone agreed that Leverkusen furnished the better game of football during last week's home loss at Dortmund. The xG stats (Leverkusen 1.27, Dortmund 0.79) confirm this. Xabi lined the lads up in an ambitious 4-3-3 with Wirtz working only a slightly suppressed pivot. Optically pleasing and ever ambitious, this constellation sometimes even resembled a 4-1-5 on the charge. One genuinely liked what one saw from die Werkself in this set-up:
Lineup—Bayer Leverkusen—Match 18 (4-3-3)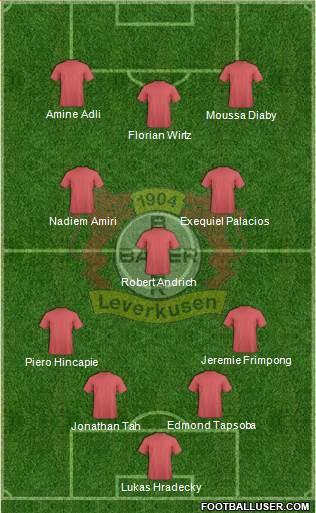 When the Friday night team sheets were released, three changes saw Odilon Kossounou, Mitchel Bakker, and Adam Hlozek replace Jonathan Tah, Nadiem Amiri and Wirtz. Amiri's absence made sense as an injury was reported. Bakker and Hlozek were rotated in curiously. The former had fallen out of the squad and was reportedly discontent about it. Alonso took care to emphasize Bakker's importance at his pre-match presser; perhaps starting him as an ameliorative measure.
Football remains a tough business As much as Bakker has contributed to this squad through their darker days earlier this season, no one should consider themselves entitled to a starting XI deployment based solely on past bestowals. It may be unfair that the Dutchman has suddenly outlived his usefulness, but a trainer is under no obligation to placate any player for any reason. Amid some rumblings that Jeremie Frimpong doesn't like being moved back to the fullback role, the same edict applies.
A 3-4-3 spearheaded by Hlozek with Frimpong and Bakker at the wingback positions failed miserably in the opening 45. The Bayer counter in particular proved atrocious. Matters didn't improve at all in the opening ten minutes after the restart. As soon as Augsburg were able to knick the 1-0 off a corner in the 55th, Xabi needed to spring into action immediately. A pair of substitutions (Wirtz and Kerem Demirbay for Kossounou and Hlozek) in the 62nd yielded another 3-4-3 that lacked the requisite urgency.
Lineup—Bayer Leverkusen—71st minute (3-4-3)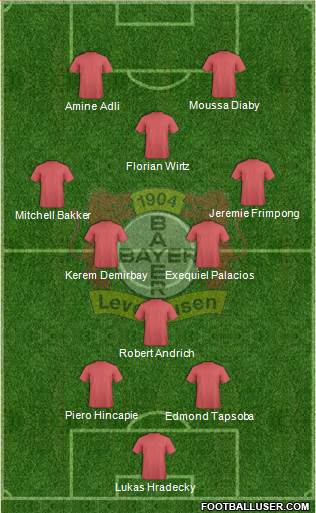 Ostensibly, it would have been easy enough to simply reformat into the shape from the previous match. This needlessly complex arrangement asked still more of the ineffective Bakker and Frimpong. They did not deliver. Xabi would later plug in a pair of fresh legs with Tah and Callum Hudson-Odoi relieving Bakker and Andrich in the 77th. The attack remained stale and the final quarter-of-an-hour passed uneventfully.

Prognosis: A crucial drop
Resting Wirtz, as Xabi claims he felt necessary, would have made sense if Leverkusen had a midweek Pokal fixture coming up. As we all know, the loss at Elversberg that kick-started this team's poor campaign means that die Werkself have next week off. Then comes the grueling schedule associated with their current Europa League referral. The short month of February stands packed with five more fixtures.
League matches against Hoffenheim, Mainz, and Freiburg don't translate to easy points. UEL opponents AS Monaco don't count as an easy draw either. For this team to ultimately make up the necessary ground to catch up in the UCL race, a 30-point-haul entering the month of March appears a reasonable pace-setter. That now doesn't look likely. We'll likely be looking back at this crucial point drop after the season.

Köln-Leipzig (2:2, 0:0)
A pair of draws fro these two sides. The match selected for the "tactical focus" feature in the "Hin-runde" edition of this column generated very little interest this time around, mostly because Köln have cooled off into a general "administrative mode" on the pitch and Leipzig are poised to break hearts across the Bundesrepublik with their upcoming title challenge. It still came as a surprise to witness die Gerißböcke keep the German Red Bulls out of the net here. Sadly, it came at the expense of a borderline unwatchable goalless draw.
RB trainer Marco Rose went with a rather conservative 5-2-3 that sometimes operated as a far too reticent looking 5-4-1. Timo Werner's supposed "breakthrough" in the midweek Pokal fixture got followed up with another total flop of a performance. Neither he not striking partner André Silva utilized their chances. Silva missed a sitter early in the first half and Werner, true to his recent form, got caught offside what felt like a dozen times. Werner frequently went forward too often. Dominik Szoboszlai seemed uncomfortable in his new role pairing axially with Werner and kept drifting back.
Köln, with Ellyes Skhiri and Eric Martel sitting very deep as the double sixes in a 4-2-3-1, mostly focused on breaking up play. It worked without giving us much of a show. Apart from a double strike of the goal frame by Linton Maina and Dejan Ljubicic in the 37th, the hosts managed very little going forward. Steffen Tigges and later Davie Selke turned in absolute stinkers of performances. Both target men were far too passive in their positioning. Even accurate crossed stood no chance of reaching them. A lackluster game from a low-talent-level squad

Prognosis: Room for another story
Had there been a bit more action on the pitch, we wouldn't be discussing the controversial fan banners attacking Leipzig sporting director Max Eberl during his visit to the cathedral city. Though some may appropriately find themselves burnt out with the story of Eberl's "burn-out", this column has little choice but to tackle it. From a German footballing culture perspective, it's possible to view these placards solely as anti-Leipzig protests from the Kölner ultras. Nothing more.
Of course, the Köln supporters did themselves no favors by objecting to Eberl's distasteful move to Leipzig with a distasteful message of their own. Eberl comes out on the right side of this issue by virtue of the fact that publicly shaming people with very human problems just has a low-blow feel to it. In the already inhumane way our online culture places undo pressure on real people with shallow narcissism and depthless "call outs", the Effzeh faithful ended up seeming as superficial as the club they sought to deride.
An important message lost to flimsy spite.

The "Burning Questions": Round 19
How Bad will it get for Hertha?
It's going to get worse. That much should be clear. Minute little victories – like the stronger stretches of play we saw last week against Union Berlin and this round against Eintracht Frankfurt – count for naught. Neither, for that matter, does whatever the hell Kevin-Prince Boateng was talking about in the mixed zone. On a tactical level, Sandro Schwarz was able to reorganize his troops into something capable of displaying some fight during the second half of a fixture for the second consecutive week. Big deal. Such trends don't translate to points. Moreover, they don't supersede the state of the club.
Tactics first. The pensive and unsure of himself Florian Niederlechner received his starting XI debut atop a 4-1-2-3 that saw Dodi Lukebakio and Marco Richter work the flanks. Neither player (Lukebakio on the left and Richter on the right) were working their natural sides. This twist produced nothing as no one could punch through. Suat Serdar and Jean-Paul Boëtius – serving as the buttressing support – could do much beyond useless long-range efforts. A triple change at the half brought with it a 3-5-2 reformat.
Lineup—Hertha BSC—46th minute (3-3-4)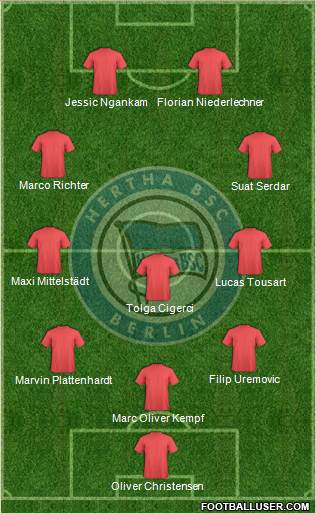 If this is to serve as a ray-of-hope, it's a very dim one indeed. After Niederlechner and Jessic Ngankam got some early looks in, Frankfurt were back on the charge again some ten minutes after the restart. Tolga Cigerci successfully stabilized the midfield to some extent and the back-three held its own for a prolonged period of time before finally falling apart at the end. There were a couple of successful attack waves that rattled the SGE back-line around the hour-mark. Nothing much of note on a day that totally belonged to the hosts.
A slight coincidence that Hertha had to travel to the town in which their now disgraced former sporting CEO achieved the success that led to Hertha purchasing him. The "Fredi Bobic Era" in the country's capital will be remembered as one of the worst administrative flops in German football history. Bobic's coaching appointments, front office purging, and absurdly poor transfer policy even casts doubt on his Frankfurt days. The former executive just looks like a budget-bait-cutter who made a few lucky moves.
Shedding themselves of Bobic may have been the correct course-of-action, but that doesn't mean that President Kay Bernstein and the new administrative team are capable of moving this club forward. Bernstein, as a former ultra, enjoys respect in German footballing circles. The prez seeks to run Hertha as a fan would. A nice story; albeit one with a potentially disastrous ending. As we've already seen in the just-completed transfer window, more cutthroat executives will try to bully this crew. We've some shy small-fry-fish in the shark tank here.
It will get worse. Perhaps after it does, there's a chance that things could get better. A couple of years in the 2. Bundesliga could help the Charlottenburgers finally get a chance to rebuild the roster from scratch. The likes of Benjamin Weber and Andreas "Zecke" Neuendorf can hone their skills out of the spotlight during a calm and less strenuous rebuilding spell. While it's far too early to bring Pal Dardai back for his third coaching stint just yet, it would be seen as a sensible move after the relegation. A new ground-up culture refurbishment beckons.
But first, things get worse.
Much, much worse.

How are Bayern back on course?
A two part-question, this one. Yes, yes. A wholly incorrect Pokal tip was made in last week's column. Understand that this projection appeared before anyone following German football knew that Joao Cancelo would be headed to the Bundesrepublik. Even when the €70-million-man's transfer found official confirmation on Tuesday, it remained unclear as to whether he would start Wednesday in the Pokal.
Just as we did above with Bayer, it's necessary to track back a bit here.
Lineup—Bayern München—DFB Pokal (3-1-4-2)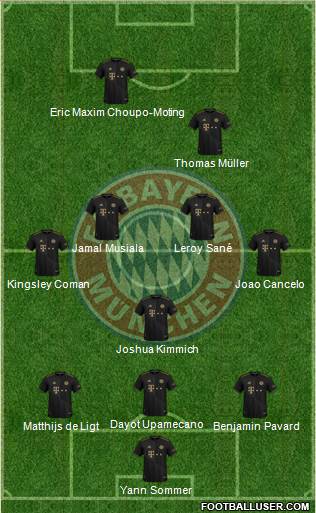 It's been some time since we lauded Julian Nagelsmann as a "tactical genius". Some even considered the young FCB trainer's penchant for tinkering a detriment to his tenure in charge of Germany's record champions. Here we have a case of Nagelsmann definitively earning his paycheck. This is what the Bavarian super club paid Leipzig that vast sum for. What an ingenious set-up!
Speed, vigor, and enthusiasm right from the start! It took all of 17 minutes for Cancelo to make his presence felt midweek. In general, the much-discussed placement of Müller, Musiala, and Choupo didn't matter at all. Cancelo and the on-fire Kingsley Coman possess the speed to completely bypass anything resembling a normal attack if they so desire. Problems solved with the pen-stroke of one new singing.
Or so it appeared. A slew of injuries forced Nagelsmann to revert to a back-four in this Sunday's matchday capper against Wolfsburg. Plenty of repeat trends. A high-octane start. An early goal. Quick involvement for Cancelo. Ruthless battering of the opponent once the initial momentum got going en-route to a four-goal-match.
Lineup—Bayern München—Match 19 (4-2-3-1)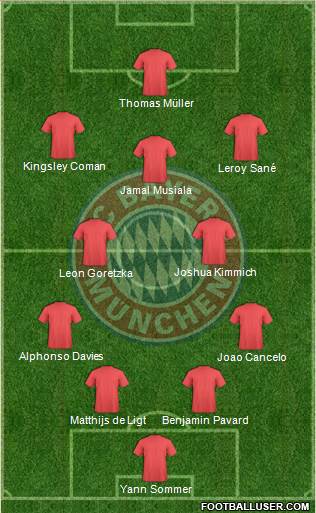 Things did nevertheless get dicier after Kingsley Coman's lightning quick brace and Thomas Müller's 3-0 in the 19th. This more rigid constellation had some trouble coping with a on-the-fly tactical adjustment from opposing trainer Niko Kovac. The VfL gaffer broke up his own back-three at the half-hour-mark. This shifted the whole dynamic of the match.
Paulo Otavio – who actually came close to scoring himself early whilst causing problems for Cancelo and Benjamin Pavard – set up substitute Jakub Kaminski for the 1-3 just before the half. The Autostädter actually dominated the game in the first ten minutes after the restart. Joshua Kimmich got sent off on double yellows in the 54th.
With better finishing (and a halfway serviceable mark on Musiala by van de Ven on Musiala in the 74th), the German Wolves could have taken all three points here. Matthias Svanberg spurned several gilt-edged opportunities before finally converting the 2-4 in the 81st. Yannick Gerhardt saw a goal disallowed and Ridle Baku cooled his personal hot streak with a pair of bad misses.
Full time xG:
xG Wolfsburg–2.71, xG Bayern–0.68
Yes, it's relevant. Highly, highly relevant.
Don't give up on the title race yet!

Weekly Tactical Focus: The "Yellow Crush"
When it came time to circle a fixture for this week's "focus section", there did exist some lingering doubt in the writer's mind as to whether we'd get much of a football match. Freiburg have improved since their recent thrashing at the hands of VfL Wolfsburg in the first game back from the break, yet remain far from convincing in an ad-hoc back-three that took four combined points off of Frankfurt and Augsburg. Overall, Christian Streich's Breisgauer didn't seem like they stacked up well against Edin Terzic's high-flying Dortmund. A blowout appeared a real possibility.
In the final analysis, we simply had to look in. Are Dortmund actually for real this time? This truly was the biggest question entering the weekend. As the likes of Union Berlin, RB Leipzig, and Eintracht Frankfurt form a logjam up near the top of the table, it is German football's perennial "also-rans" who still stand the best chance of knocking Bayern off their perch. Hence, we really couldn't avoid giving the BVB their first detailed look in their first "focus" section of the new calendar year.
An early sending off of SCF defender Kiliann Sildillia meant that, for much of this section, we would be discussing the travails of a short-handed team. That's actually not unprecedented in this column. In point of fact it just happened in another contest in which Freiburg were involved; the round 11 Breisgauer victory over visiting SV Werder Bremen. Ole Werner's Hanseaten found their outfield ranks decimated even sooner than Streich's crew in this one. In contrast to that match, of course, Dortmund made the man-advantage count here.
In spite of he fact that this week's match received an early "lid", we've many important takeaways from the most detail-oriented section of this column. Not so much insofar as Freiburg are concerned. The only thing we really learned with respect to the losing side concerns the fact that Streich completed an especially disastrous day at the office. Over on the winning side, there's much more to glean from Terzic's team. Maximum points from four matches in 2023 means that they've officially clawed their way back from the depths of their despair at the end of 2022.
The BVB owes much to one surprise surging player.
Are they for real this time?
Let's have a look.
Lineup—Borussia Dortmund—Match 19 (4-1-4-1)
The 4-1-4-1 Terzic debuted with in the first round back from the break has come a long way. In the surprisingly resurgent Emré Can, Terzic now has a confident and smooth midfield "flight director" who flawlessly tracks back to help the team's shaky defensive unit. Karim Adeyemi – who once again scored in this one – plays with brazen self assurance these days.
Thanks to Marius Wolf's current form, the team hasn't missed a beat after the recent loss of Julian Ryerson. Marco Reus made himself most useful in his first start of the new calendar year. Jude Bellingham turned in another super slick performance here with Reus keeping the opponent guessing by his side. In all honesty, this previously lampooned constellation has truly silenced its critics.
Why the columnist's recommendation was wrong
Ahem. The writer stands corrected. A "fantasy projection" delivered in the round 17 column called for Gio Reyna and Jamie Bynoe-Gittens to start on the flanks. Faith in Can was not dispersed. Brandt retained his starting role, but was envisioned as something more of a roaming "X-factor" outside the box; something the often wobbly German international now proves he can do from a starting winger position.
Ah, the joys of being shown to be "dead wrong". An eminently satisfying feeling in the world of sports writing. Brandt – a figure not so long ago roasted in this column – gets to lead it this time after supplying us all with some stunningly sensational play. The 26-year-old's name crops up all throughout the narrative. Adeyemi's uptick also surfaces out of nowhere. This pair are, curiously, perhaps the best pair of wingers in the Bundesliga.
Some potential future issues
Admittedly, it's not all rosy. We've plenty of mistakes involving Niklas Süle and Nico Schlotterbeck to cover as well. This pair conform to the old pattern of BVB signings who take forever to straighten out after they sign for die Schwarzgelben. There's a tired old story. Successful at their previous station. Woefully inadequate when donning the yellow-and-black.
Süle and Schlotterbeck together looked about as bad as they did for Germany at the recent World Cup when conceding a needless Freiburg equalizer shortly before the end of the opening half. Süle continues to commit the most flummoxing of errors sometimes. Schlotterbeck's general forward switching game frequently leaves him vulnerable to lapses on the track back.
Bear this in mind as we move forward.
Streich's "coverage points"
Three changes from the SCF trainer saw him transform the 3-4-3 he used last week against Augsburg into a 3-3-2-2. Michael Gregoritsch, oddly enough, began the game on the bench. One wonders if Streich's poor away record at Dortmund got into his head here. Lucas Höler and Vincenzo Grifo in the double-eight-slot appeared something of a designed plot to ensure that the defending axes had extra help.
The same applies to the odd double-striker-set of Ritsu Doan and Daniel-Kofi Kyereh. It almost seemed as if Streich wasn't aiming for goals from open play at all, not even on the counter. This selection might have been put together as a means of assuring that the SCF gaffer had his best set-piece actors on the pitch. Streich seemingly wished to win on dead-balls.
Lineup—SC Freiburg—Match 19 (3-3-2-2)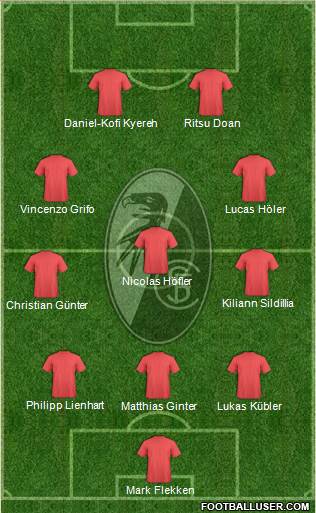 We didn't behold much of a contest from this at all. Sildillia's sending off altered the whole tone of the affair, but the widely-spaced "blanket" constellation never really got into gear prior to that either. Readers may note that we're not bookending with the full-time xG stats this week. That's because Freiburg only racked up 0.30 at the half and 0.46 after the full 90. This didn't work. The later reformat didn't either.
Those are the real reasons Streich ended up losing his shit.
Match Flow: 1st to 18th minute
We kicked off from a center-circle – in all seriousness – repainted to reflect the shape of a testicular tumor in honor of "World Cancer Awareness Day". Okay. Job done. We got the message. Freiburg's best possession spell may have been their initial one. The guests bow arced calm around twice in the 1st. Dortmund took their turn in the 2nd, completing about eight successful central midfield passes before offloading to Raphaël Guerreiro on the left. Guerreiro stalled and had to play back for Can.
Günter stripped the ball and tried to push forward. Brandt hustled back to take the Freiburg captain off his lane. Günter fouled Brandt in frustration. Freiburg bow arced some more in the 3rd before Sildillia attempted to hit Doan with a vertical. Süle took care of it. Kyereh stopped the subsequent BVB charge, but immediately turned the ball over. Dortmund would get their first scoring chance off the ball loss. Guerreiro moved quickly up the left and crossed in for Brandt. Philipp Lienhart tackled away at the last possible moment.
The Westphalian hosts were again active up the left in the 4th. Guerreiro punched through again, this time taking Adeyemi with him. Lienhart again had to be on point to clear Adeyemi's cross for Sebastien Haller. Lienhart had to stop Adeyemi again just outside the box after the German winger got the ball back. This led to the first corner of the match. Brandt delivered two of them in the 5th. Kyereh had Brandt's target Guerreiro marked well on the first. Matthias Ginter cleared the second. Guerreiro stopped an SCF counter involving Grifo and Höler.
Match official Robert Schröder nevertheless ruled Guerreiro's tackle illegal and the Portuguese fullback was booked. A poor 6th-minute free-kick service from Grifo led to a BVB counter. Reus popped through on the left side of the area. Grifo marked the Dortmund captain tightly and Reus was eventually whistled down on an offensive foul. SCF keeper Mark Flekken's 7th-minute goal-kick went through Sildillia. Grifo couldn't handle Sildillia's switch and Dortmund took back over.
A long switch from Schlotterbeck to Wolf ended up giving die Schwarzgelben some space. Bellingham and Brandt completed a nice right-ward cycle before Ginter stepped forward to clear. Dortmund still maintained possession through the 8th and executed a clean cycle on the left. Another switch over to Wolf kept things fresh and fierce. Wolf cooly dribbled past three SCF bodies and, via Adeyemi got the ball over to Guerreiro. The Portuguese left-back fired across the face of goal and out into touch.
The next Freiburg rush went through Höler on the right. The respected German veteran held the ball up for as long as he could before Can and Schlotterbeck finally took it off him. After a series of possession changes in the 10th, Dortmund finally strung together a decent series of passes with Wolf, Bellingham, Brandt, and Haller establishing control. Höler, Grifo, and Doan were all back quickly to ultimately break it up. Schlotterbeck nearly unlocked them with another long switch right in the 11th. Brandt and Haller couldn't quite get on the same page.
Wolf and Brandt supplied some nice footwork up the right again in the 12th. Lienhart and Ginter had to work together in order to close ranks. A counter up the SCF right involving Sildillia didn't get very far with Adeyemi timing his tackle on the Frenchman perfectly. Sildillia didn't care much for the frustration and retaliated with a foul. Schröder awarded Dortmund a free kick from 40 meters out on the left touchline. Guerreiro's 13th service was easily blocked. The rebound nevertheless fell to Brandt. Höler blocked Brandt's stinging distance effort out for another corner.
Ginter met Guerreiro's service from the flag. Guerreiro took a quick throw-in and managed to hit the roving Brandt. Ginter and Lukas Kübler scampered away for yet another corner. Brandt assumed responsibility for the take from the flag this time. Some pinball ensued after the 14th-minute service. Brandt ended up getting the ball back in the box after Can headed back in at the start of the 15th. The star-of-show initially beat Doan on the half-left, but the Japanese international recovered. Bellingham crashed in to try and control. Doan stood firm.
The hosts needed a little time to regroup through the 15th after Can completely missed Guerreiro with a poor rearward switch. After some bow-arcing, the next attack went up the left. Sildillia, already whistled for a foul, earned his first booking from Schröder after he impeded Adeyemi. The subsequent 16th-minute free-kick was taken short. Schlotterbeck eventually pushed forward on a long carry. Nicolas Höfler put the brakes on the German national team defender, but lost the ball immediately.
Wolf and Brandt cycled up the right. The latter sent a substandard ball into the box within Sildillia's range to handle. Freiburg's red-shirted Frenchman still couldn't clear the ball adequately and would soon pay the price. Adeyemi and Guerreiro circled around him as the 16th came to a close. Adeyemi nutmegged Sildillia after he completed the sleek give-and-go. Sildillia's third foul of the afternoon was a very flagrant one. Streich's opinion on the matter notwithstanding, Schröder really didn't have much of a choice.
Sildillia shirted Adeyemi down. A second yellow. Workday over.
Match Flow: 18th to 26th minute
Streich planted the seeds of his eventual ejection with a prolonged argument. Sildillia thew a minor self-pity-party for himself with a long, lonely walk off the pitch and down the tunnel. We got rolling again in the 18th. Brandt's service came in just a bit too high for Reus. A subsequent quick-throw by Reus somehow got handled by the frazzled SCF defensive ranks. At long last, open-play resumed and us tactics-heads got our first real look at Streich's new shape.
Lineup—SC Freiburg—19th minute (5-2-2)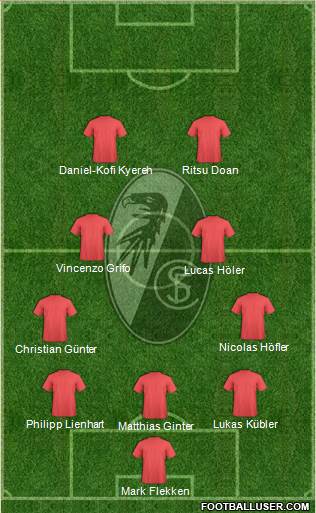 It actually wasn't clear at all if this was what the SCF gaffer wanted. Cameras caught Streich gesticulating wildly on the touchline. Oftentimes, one can tell what sort of formation Streich wants based on the fact that he flashes his fingers directly. No digits this time. Instead, the old man looked to be patting his backside in an effort to convey to his team that they were doing it all wrong. Perhaps he wanted a 4-4-1. Perhaps he just had an itch.
In any event, Dortmund looked completely supreme through the 19th. Can and Wolf both pushed forward in the minute, coming vert close to hitting Haller. A half-clearance eventually landed with Brandt, who laid off for Bellingham. The young English phenom didn't quite get a hold of it the way he wanted to and the effort went wide of the right post.
Flekken took his week time setting up the goal-kick. Schröder, having already reached into his book enough, seemed content to let it pass. The ball-sit up took up most of the 20th. Again, Dortmund had plenty of time and space on the ball once they received the launch. Wolf tried up the right again the 21st. Kyereh – sitting deep as hell – twice repelled him.
Ginter took care of Bellingham in the same minute. A somewhat coherent counter with Höler holding the ball fizzled out. Bellingham found his way back before the minute was out, with Ginter and Doan joining forces on the close-down. The BVB sortie in the 22nd went through a familiar route. A Schlotterbeck switch to Wolf. Brandt up on the cycle. Brandt committed an offensive foul this time.
Nothing much doing from the hosts through the 23rd. Possession was never relinquished, but there weren't any ideas beyond the same approach as before. Haller failed to bring down a Wolf cross after three SCF markers had plenty of time to read it. Adeyemi did collect the ricochet and drew a foul from Kyereh. Linehart headed away Guerrero's 24th minute service. Grifo then diffused Adeyemi on the right.
A more inspired BVB sequence in the 25th would lead to the opening goal. Schlotterbeck hit Guerreiro with a long vertical. A switch over to Brandt on the right gave the man-of-the-match a chance to shine in space. Süle ran up top central and opted to lace Brandt's cutback first-time. A powerful effort from about 30 meters needed to be deflected off the post by Flekken at full-stretch.
Brandt handled the 25th-minute corner service. Something of a messy flurry on the left side of the net saw Höler bungle a ball off Reus. Schlotterbeck took the lucky bounce to him with no hesitation. A splendid tight-angle finish from the former Freiburg man caught Flekken completely off guard. A bad day for Freiburg got infinitely worse with their former starter making it 1-0 at the beginning of the 26th.
Match Flow: 26th minute to half-time 
The duration of the half played out more-or-less as one might have expected. Freiburg – frequently in hard to read conservative shapes on the overhead – did their best to limit the damage. A sovereign enough Dortmund went for that all-important second tally that would serve as the kill-shot. The most intriguing action continued to take place on the sidelines, where Streich genuinely proceeded to go apeshit. Very cranky day from him.
The Breisgauer did try to get a counter rolling in the 27th. Kyereh mustered upon some penetration wide right and Kübler entered on the overlap. Adeyemi fouled Kübler and received a yellow for his action. There was a potentially dangerous SCF free-kick on the right in the 28th. Grifo sent the 28th-minute service into the thicket. A header over to Kyereh gave the German-Ghanaian a chance. A wild swing from Kyereh went well over.
Lienhart handled Wolf after a long Süle carry in the 29th. Freiburg succeeded in eating up some clock with a series of bow-arcs in the 30th. The Schlotterbeck-Wolf switch ended up working in the 31st thanks to some real magic from Brandt once he received the ball. Brandt kept dribbling through three challenges from the Schwarzwälder. Brandt then left Höler standing and tapped over for Reus.
The BVB captain's somewhat screwy effort bounced of Lienhart for a corner. Brandt aimed for Haller with the 32nd-minute service. Ginter won the aerial duel. Brandt refused to give up and left us all in awe with some pretty touches out on the left. He weaved his way past still more standing Schwarzwald "trees" and cut back for Süle. The defender located Adeyemi wide open. A deflected shot off Kübler this time for another corner.
Brandt took the 33rd-minute dead ball from the left short this time. After a one-two with Guerreiro, Brandt failed to find anyone with his whip-in and the ball went out for a goal-kick. Süle, Bellingham, Wolf, and Can tried central in the 34th. Can concluded the sequence with an offensive foul. It was Brandt again dancing into the area in the 35th. Ginter provided the stop and sent Grifo loose on a counter.
Can panicked and took Grifo out. Brandt's adrenaline surplus boiled over at the call. Schröder placed the possessed BVB headliner into the book for dissent. Nothing came of the 36th-minute Freiburg free-kick as Bellingham picked the ball up cleanly. The English phenom smuggled Haller through after a nice run. Haller went across right for Wolf, who shot over.
Brandt, Wolf, and Bellingham combined again up the right in the 37th. Reus trailed in for the final ball, ultimately seeing his shot blocked by Kübler and off a BVB body for a goal-kick. Flekken again sat on the ball for a while in the 38th. A delayed vertical went towards Höfler. Can straddled, but hit the SCF midfielder late. For perhaps understandable reasons, Schröder refrained from booking Can even after his third foul in as many minutes.
The next BVB approach took until the 39th to see Bellingham through central. Schlotterbeck got a touch in before Reus hit another effort off a Freiburg defender for another corner. Guerrero's 40th-minute service was headed over by Süle straight into the SCF ranks. A counter might have materialized were it not for a superb defensive stop from Brandt. Truly a beastly performance from him!
A BVB leftward charge in the 41st sent Adeyemi into space. Ginter saved the day for his team with a monster tackle away. A much calmer and more methodical BVB build in the 42nd rotated counterclockwise through Bellingham and Can. Schlotterbeck stepped forward to send a vertical in Haller's direction. Ginter again pushed away. Bellingham, after a long dribble, then sent a shot straight into Flekken's arms.
A minor SCF attack in the 43rd ended with Guerreiro easily heading a Günter for Höler switch back to Gregor Kobel, who had practically nothing to do all afternoon. A counter charge up the BVB left in the 44th fizzled out. Bellingham sent another effort out into touch at the beginning of the 45th. Suddenly, against the run of everything, a potential game-changing moment occurred as we entered injury time.
Whaaa?
The BVB ranks switched off as the break drew nearer. Doan moseyed up the pitch into the half-right of the penalty area. Süle stuck a wayward boot in that really didn't qualify as a genuine tackle. The ball squirted out to Schlotterbeck, who couldn't get the ball under control. A blind clearance from Schlotterbeck landed at Höler's feet.
First-time finish from Höler.
1-1.
Some choppy play from both sides in the two minutes of injury time. Schröder cut his losses and didn't tack on any extra minutes despite the fact that we didn't kick-off again until 45+2. Adeyemi, Haller, and Wolf tried a wide switch at one end while a Grifo-Höler counter at the other end was just barely stopped by the still-alert Brandt.
Did we actually have a game on our hands?
Match Flow: 46th to 51st minute 
As it turned out, not really. The "lid" would come relatively quickly. To Sword of Damocles had hung over this match since Sildillia's sending off. Dortmund were able to lower the blade and finish it off in style in front of a packed house at Signal Iduna. How very nice to see Karim Adeyemi extend his scoring streak and Sebastien Haller sew it up.
Without changes we continued. A Süle vertical for Wolf up the right in the 46th proved too long. An SCF charge in the 47th ended with Doan rattling in a soft effort from distance directly into Kobel's arms. The BVB keeper quick started a counter that once again saw Schlotterbeck switch over to Wolf. Lienhart took care of Wolf's cross.
The hosts got it into the area on the ground at the end of their next attack in the 48th after some nice work from Guerreiro, Schlotterbeck, and Can. Reus had a little shooting space on the half-right. Kyereh had to turn out for a corner. Brandt took it quick and short. Die Schwarzgelben circulated the ball brilliantly through Guerreiro, Can, and (finally) Bellingham.
A sublime back heel from Bellingham went straight to the onrushing Adeyemi. After taking three intelligent touches, Adeyemi completed his crash-in on the half-right with an absolutely perfect finish. Celebrations had hardly died down from the 2-1 in the 48th when Haller gave us the "lid" in the 51st. The  3-1 again stemmed from a Brandt corner.
Guerreiro's initial cross got returned, but Brandt was back to receive it and get it back to Guerreiro. The Portuguese international unleashed a beautifully roped-in ball that connected perfectly with Haller about five meters out on the right far post. An easy enough headed in finish for the Frenchman. No way the Breisgauer could hope to recover from such a "double whammy".
Yeah, we were pretty much done here.
Match Flow: 51st minute to full-time
Dortmund's two "pile-on" goals merit a mention in that they've surely pumped this team's confidence up to the maximum level. The sensationally superb Brandt got his most-deserved goal in the 69th with an emphatic finish from just outside the area. It doesn't get much better than that the spinning, dipping, swerve he pounded in off the in-step.
We then got a fifth goal that featured involvement from the consistently dangerous bench duo of Gio Reyna and Jamie Bynoe-Gittens. Uh-oh. Everything's clicking. What can go right for Dortmund at the moment does so. We're in real trouble now. By that, the columnist means that those tasked with commentating on the Bundesliga face a uncomfortably familiar quandary.
Are Dortmund for real this time?
The question never dies. We must answer it every year, usually around this time too. They remain the type of club that ride player form surges for awhile, then make us look like raving lunatics shortly after we declare that they've finally found their feet. Oh, not again. How many times can we keep allowing ourselves to get burned?
Well…given how Terzic has so many actors clicking in set positions this time, this chronicler will take the risk and aver that something feels different this time. Namely, there's been a consistency to Julian Brandt's play this season ever since he emerged from an early season valley. Brandt notched his first assist in the reverse fixture at Freiburg. Since then, he's added three more and scored five league goals.
It's no exaggeration to say that this is the best version of Julian Brandt we've seen since he arrived from Leverkusen over three years ago. He's a very mature player now. If "pre-assists" were actually a thing in football, Brandt would have over a dozen of them now thanks to his prowess on set-pieces. He's also invaluable to the team from open play; exhibiting some real fearlessly creative bite on the ball.
Combining Brandt's strong form with that of Wolf, one might be tempted to draw the conclusion that Erling Haaland left behind some of his spirit to the two "blondies" who opted to emulate his hairstyle. That would explain why Dortmund are all of the sudden playing their best season since the 2018/19 "Yellow Crush" campaign.
A less fantastical conclusion may be that Edin Terzic has, as he did two years ago, figured out how to bring the best out of his players after having been given a little bit of extra time with them. Brandt, Can, Wolf, Adeyemi, Guerreiro, Reyna, and Bynoe-Gittens all exhibit top form. At the risk of sounding like a complete fool again, this time does truly feel different.
Thanks so much for reading! You can catch the the release of all Peter's columns on twitter, @ViceytheSS.
Twitter DMs are open for football conversations, corrections, and (if you truly insist) general abuse. 
All columns debut on Bulinews before appearing on Peter's website as the season progresses.
Related stories