Arsenal have enjoyed a stellar start to the 2023/24 campaign, with the Gunners still undefeated in the Premier League, and sitting top of the group in the Champions League.
Mikel Arteta's side have enjoyed some long overdue highs over the past 14 months, with the success of the 2022/23 season almost leading the north Londoners to their first Premier League title since 2004, missing out by just five points on the home straight to Manchester City.
From cultural improvements to on-pitch progression, the Emirates has played host to an array of development over the past year, with another exciting footballing calendar on the cards for Arteta's superstars.
As West Ham United wait in the wings as the next challenge for the Gunners to face this week, there was some noise regarding some of the club's best performers from 2022/23 last night, as the 2023 Ballon d'Or awards took place.
Arsenal boasted five nominees at the ceremony for various awards, with Bukayo Saka and Martin Odegaard in the shortlist for the men's Ballon D'Or, while Katie McCabe and Amanda Ilestedt were nominees for the Women's Ballon D'Or, and Aaron Ramsdale for the Yashin Trophy.
As Lionel Messi claimed his eighth copy of the prize, Saka placed 24th and Odegaard 28th, while McCabe placed 22nd in the Women's prize, as Ilestedt took 15th spot.
For Ramsdale, the Englishman finished in 8th place for the Yashin Trophy, a prize that was claimed by former Gunner Emiliano Martinez for his 2022 World Cup heroics, however he wasn't the only former Arsenal associate that attended the ceremony.
Arsenal let go of Harry Kane at academy level

For someone who was received with hostility at the Emirates for his success at Tottenham Hotspur, it's hard to remember that Arsenal were once the proud owners of Harry Kane.
The Englishman, who played for his boyhood club as a youngster, was released by the Gunners at the age of 12, as former academy staff member Roy Massey told talkSPORT that the Londoner "didn't have" what it took to progress through the ranks at Hale End.
Massey explained that he would've required a "crystal ball" to have predicted that the "quiet" and "shy" exterior of young Kane would evolve into the goalscoring marvel that he is known as today.
The Gunners made a tremendous misjudgement over their former academy hopeful, who went on to sign for Spurs at the age of 15, and later scored 14 senior goals against the club that released him to ultimately have the last laugh.
What Harry Kane did after leaving Arsenal

It wasn't always straightforward for Kane, as loan spells at Leyton Orient, Millwall, Norwich City and Leicester City were all fairly lacklustre, with his highest scoring tally when on loan being his nine goals in all competitions at Millwall in the 2011/12 campaign.
It wasn't until the 2013/14 season that the Englishman claimed his first Premier League goals, ending the term with ten appearances and three goals in the league for Spurs, and still, no one could have predicted what was about to happen next.
At 21 years old, the striker exploded in the 2014/15 campaign, scoring 21 goals in 34 Premier League appearances to announce himself to the world, proving to be the shining light that Spurs needed, but had all along.
That season opened doors for Kane and the Lilywhites to seek new successes, as the struggles of finding a way into the scene disappeared and the once out-of-favour talent became one of the most desired forwards in world football.
Harry Kane's statistics across his entire career

During his time in England, it was a difficult pill for Arsenal fans to swallow regarding what they could have had in Kane, more so because he blossomed as a top-class player on enemy territory.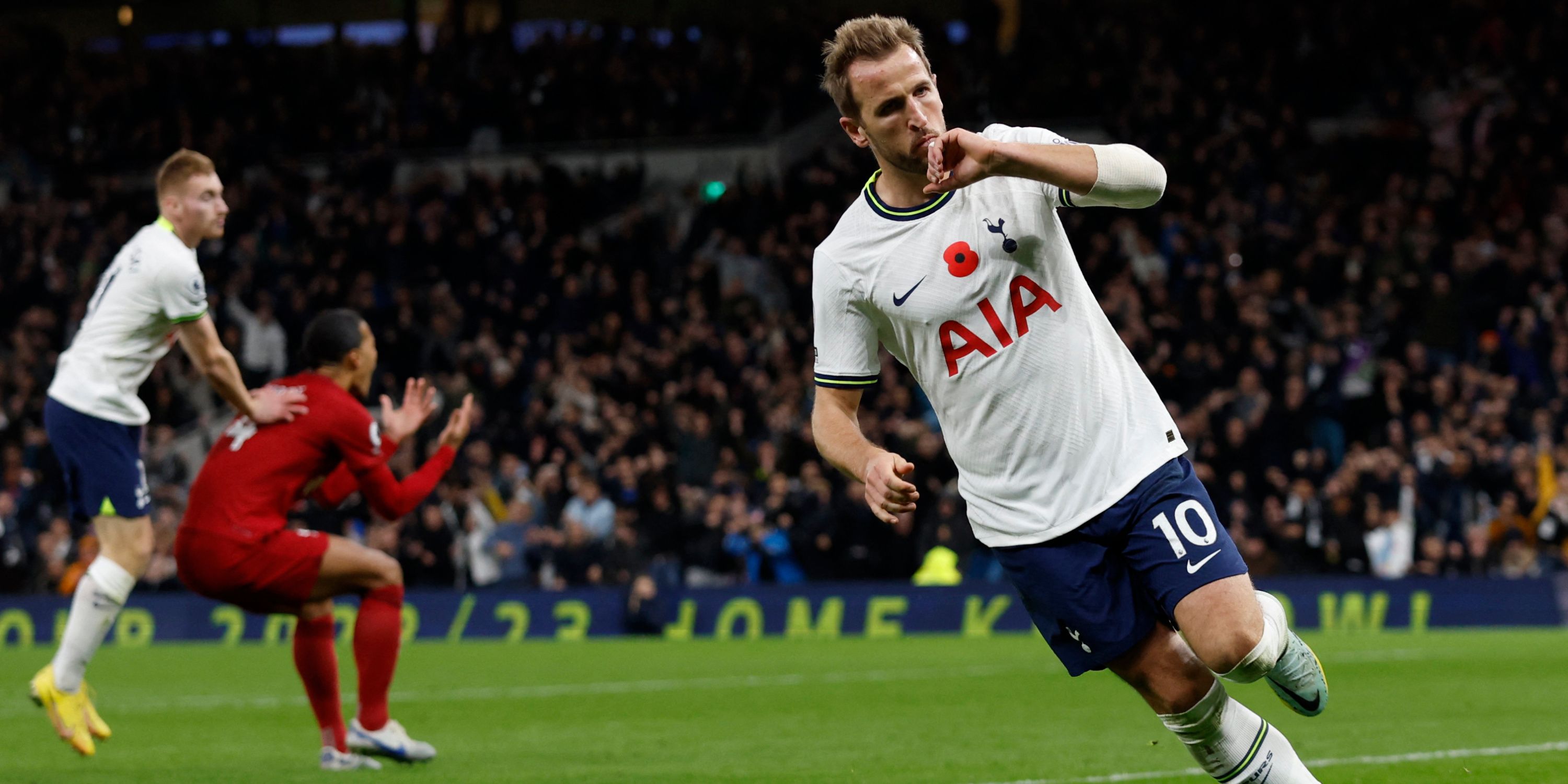 Once lauded as the "complete" forward by Gunners legend Thierry Henry, the talisman terrorised the Premier League during his time in England, leaving the league's leading goalscorer Alan Shearer sweating at times as he chased his record.
After 320 appearances in the English top-flight, Kane bid farewell to his homeland this summer as the Premier League's second-highest scorer of all time with 213 goals, just 47 goals shy of Shearer's record, but how did he get there?
Following his 21 goals during the 2014/15 season, the former young Gunner didn't look back, scoring prolifically year after year during his time in England, winning the Golden Boot on three occasions.
Harry Kane's Premier League record

Season

Apps

Goals

Assists

2013/14

10

3

2

2014/15

34

21

5

2015/16

38

25

1

2016/17

30

29

7

2017/18

37

30

3

2018/19

28

17

4

2019/20

29

18

2

2020/21

35

23

14

2021/22

37

17

9

2022/23

38

30

3

Figures via Transfermarkt
What's notable is the competitiveness of the goal-scoring threats in the English top flight, with neither of Kane's 30-goal seasons ending with the accolade of being top scorer.
Speaking of the competitive streak of the Premier League, it was a common narrative that the formidable forward did not claim a single trophy while at Spurs, which arguably warranted his move to Bayern Munich in the summer as he bid to add silverware to his illustrious career.
What Harry Kane is doing now

At the age of 30, the former Spurs hitman resides in Bavaria as he continues his quest for trophies, as he currently has an empty cabinet when it comes to domestic and international prizes to show for his career in England.
The Englishman has started life at Bayern Munich in devastating fashion, recording 21 goal contributions in just 13 appearances in all competitions, scoring 14 and assisting seven to make himself feel at home at the Allianz Arena.
Last night, the England captain placed 19th in the running for the 2023 Ballon d'Or, finishing ahead of the likes of Saka and Odegaard to further reinforce just what Arsenal let go many years ago.
As highlighted in the graph below, there were only two occasions during Kane's nine-season-long prolific scoring run that he was outscored by an Arsenal player in the Premier League, with Pierre-Emerick Aubameyang being the only player capable of competing with him over the years.
Harry Kane vs Arsenal Forwards – Premier League

Season

Goals

Arsenal's top scorer + goal tally

2014/15

21

Alexis Sanchez – 16

2015/16

25

Olivier Giroud – 16

2016/17

29

Alexis Sanchez – 24

2017/18

30

Alexandre Lacazette – 14

2018/19

17

Pierre-Emerick Aubameyang – 22

2019/20

18

Pierre-Emerick Aubameyang – 22

2020/21

23

Alexandre Lacazette – 13

2021/22

17

Bukayo Saka – 11

2022/23

30

Martin Odegaard/Gabriel Martinelli – 15

Figures via Transfermarkt
The 12-year-old who left the scene at Hale End for nothing handed Spurs a profit of £86m in the summer, leaving with 280 goals and 64 assists to mark his name in the club's folklore as their greatest-ever goalscorer.
Having made a phenomenal start to life in Germany, the sky once again seems to be the limit for Kane, who now seemingly in his prime, could finally embark on a trophy-laden journey to compliment his excellence over the years.