Pic 1 (above): Ibrahim Sangare with PSV
Nottingham Forest have concluded the transfer market on the high this summer, and while there were all some eyebrow raising signings some moves stood out on paper viz. Gonzalo Montiel and Nuno Tavares. But Ibrahim Sangare perhaps represents the word 'eyebrow raising' more than any of their other signings.
Ibrahim Sangare was tracked by clubs like Manchester United, Chelsea, Liverpool, Bayern Munich to just name a few clubs. He had Champions League football in hand to play with PSV after being a important part in them making the Group stages this year. So, what is it that made Sangare's profile attractive and why for Forest it marks as a symbolic move?? Let's dive right in.
Ibrahim Sangare's Story so Far
Pic 2 (above): Sangare began his journey in Europe with Toulouse
Sangare's journey to the top had humble beginnings. He was picked up as a youngster from Ivorian club AS Denguélé for Toulouse's B team making 16 appearances before eventually making the leap to Tolouse's 1st team in 2016, where he went on to make 86 appearances for them across 5 seasons until his performances were noticed by PSV who picked him up ahead of the 2020/21 season. This is where Sangare's quality came to fore amongst European elite as he competed in UEFA Champions League and Europa League under current Benfica coach Roger Schmidt, who was instrumental in his development.
Analyzing Sangare's profile tactically and with Data
Advertisement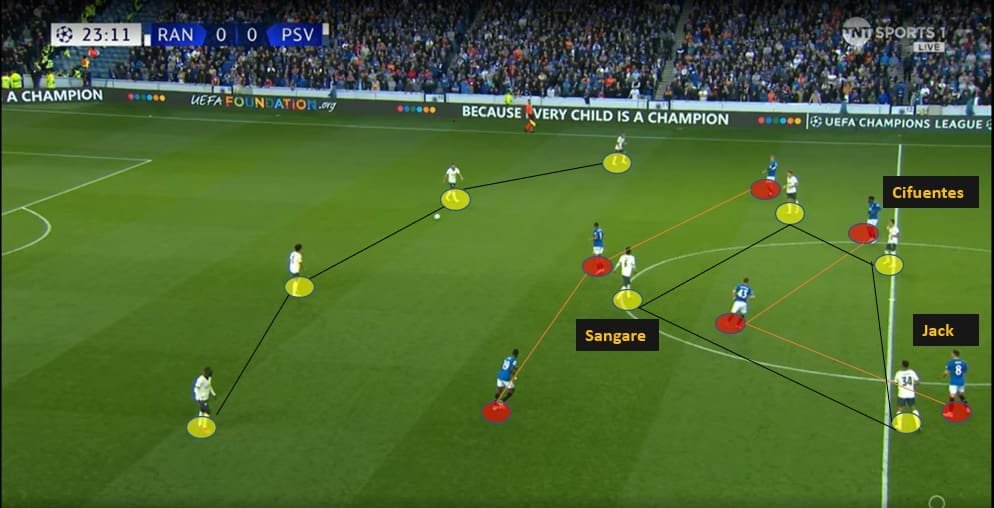 Pic 3,4,5: Ibrahim Sangare's In and out of possession roles in PSV
Sangare's role in PSV has seen him play alongside Joey Veerman in a double pivot setup, excelling as an option who could drop between defenders when needed and under newly appointed coach Peter Bosz who has preferred playing a box midfield sometimes saw Sangare excel in the way he received the ball and could recycle or distribute the ball. OOP (out of possession), Sangare excelled as a recovery machine and this enabled him to be the player that could recover possession in a counterpress high up the pitch to assist in final 3rd or deep in the half to start transitions, Sangare was the de facto engine in midfield on or off the ball.
Pic 6: Sangare's Player Report for 2022/23 season
With the help of Data, most of the points made on Sangare can be supported, as we look at the report above, it's fair to say that he covered both the halfspaces and the amount of post recovery passes he made with a retention rate of 82.5% is a testament of being a true 6 at the elite level and these kind of numbers support why Sangare was a well coveted midfielder amongst the best European sides.
Pic 7: Eredivisie Midfielders: Progressive actions vs Recoveries Per90
The best evidence to atribute the name of Recovery machine to Ibrahim Sangare comes from the fact that amongst all midfielders in Eredivisie with respect to Progression metrics and Recoveries, Sangare was head and shoulders above everyone, clearly standing out as a Defensive Midfielder. These evidences also support why his move to Forest is nothing short of a major coup.
Ibrahim Sangare to Nottingham Forest – Conclusions
Sangare was well placed to play in UEFA champions league with PSV after helping them make past the qualifying rounds to group stages. For a 35M fee, he could have well easily moved to another Top 5 League UCL playing club but he makes the choice to represent Nottingham forest, who now with the Squad they have assembled have the responsibility to be more than just a comfortable survivors with players who have been European competitions regulars that would want to do the same with Forest come next season.