The last week has seen the spotlight heavily on Premier League match officials and VAR. Liverpool's clash away at Tottenham Hotspur saw Luis Diaz's superbly taken first-half finish wrongfully deemed offside and VAR failed to intervene, with the PGMOL since apologising for the error.
Ultimately, the Reds lost 2-1 after Joël Matip turned home a Pedro Porro cross into his own net in stoppage time, thus ending his side's unbeaten start to the campaign.
Jurgen Klopp spoke to the media this week and claimed the game should be replayed: "Something like this never happened, so that is why I think a replay is the right thing to do," the Liverpool boss said.
That has prompted Football FanCast to list 10 controversial fixtures that should start again from scratch.
10
Arsenal v Brentford – 2023
11th February 2023 – Arsenal 1-1 Brentford: The Gunners dropped two vital points in their quest to dethrone Manchester City as Premier League champions last season.
But it turns out that Ivan Toney's 74th-minute equaliser should've been disallowed as the three-minute VAR review came to the incorrect decision.
They failed to check an offside in the build-up to the goal, which saw Christian Norgaard – in an offside position – cross the ball for the England international to head home.
PGMOL apologised to Arsenal and put the blunder down to 'human error', though Mikel Arteta still wasn't best pleased.
"It wasn't human error, it was not understanding your job. That's not acceptable, I'm sorry. It cost Arsenal two points that are not going to be restored so we are going to have to find those two points somewhere else in the league," the Gunners boss said.
9
Huddersfield Town v Nottingham Forest – 2022
29th May 2022 – Huddersfield 0-1 Nottingham Forest: The 2022 Championship play-off final saw two Huddersfield Town penalty claims waved away by referee Jon Moss and VAR.
The first incident saw Harry Toffolo go down under the challenge of Jack Colback, but Moss chose to award Forest a free kick and book the Town left-back for simulation.
However, replays showed that Colback did indeed make contact, yet VAR chose to stick with the on-field decision. Town's second claim – which saw Lewis O'Brien clumsily tripped by Max Lowe – was also dismissed by Moss without the decision being overturned.
Forest ultimately went on to win the final 1-0, thus gaining promotion to the Premier League, ending their 23-year wait for top-flight football.
The players seemingly knew they rode their luck as Steve Cook alluded to the dubious decision at the victory parade: "We'll thank Jon Moss today – what a ******* guy! We love VAR! Up the Tricky Trees.," Cook said.
8
Spurs v Liverpool – 2019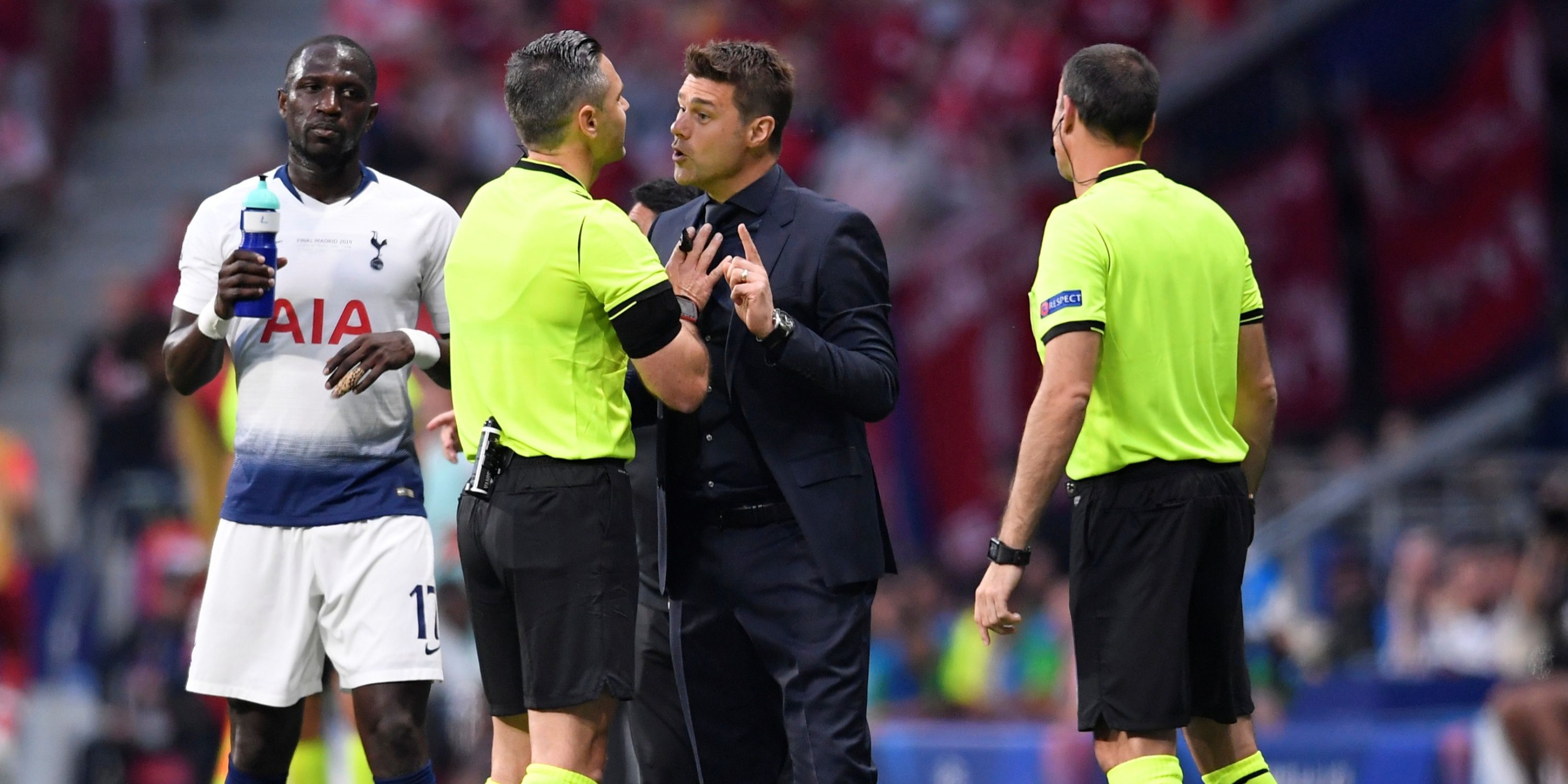 1st June 2019 – Tottenham Hotspur 0-2 Liverpool: A dubious handball decision against Moussa Sissoko 22 seconds into the Champions League final saw Liverpool awarded a controversial penalty.
Sadio Mané's close-range cross appeared to deflect off Sissoko's chest and onto his outstretched arm, which he was using to direct his teammates.
Mohamed Salah converted the spot-kick, and of course, from then on, the game state is totally different as Mauricio Pochettino's side had to chase the game and climb an uphill battle.
Following Klopp's comments suggesting his side's recent game against Spurs should be replayed – Jan Vertonghen took to X (formerly Twitter) to confirm his desire for this fixture to be replayed.
7
Aston Villa v Sheffield United – 2020
17th June 2020 – Aston Villa 0-0 Sheffield United: The Premier League returned to action after a 100-day absence as the Villans held the high-flying Blades to a goalless draw, leaving the home side one point adrift of safety.
The game, however, was marred by a goalline technology blunder as Oliver Norwood's free-kick effort – which quite clearly crossed the line – wasn't picked up by the faulty equipment.
The West Midlanders ended up surviving the drop by a point, whilst Bournemouth, Watford and Norwich all suffered relegation to the second tier. The former two sides finished just a point behind 17th-placed Villa, which further amplifies this fixture's blunder.
6
Barcelona v Arsenal – 2011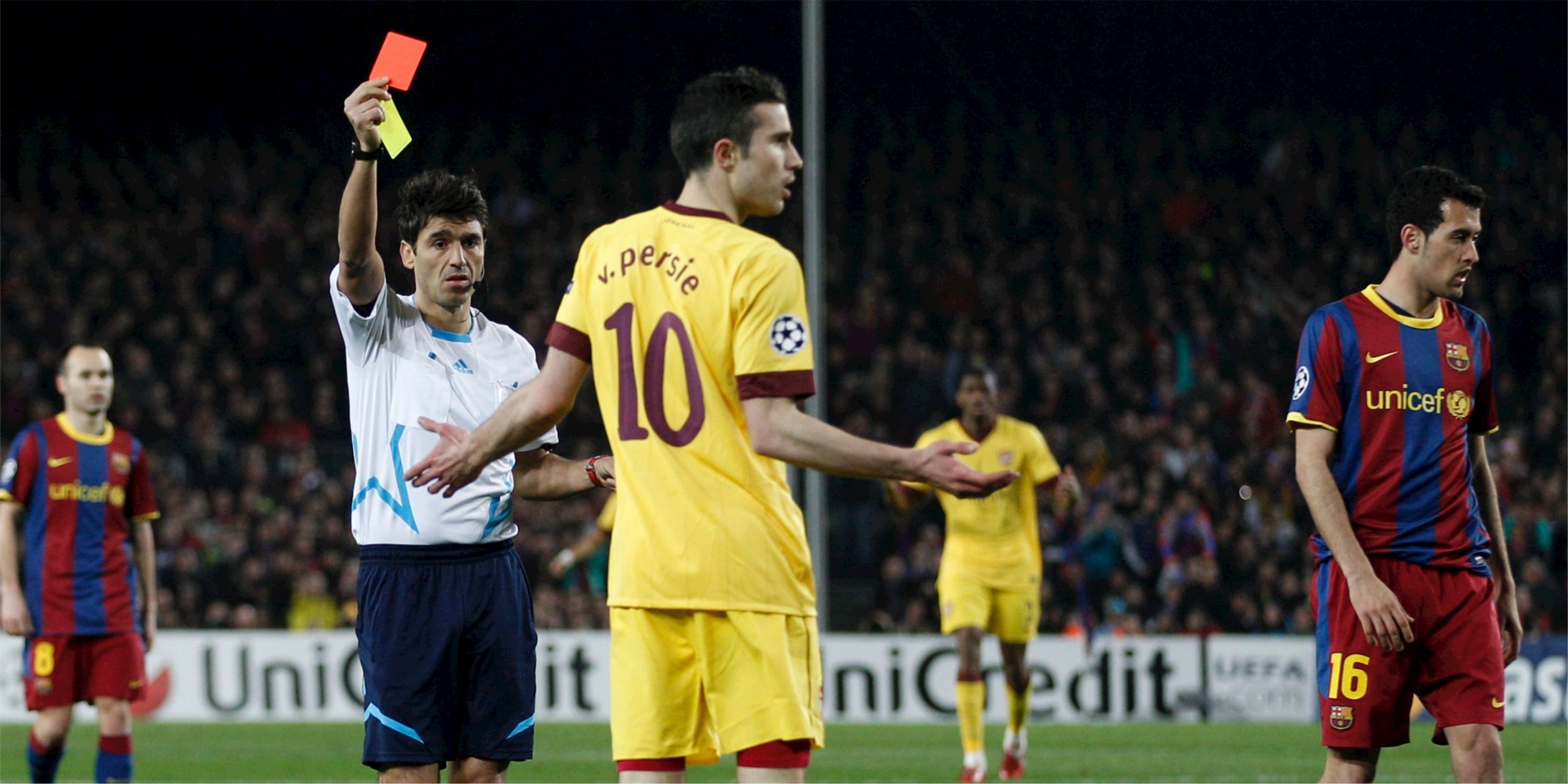 8th March 2011 – Barcelona 3-1 Arsenal (agg 4-3): The 10 men of Arsenal were dumped out of the Champions League knockouts after they were convincingly beaten by Pep Guardiola's side on the night.
But it wasn't all going to plan for the hosts until Robin van Persie's controversial red card. The game was level at that point, with Arsenal leading on aggregate after Sergio Busquets's own goal cancelled out Lionel Messi's opener.
The Dutch forward's dismissal gave the Catalan giants a huge advantage, which they took ruthlessly as Xavi added a second before Messi scored from the spot to put his side 4-3 up on aggregate.
The decisive sending-off was a baffling decision, as Van Persie picked up a second yellow and a red for kicking the ball one second after the referee's whistle.
He claimed he didn't hear the whistle, but the referee's decision stood, and Arsenal were left with a lofty mountain to climb. To this day, it's still considered one of the worst decisions in recent Champions League history and one that left Van Persie seething.
"I think it was a total joke. How can I hear his whistle with 95,000 people jumping up? How can I hear it? Please explain that. I can't understand the view from the ref. One second from his whistle to my shot is a joke. He has been bad all evening. He was against us. I don't know why he was here tonight, it's a joke," the Gunners forward said post-match.
5
Spain v South Korea – 2002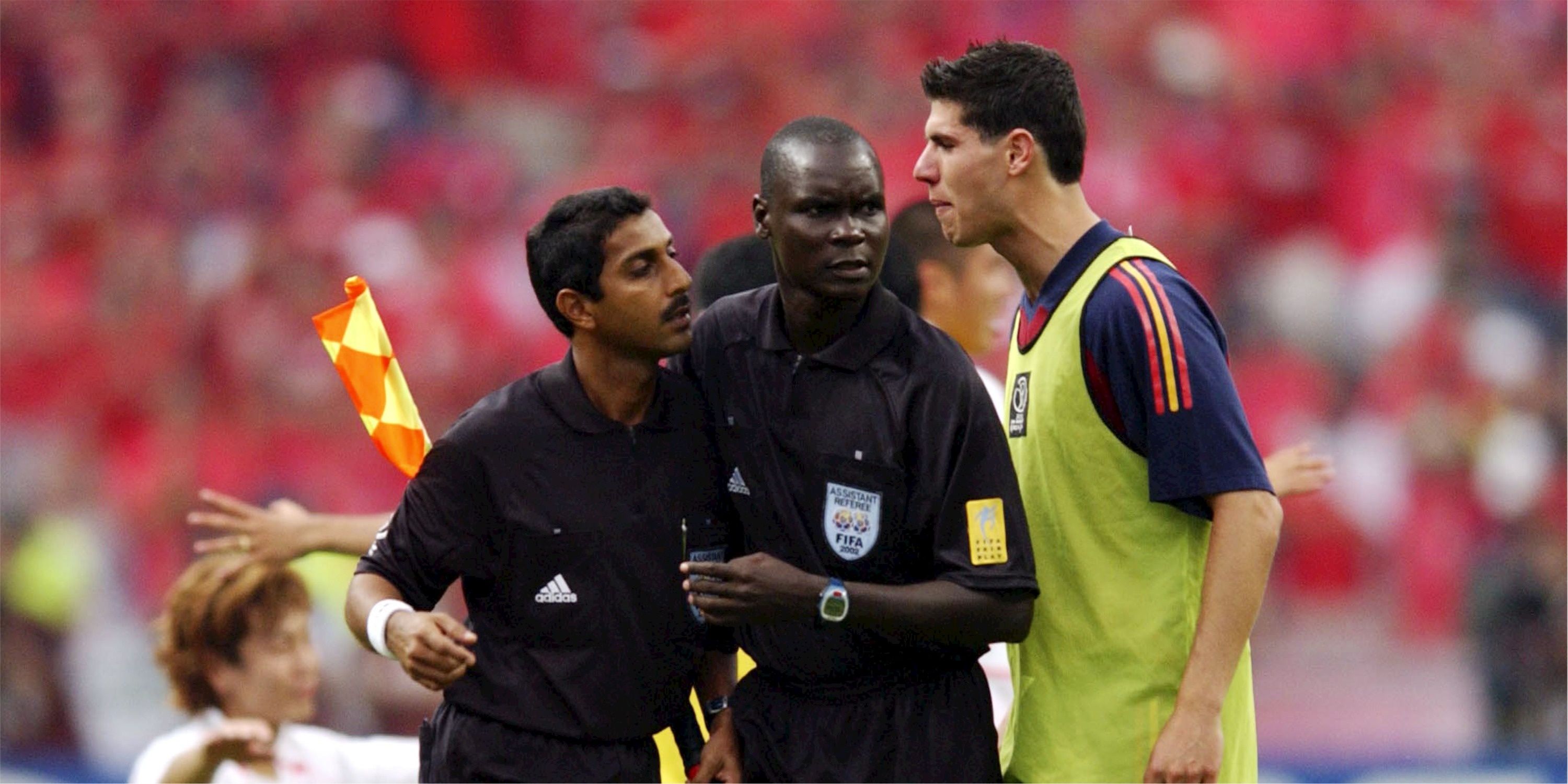 22nd June 2002 – Spain 0-0 South Korea (South Korea won 5-3 on penalties): A joyous moment for South Korea as they headed through to the semi-finals of the 2002 World Cup, but there was complete outrage from the Spaniards, who felt the referee made a series of key errors.
Spain saw two perfectly fine goals disallowed and any progress they made was halted by numerous offside flags. The officials were unable to leave the pitch at the close of the game as the Spanish players made their feelings known about the atrocious officiating.
"Everyone saw two perfectly good goals. If Spain didn't win it's because they didn't let us win," Spain midfielder Ivan Helguera said post-match.
It simply has to go down as the worst refereeing display at a World Cup – certainly in this century, at least.
4
Liverpool v Chelsea – 2005
3rd May 2005 – Liverpool 1-0 Chelsea: Luis Garcia's fourth-minute opener was the only goal of the game as the hosts progressed to the Champions League final.
However, it wasn't without controversy, with José Mourinho claiming Garcia's goal hadn't crossed the line, and he was probably right. Reds boss Rafa Benitez was unwilling to say whether he thought the ball had gone in, which is perhaps even more telling.
Sky Sports even used their very own video technology to show that the whole ball hadn't actually crossed the line, to the despair of Blues fans.
3
Barcelona v Chelsea – 2009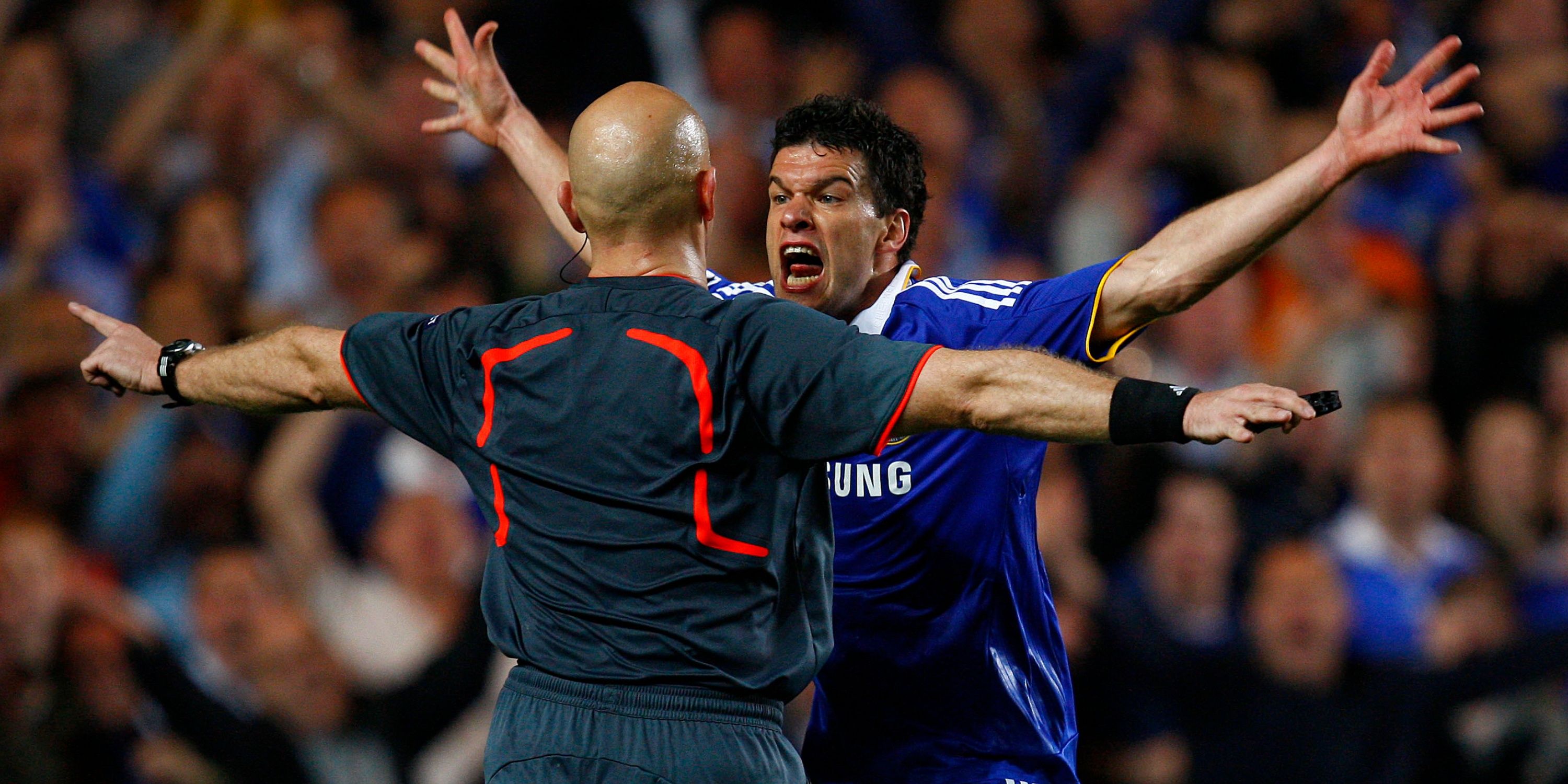 6th May 2009 – Chelsea 1-1 Barcelona: Andres Iniesta's stoppage-time strike broke Chelsea's hearts as they were denied a spot in what would've been their second successive Champions League final.
The intense semi-final clash saw the hosts appeal for numerous penalties and it looked as though at least three of their claims were wrongfully dismissed.
The referee on the night, Tom Henning Ovrebo, has since admitted to making mistakes in the hotly contested encounter at Stamford Bridge.
"It was not my best day really. Some days you are not at the level you should be. I can't be proud of that performance. There were several errors and everyone will have their opinion of those plays," Ovrebo said.
2
France v Ireland – 2009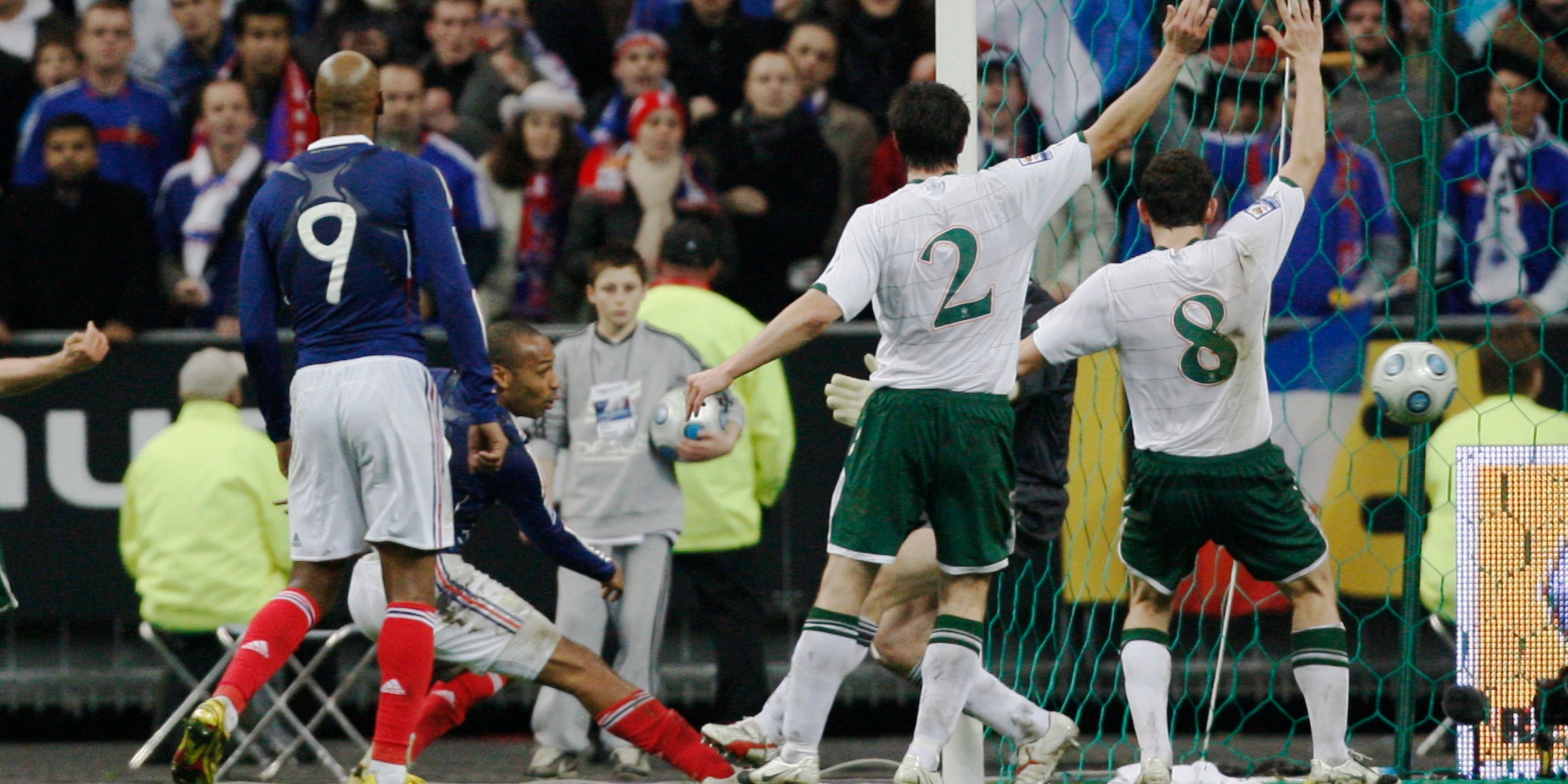 18th November 2009 – France 1-1 Republic of Ireland (agg 2-1): France hosted the Republic of Ireland in the second leg of the 2010 World Cup play-offs. The decisive game was marred by a blatant handball that wasn't given against Barcelona forward Thierry Henry.
The fixture was, of course, pre-VAR, so the extra-time winner couldn't be disallowed, despite Henry clearly handling the ball before squaring the ball for William Gallas to head home.
Shay Given led the Ireland remonstrances but the goal stood and Stephen Kenny's side were cruelly denied a place in South Africa.
Henry told reporters after the game: "Yes, it was a handball. I know it's difficult to accept. The ball came to me and rebounded off my hand. Of course, I passed the ball into the centre [for the goal]. Of course, when it comes down to it, I'm not the referee."
1
Germany v England – 2010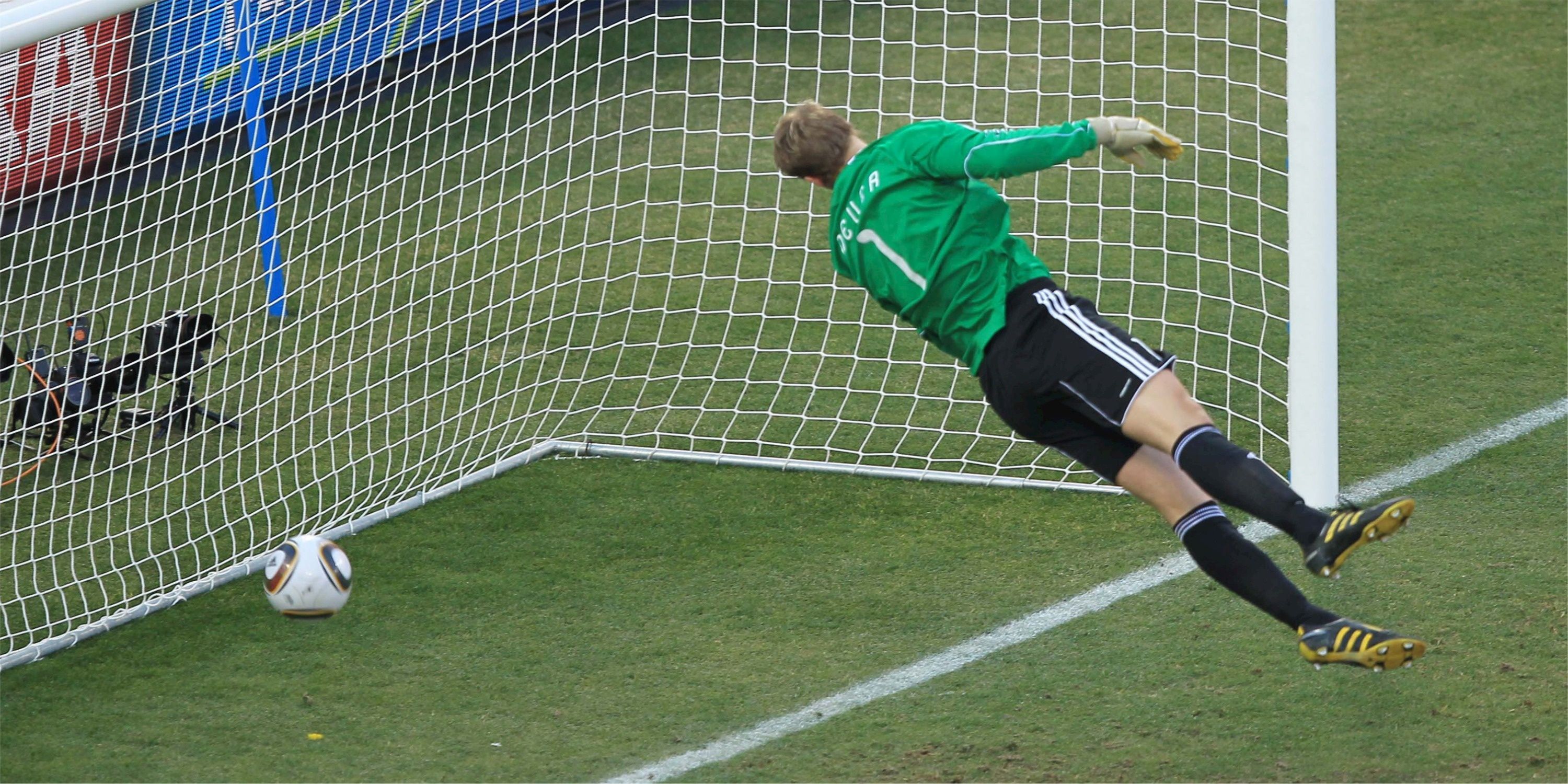 27th June 2010 – Germany 4-1 England: The last-16 clash at the South Africa World Cup saw one of the most controversial moments in the Three Lions' recent history.
Frank Lampard's well-struck half-volley bounced in off the crossbar to put England level, yet incredibly, the referee waved play on and the score remained 2-1.
Replays showed the ball had crossed the line by two or three feet, and Fabio Capello's side were left to rue that horrendous call, as they eventually fell to a 4-1 defeat, whilst Germany advanced through to the quarter-finals of the competition.
Years later, Lampard admitted the error 'changed the game for the better' as goal-line technology was introduced.